Britains 43215: Valtra T254 Versu, 1:32 Scale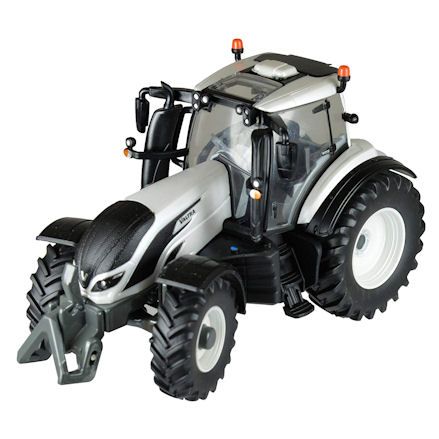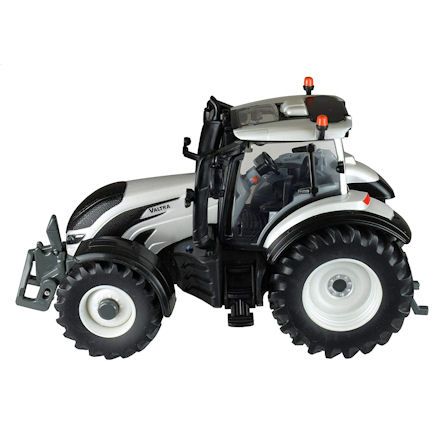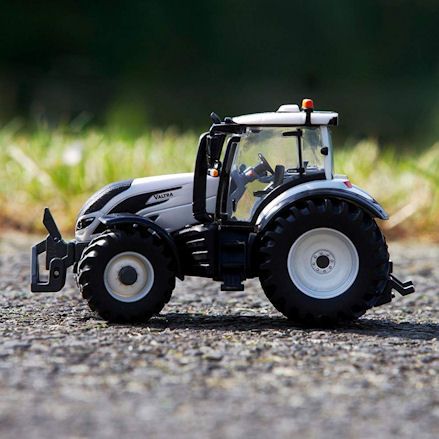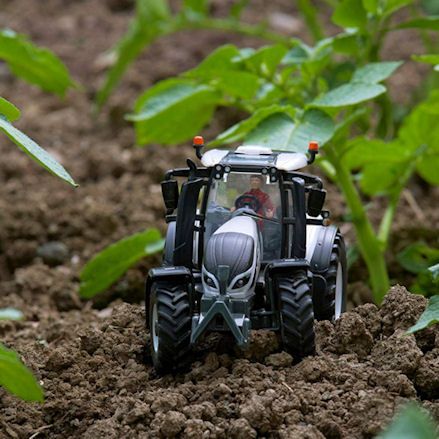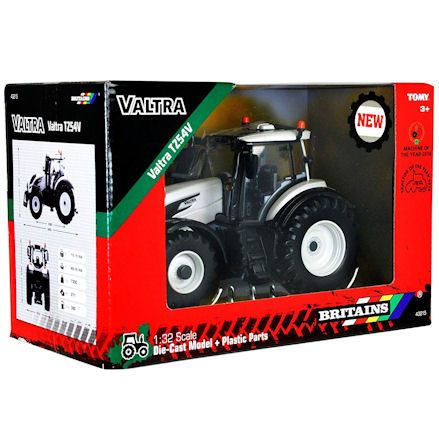 Britains 43215: Valtra T254 Versu, 1:32 Scale
Silver but NOT limited edition Britains Valtra tractor in 1:32 scale; it has both a rear and front v-framed hitch, removable cab, rolling wheels and exterior decor.
Brand:
Britains
Product description
What has probably attracted you to this model the most is the flash silver finish, and well its not a special edition, this model does operate in real life in this exact colour theme.
The colour theme alone on the Britains 43215 Valtra T254 Versu is not enough though, so its equipped with functional parts and exceptional detail on both the interior and exterior.
Well the exterior as replica decor in the side mirrors, imitation safety lights and engine radiator detail; functionality happens with the free rolling wheels with active steering, and a removable driver's cab,
Its this driver's cab you need to focus on if you wish to use the sitting tractor drivers with this model; with a quick pull the cabin pulls off and one of the sitting figures fit tightly in place on the seat.
Then there's the standard rear hitch with the edition of the front v-frames hitch. This built-in front hitch will allow them to fix the mower, sweeper and similar implements on the front.
Features
Item No: 43215
Scale: 1:32
Age: 3 years and up
Officially Licensed by Valtra
Rear and front v-framed hitch
Removable cab
Rolling wheels, active steering
Presented in window display box
Made from die-cast metal
Dimensions: L16 x W9.5 x H10 cm
Weight: 459g
Manufacturer details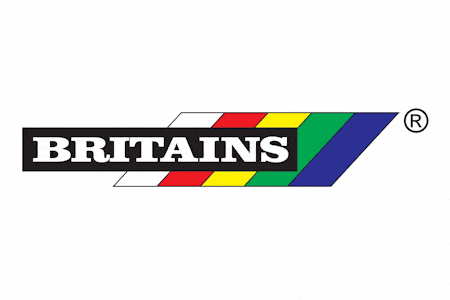 After long absence, we finally get a Britains Valtra tractor release since the 90s, well currently this model is the only Valtra tractor in the series as it stands since early 2018. It could be mistaken for a limited edition model due to the silver finish. But in fact this is a model from real life, released in 1:32 scale. As the only Valtra tractor, expect to see more in the future.
Guide to Britains Valtra T254 Versu
Britains only Valtra tractor is not without its features and functionality, as we give you an in depth look at what it has to offer in play value or as a collector's model.
Valtra Tractor
When a toy tractor is released under the manufacturers name in a rare colour such as this silver finish, it can distract you from the fact this is a model that belongs to a world-famous Valtra.
And this means the design is almost identical to past releases, with only the colour different. And how do we know this is a Valtra - well just look at that shape of the bonnet as it curves towards to front.
With all Vatra tractor toys, its equipped with all the standard interior and exterior detail and decor, with the shape of the driver's cab making up the distinguishable look and feel.
Silver, but NOT Limited Edition
By first appearance you may be thinking this is a rare Britains tractor release due to the silver colouring, but in fact this is not a limited edition model, but a toy tractor that operates like the rest.
And how do we know this? Well for one thing, Britains have never mentioned this is a limited edition, and for another, there's no special edition labeling on the box it comes in.
Instead, treat this Britains Valtra tractor not as a collector's model, but as a child's toy. It should be used on the farm for all the heaving towing, working on the fields and riding on the roads as normal.
Removable Cab
One thing is for sure with this 2018 release, its built with the Britains sitting tractor drivers in mind, so therefore we can guarantee a 100% fit without any issues cropping up in regard to compatibility.
With a big yank, the whole driver's cab will lift off and clip back in place with ease, leaving the cabin interior in place with the steering wheel and seating where you add the driver.
Once pulled off, up comes all the imitation lights, side mirrors and exterior detail, so make sure you're careful not to damage these tough, durable plastic parts - but also sensitive decors.
Rear & Front A-Frame Hitch
We can't say what this 'silver' coloured Britains (43215) Valtra tractor would match in terms of silver, grey or similar coloured trailers and implements to tow, so don't worry about it - pick any they fancy.
Its fitted with a standard Britains clip open/shut rear hitch mechanism that is compatible with the whole trailer series, whether they're big or small implements intended for the Land Rover.
But what is interesting in this latest release is the front built-in a-frame hitch; what this means is you can fix front mowers, sweepers and similar implements that are operated from the front of the tractor.
Real Steering
What you would expect with all Britains tractors in 1:32 scale, this Valtra is fully equipped with front steering, and well the angles are not tight, you can complete a nice big circle where space applies.
No gimmicks, no complicated mechanism to get used to, this steering is carried out manually, meaning the child has to push the tractor along well using there hands to turn left or right.
And well this is a technique they should be well experienced in during play, its made more difficult with a trailer or implement towed behind - and well challenging, its makes for a lot of fun.
Exceptional detail
If you forget about the functional parts for the time being, allow us to draw your eyes to the remarkable detail on the silver Valtra model.
And with real life machines, this one is not without its replica detail, both on the interior and exterior; with side mirrors, imitation safety lights, exhaust, engine radiator and steps to the driver's cabin.
What we do like most about this model is the life-like driver's cab interior, with the steering wheels and seating clearly visible through the big driver's cabin windows.
Britains
This item: Britains 43215: Valtra T254 Versu Tractor, 1:32 Scale
Age: 3 Years
Scale: 1:32
L16 x W9.5 x H10 cm
Weight: 459g
Britains
Age: 3 Years
Scale: 1:32
L16 x W9.5 x H10 cm
Weight: 459g
Britains
Age: 3 Years
Scale: 1:32
L14 x W10 x H9.5 cm
Weight: 699g
SHOP BY THEME
SHOP BY
INFORMATION