Britains 43205: Massey Ferguson 5612 Tractor Set, 1:32 Scale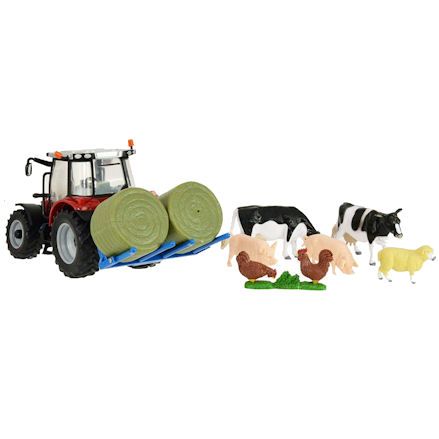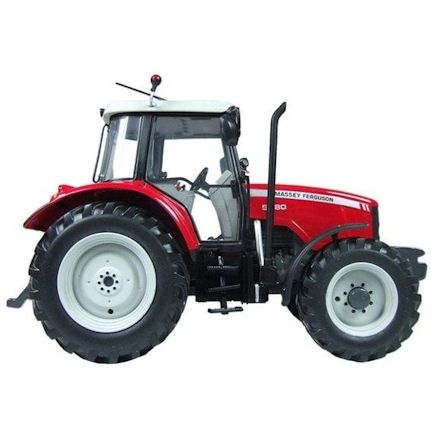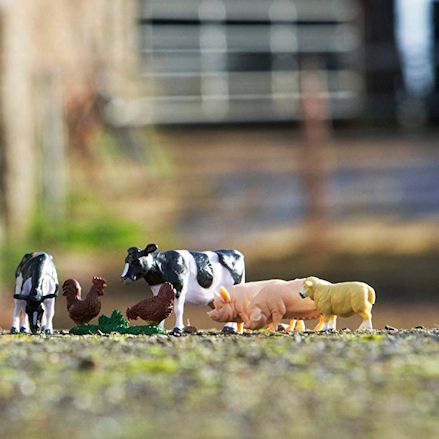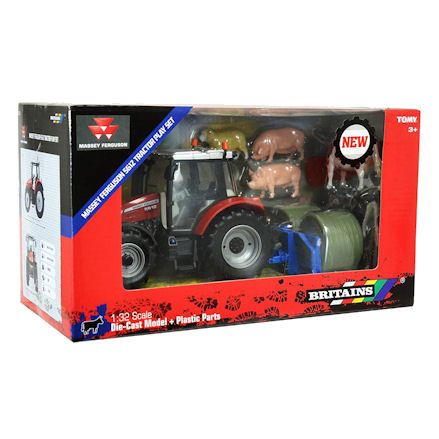 Britains 43205: Massey Ferguson 5612 Tractor Set, 1:32 Scale
Get off the ground running with this all in one Britains tractor playset complete with Massey Ferguson tractor, double bale lifter, 2 bales and 7 farm animals.
Brand:
Britains
Product description
Centre of play is Britains Massey Ferguson 5612 tractor in 1:32 scale, made from die-cast metal. Its not short of features with a functional rear hitch, rolling wheels and removable cab.
Removing the cab results in access to the interior; here they can sit a Britains tractor driver behind the wheel before secure the cabin back in place.
You'll take advantage of the rear tow hitch right out of the box by fixing the detachable double bale lifter that is used to transport the two big green round bales.
There's a mix of farm animals that will force them to position them in groups, well creating extra jobs. included are; 2 cows, 2 sheep, 2 pigs and a pair of chickens sharing the base.
Rest assured the collection doesn't stop here, you're free to add more farm animals or perhaps a trailer for the tractor to tow behind later. There's always more you can add but never take away.
Features
Item No: 43205
Scale: 1:32
Age: 3 years and up
Officially Licensed by Massey Ferguson
Includes: tractor, bale lifter, 2 bales, 7 farm animals
Presented in window display box
Made from die-cast metal
Dimensions: L14 x W10 x H9.5 cm
Weight: 699g
Manufacturer details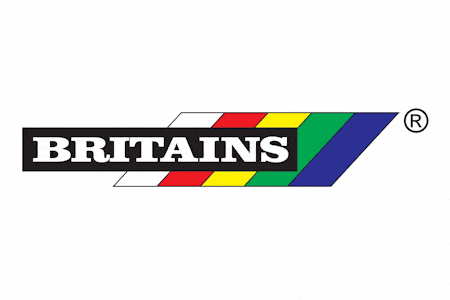 Released in 2018, this playset set the tone for Britains future releases being more cross-compatible with a mix of the current range released with new models. Long time coming with this one but it was only a matter of time before Britains offered a complete tractor set, and they've carefully selected each of these toys to make sure they work hand in hand.
Guide to Britains Massey Ferguson 5612 Tractor Set
Let use guide you through what this Britains tractor playset as to offer exactly, with a Britains tractor, bale lifter and farm animals included.
Britains Massey Ferguson 5612 tractor
Medium size Britains Massey Ferguson 5612 tractor with a rear hitch for the bale lifter and any tractor or implement needed later, with a front hitch for the front operational sweeper or mower.
It has four free rolling wheels with rubberised tyres. The front two wheels are steerable by hand well being pushed along the ground.
Now you get a detachable driver's cab that can be removed so you can fix Britains sitting drivers to the seat, before securing the cab back in place with ease.
Well there is lots of interior and exterior detail, you're free to upgrade the Massey Ferguson tractor with Britains trailers and implements when required.
Detachable Double Bale Lifter
Well this Britains detachable double bale lifter is available separately, what better way to get hold of one than with a tractor play set that is designed purposely for it.
You'll start by connecting the bale lifter to the rear hitch which is fitted on an angle to allow the bales to sit side be side without fear of them falling off so easy.
But when it comes to picking up the bales off the ground, with a push of a button it releases the support bar that drops down. You then scoop up the bales and fix the bars in place before driving away.
As a detachable double bale lifter, they're free to use the Britains Massey Ferguson tractor with or without it - though we're sure they will have it fitted most of the time.
7 Britains Farmyard Animals
If you've already invested in Britains farm toys before, the chances are they already have a tonne of farm animals on the farmyard. But what better way to improve play value than adding seven more.
Well the cows, sheep and pigs are identical to the farm animals you get in sets of four, by adding this lot to the growing farm can only make things bigger and better, creating more jobs around the farm.
The set includes 2 black and white Friesian cows, 2 pigs, 2 sheep and a pair of chickens sharing a base to keep them standing upright.
Never doubt this playset if you're sure you have enough farm animals already, they can never have enough and its small things like this that maintains interest during role play.
2 Big Round Bales
Nowhere in the Britains farm toys series can you get hold of these big green bales as a standalone, so its exclusive to this tractor playset and plays an important role.
This role is how do you move these incredible heavy big round bales from A to B, which is only possible thanks to the bale lifter that attaches to the rear hitch.
Lots of fun can be had with just two round bales, and these silage bales can be collected and moved to the barn, or piled on top of each other to create space and tidy up the farm.
Because of their size, they can never be moved by hand just as they can't in real life, so they must use there wits to move the bales to be later used as silage to feed the cattle.
All-In-One
This release represents Britains first try at a tractor playset. With the tractor and bale lifter making up the most play value, and the animals providing a delightful bonus.
The Britains Massey Ferguson tractor has all the quality as expected, with no functionality or detail left out just because it comes with a bunch of extras - with steering, removable cab and rear tow hitch.
Play is extended with the tractor with a bale lifter which is connected to the rear hitch of all Britains tractors in the series.
Any farm playset is not complete without a handful of mix toy farm animals to scatter about the farm and position them in groups in their own area.
To Complete the Set
Now that they have the tractor, bale lifter, bales and a whopping 7 Britains farm animals to keep them busy on the yard, let's consider a few more options that would really complete the set.
They should be ready for play out of the box with this set, but we would always consider adding more cows and sheep, to keep them busy moving and positioning the animals around the farm.
The Britains tractor is sorted but what is missing is a trailer or implement that would carry the animals or transport the bales - what better way to move the livestock than with a transporter.
You have animals so they need to be kept contained, so consider the Britains fencing with gate, well you'll need shelter for the tractor with the Britains farm building - also acting as a farm animal shed.
Britains
This item: Britains 43205: Massey Ferguson 5612 Tractor, 1:32 Scale
Age: 3 Years
Scale: 1:32
L14 x W10 x H9.5 cm
Weight: 699g
Britains
Age: 3 Years
Scale: 1:32
L21 x W8.5 x H10 cm
Weight: 500g
Britains
Age: 3 Years
Scale: 1:32
L14 x W10 x H9.5 cm
Weight: 558g
SHOP BY THEME
SHOP BY
INFORMATION