Britains 43247: Valtra T254 Pink Tractor, 1:32 Scale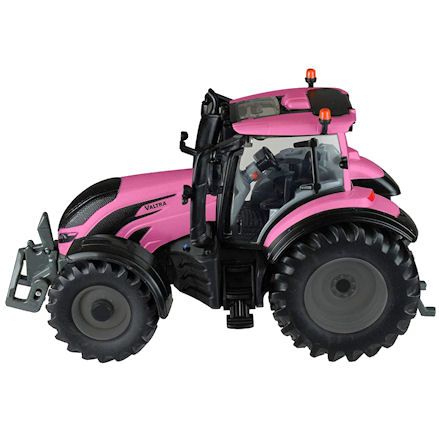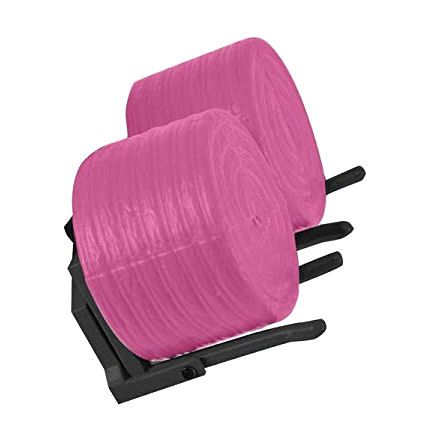 Britains 43247: Valtra T254 Pink Tractor, 1:32 Scale
Get the girls interested in farming with this Britains pink tractor in 1:32 scale, it has a functional rear tow hitch, front hitch, rolling wheels, steering and a bale lifter.
Brand:
Britains
Product description
All the inheritance of a classic Valtra tractor, only where it would otherwise be silver, Britains have finished it in a bright pink, and well combined with the black trim - it looks pretty neat.
Where the Britains 43247 Valtra T254 pink tractor body is present, this is all made from die-cast metal, and so is the chassis.
All black window frames, mud guards, wing mirrors, exhaust and decor are made from a tough, durable plastic that will allow for rough play without breaking.
The rubberised tyres are fitted around the Valtra grey rims, with deep tread tyres and free rolling wheels with real steering.
Interestingly, well the driver's cab is removed by simply pulling it off, this unvails the seat and steering wheel where we can now fix a Britains sitting drive in place.
Well she is free to tow any farm implement in the 1:32 scale series, it comes with a bale lifter that attaches to the tow hitch, along with two big round bales.
The front hitch allows a limited number of Britains implements to be connected also.
Features
Item No: 43247
Scale: 1:32
Age: 3 years and up
Officially Licensed by Valtra
Presented in window display box
Rear tow and front v-framed hitch
Removable cab
Rolling wheels, active steering
Made from die-cast metal
Dimensions: L16 x W9.5 x H10 cm
Weight: 459g
Manufacturer details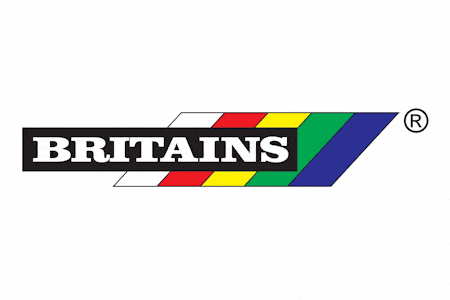 When Britains released the Valtra T254 tractor in silver, this gave them an opportunity to release a tractor aimed at girls, with the same model finished in pink. Released in 2018, this came at a time when Britains started making major changes, with removable cab's with sitting driver's to complete tractor sets - so expect more pink farm toys in the future.
Guide to Britains Valtra T254 Pink Tractor
Here's Britains try at a replica scale Valtra tractor designed for girls in pink, with a functional rear and front hitch, rolling wheels, steering and removable cab.
Valtra T254 Pink Body
Know that the body of this Valtra T254 tractor is not seen in real life, but instead painted pink to appeal to young girls interested in farms, and to keep them interested for the considerable future.
Instead, this Britains Valtra pink tractor would otherwise be silver, but it still has all the original exterior decor with the headlights, imitation safety lights, wing mirrors, steps and exhaust in position.
Front/Rear Tow Hitch
Well the Britains Valtra T254 pink tractor is available with a bale lifter; don't stop there with a series of toy farm implements that would suite this pink tractor a treat.
Whether its the blue KANE trailer or green JOHN DEERE baler, the constrasting colours will make for a colourful farm setting.
Now that we have the rear tow hitch covered in detail, you'll notice there's a machanism on the front, this is a front hitch designed to take implements that fix to the front of tractor.
Bale Lifter
We can keep the interest going with a Britains bale lifter that comes with this tractor. Its fixed by simply connecting it to the rear tow hitch.
Britains have gone all out on the pink theme with pink round bales only exclusive to this set, well the bale lifter matches the black trim on the tractor.
This is a detachable bale lifter, so can be removed and popped back on the hitch any time.
Remove the Cab
What better way to get the little girl intrigued into the farming scene than with a removable driver's cab to inspect the detail.
But its gets better, Britains offer a set of four sitting tractor drivers to squeeze on the seat to bring the tractor to life.
And well the set doesn't have a matching figure wearing pink, there's still a bright and colourful set of green, blue, red and a yellow figure to choose from.
Britains
This item: Britains 43247: Valtra T254 Pink Tractor, 1:32 Scale
Age: 3 Years
Scale: 1:32
L16 x W9.5 x H10 cm
Weight: 459g
Britains
Age: 3 Years
Scale: 1:32
L16 x W9.5 x H10 cm
Weight: 459g
Britains
Age: 3 Years
Scale: 1:32
L14 x W10 x H9.5 cm
Weight: 558g
SHOP BY THEME
SHOP BY
INFORMATION