Britains 43193: New Holland T9.530 Tractor, 1:32 Scale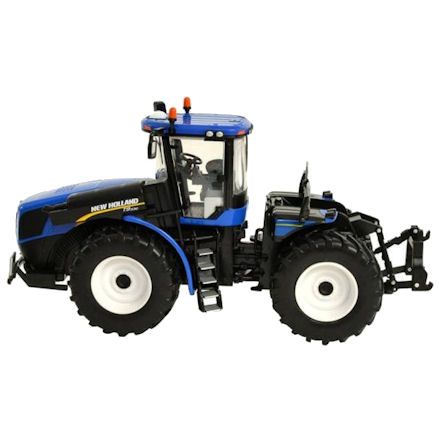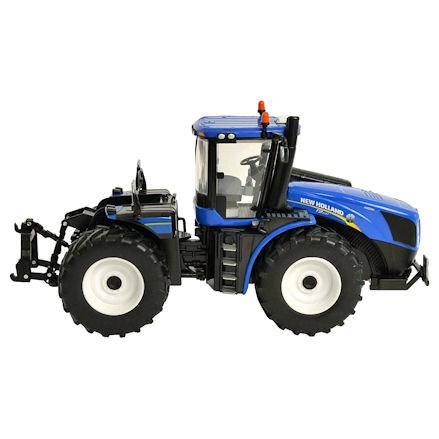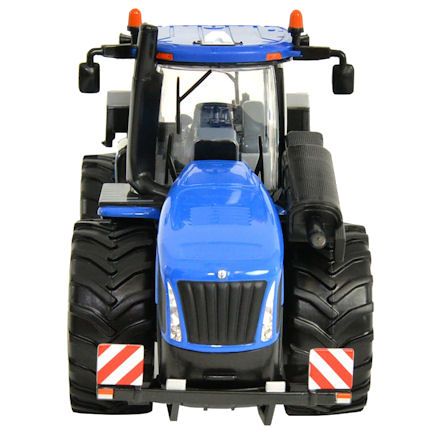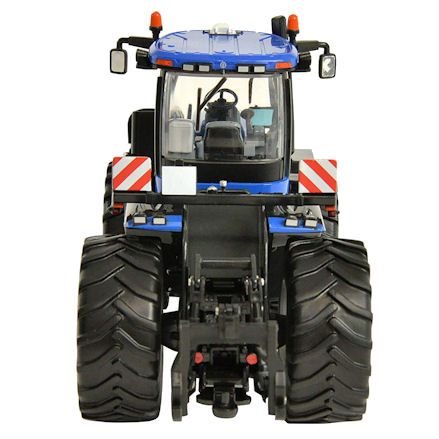 Britains 43193: New Holland T9.530 Tractor, 1:32 Scale
What this Britains New Holland T9 tractor has to offer them is the unique articulated design, it has a removable cab, steering, rear hitch and replica detail.
Brand:
Britains
Product description
You'll need to focus there attention on this model if its big, heavy-duty farming that is required, with this Britains 43193 New Holland T9.530 tractor offering all the power and strength they'll need.
Sitting on four big deep tread tyres, the wheels are all identical offering greater tread well hauling big and heavy farm implements in tow.
That's accomplished thanks to the standard rear tow hitch that is resting on the articulated section on the tractor body.
What this means to them is the section with the back wheels functions similar to a trailer, only another trailer or implement can be connected for better maneuverability.
No figure is sitting in the big, tall driver's cab, so why not simply pull off this cab to unveil the interior detail. Here you can choose to sit one of four Britains sitting tractor driver's in place.
Features
Item No: 43193
Scale: 1:32
Age: 3 years and up
Officially Licensed by New Holland
Presented in window display box
Articulated rear
Active steering with tread tyres
Removable cab
Made from die-cast metal
Dimensions: L30 x W15 x H17.5 cm
Weight: 800g
Manufacturer details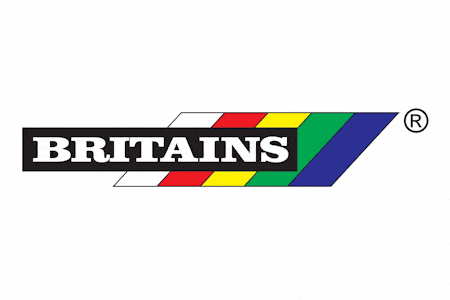 Released in 2018, this Britains New Holland T9.530 is officially the only articulated-type tractor left in the series. Therefore, you'll need to look to this die-cast model when they require a vehicle that can haul the big, wide, heavy-duty Britains farm implements in tow. Building this model from New Holland will guarantee matching blue implements, which is a bonus.
Guide to Britains New Holland T9.530 Tractor
Get to know this Britains New Holland in detail with a tall but narrow design, four free rolling wheels and the articulated rear section making steering easier.
New Holland T9.530 Tractor
Narrow, tall articulated rear Britains New Holland T9 tractor series. No other model can measure up to the design of this big, powerful tractor than this model.
The tall, high driver's cab has 360 degree views for working the fields, and well the cab is connected to the long bonnet, the rear part is in fact an articulated section on wheels - similar to a trailer.
Well the front wheels support the bonnet and cab, the rear wheels support the articulated design, which will help them maneuver in tight spots with farm implements in tow.
4 Identical Wheels with Steering
When we talk about identical wheels, what we mean is all four wheels are the same size and width, with free rolling action and deep tread design.
That is crucial in this New Holland T9.530 tractor due to the size and weight, as the power it offers when hauling implements is vital, well the wheels can take high demands.
There is real active steering from the front two wheels, well the wheels sat on the articulated section will turn as they're dragged behind, making cornering much sharper.
Articulated-Type Tractor
Because this tractor design is so big, it would be near impossible to turn without front/rear steering, and thankfully this model offers better maneuverability due to the articulated rear section.
It works similar to a lorry towing a trailer, in this case the lorry is the tractor with the bonnet and cabin, well the trailer is the articulated section sitting on two wheels.
And when the tractor takes a corner with the two front wheels turning left or right, the articulated wheel section will follow suite and glide smoothly where the front section goes.
Large Removable Cab
We have to say this is probably a big as a tractor driver's cab as you'll get, which is useful because it will only make it easier for the child to remove off the body.
Well the cab has been removed, the steering and seat will stay in place, in which time the child can sit a Britains tractor driver in the seat with a tight fit keeping it secure.
The interior of the cab can be inspected at this stage and admired, well the replica exterior detail stays in place with the imitation safety lights, wing mirrors and rear safety signs all included.
Rear Hitch
Draw your attention to the rear tow hitch of this New Holland tractor as its fitted with a standard Britains pin design hitch - compatible with all Britains farm implements.
Let's say you're towing a large, wide plough; as you make a turn with the front wheels, the articulated section will follow in tact, well the trailer/implements makes the turn smoothly.
This results in a train like pattern, but makes it easier for the child to steer the tractor with trailer in tow.
If you desire to haul farm implements, just make sure they're the big, heavy-duty ones as this Britains tractor is designed especially for that purpose.
Towing Heavy-Duty Implements
Due to its sheer size and power, this Britains New Holland T9 tractor series is designed to tow the biggest, heaviest of Britains farm implements and trailers.
Well it can tow smaller trailer, its designed really to only work with big implements where a lot of power is needed to pull them along.
This can be a big wide plough or cultivator, to a big wide fertiliser with a full tank. Despite its look, it will operate as a conventional tractor in a unique design.
Britains
This item: Britains 43193: New Holland T9.530 Tractor
Age: 3 Years
Scale: 1:32
L30 x W15 x H17.5 cm
Weight: 800g
Britains
Age: 3 Years
Scale: 1:32
L25 x W13 x H15.5 cm
Weight: 699g
Britains
Age: 3 Years
Scale: 1:32
L16 x W9.5 x H10 cm
Weight: 599g
SHOP BY THEME
SHOP BY
INFORMATION