Britains 43149: New Holland T7.315 Tractor, 1:32 Scale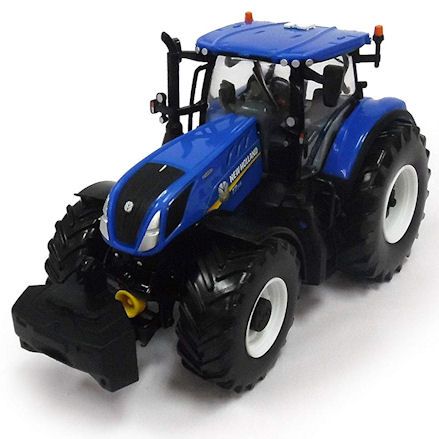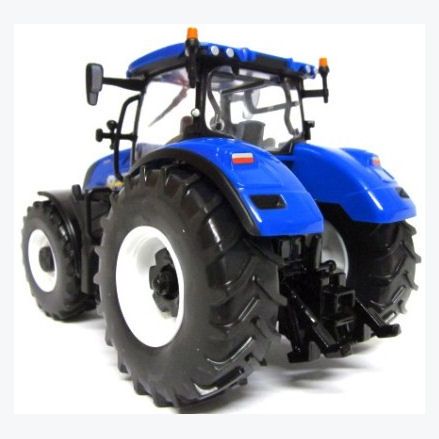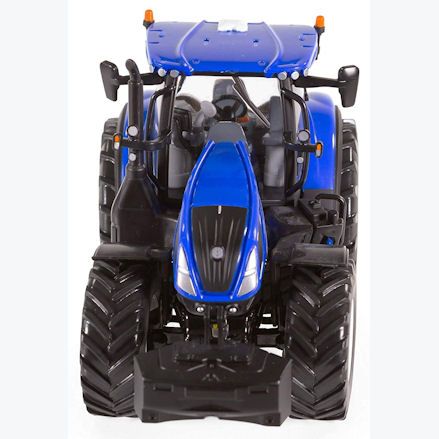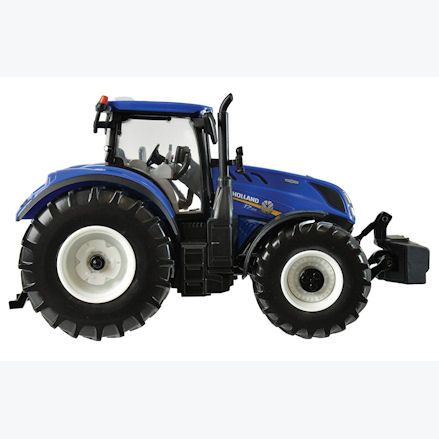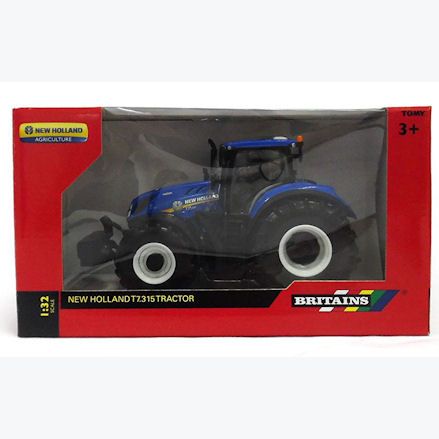 Britains 43149: New Holland T7.315 Tractor, 1:32 Scale
Fitted with a counter-weight, then this Britains 43149 New Holland T7.315 tractor is ready for serious play; with steering, removable cab and rear tow hitch.
Brand:
Britains
Product description
When we say serious play, we are referring to the counter-weight fixed to the front, so the tractor can tow the biggest, heaviest toy farm implements and trailers in the 1:32 scale series.
Sure, any farm implement or trailer could be towed regardless of the counter-weight making an real difference, but this does represent acurracy and would be a welcome feature to portray.
Connect any implement using the standard rear tow hitch, but we like the idea of a matching blue trailer from KANE, NC or even New Holland's own Big Square Baler.
This is a tractor that can be controlled using the front wheels with steering with free rolling action. The deep tyre treads allow the Britains 43149 New Holland T7.315 tractor to operate in all weather terrain.
The Britains New Holland tractor has a removable, enclosed cab where you'll be free to fix a tractor driving figure in place on the seat.
Features
Item No: 43149
Scale: 1:32
Age: 3 years and up
Officially Licensed by New Holland
Presented in window display box
Made from die-cast metal
Enclosed, removable cab
Rolling wheels with steering
Compatible rear hitch
Dimensions: L16 x W9.5 x H10 cm
Weight: 599g
Manufacturer details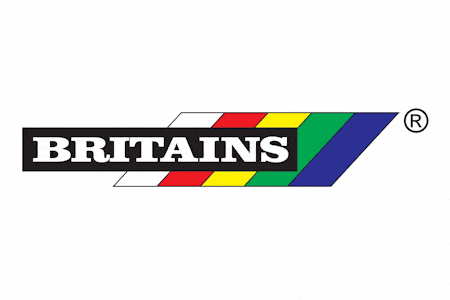 Britains try at a New Holland T7 series replica tractor is a success, with all exterior and interior detail all accurately protrayed on this model. The 2016 release also guarantees a removable cab to fit a sitting figure on the seat. As a T7 series model, this was later followed up with a T8 and T9 model tractor, with all three available in the 1:32 scale range.
Guide to Britains New Holland T7.315 Tractor
Allow us to take you through what this model has to offer them, with the tractor featuring a removable cab, steering and tow hitch.
New Holland T7.315 Tractor Body
You know its a New Holland tractor by the shape of the body, the colour blue and then of course the New Holland branding across the bonnet - which also has original exterior decor detail we might add.
To pin point all areas made in die-cast metal, this can be traced to all areas finished in blue, along with the chassis underneath. Well the black trim, hanging decor, exhaust and steps are made in plastic.
Enclosed, Removable Cab
We can admire the cab of the New Holland tractor through the big clear windows; with the seat, steering wheel and the controls all in the correct spot.
Though we can get a better look by removing the cab to get up close and personal. Better still, we can now fix a Britains tractor driving in a sitting position onto the seat.
Front Counter-Weight
We know this model Britains New Holland T7.315 tractor is ready to haul the heaviest farm implements, as it comes equipped with a fixed front-counter weight - so why waste the opportunity.
Now the counter-weight is sure to help balance the tractor from heavy loads towed behind, so feel free to use Britains farm implements without fear of the tractor pulling a wheelie.
Towing Blue
If we consider the amount of blue theme toy farm implements and trailers in the 1:32 scale series, you just know its crying out to be towed by one of Britains New Holland blue tractors.
And to make a good match, look at Britains NC Dump Trailer or the KANE Silage Trailer. Then there's a yellow New Holland Big Square Baler or the basic blue bale lifter or tractor link box.
Britains
This item: Britains 43149: New Holland T7.315 Tractor
Age: 3 Years
Scale: 1:32
L16 x W9.5 x H10 cm
Weight: 599g
Britains
Age: 3 Years
Scale: 1:32
L25 x W13 x H15.5 cm
Weight: 699g
Britains
Age: 3 Years
Scale: 1:32
L30 x W15 x H17.5 cm
Weight: 800g
SHOP BY THEME
SHOP BY
INFORMATION