Equestrian Toys
If you have a huge horse enthusiast in your household then take a look at our impressive equestrian toys from horses to handmade and painted toy horse stable sets she will adore. Browse wooden toy horse stables featuring up to three stalls and tack room. Equestrian buildings include equestrian centres, riding schools and jumping arenas for your child play with her horse. We also have wonderfu created equestrian accessories ranging from dressage and saddle sets for Schleich and Breyer horses.
Product Categories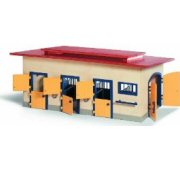 Stables
Browse wooden toy horse stables for your favourite horses. Toy horse stables feature stalls, doors and hinged roofing for active play inside.
Equestrian Buildings
Here's a selection of toy equestrian buildings from riding schools, horse field shelters and tack shops. Entertain the horses with imaginative play.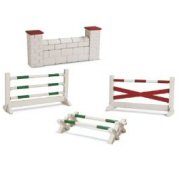 Jumping Sets
From a toy jumping set to dressage arenas with show jumping arenas for events and shows for your Breyer, Bullyland and Schleich horses.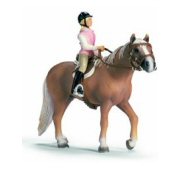 Dressage & Saddles
The young horse enthusiast can enjoy dressing and kitting out there Breyer, Bullyland and Schleich horses with toy saddle and dressage.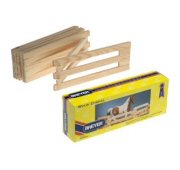 Equestrian Accessories
Add aa few bits and pieces for the stable with accessories from Breyer, Bullyland and Schleich with stable cleaning kits, hay bales and horse grooming sets.