Siku 7071: Tractor Drivers (Set of 6), 1:32 Scale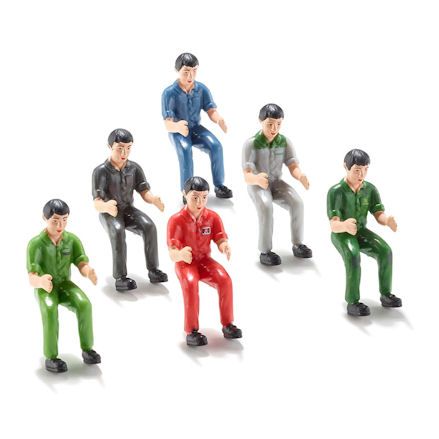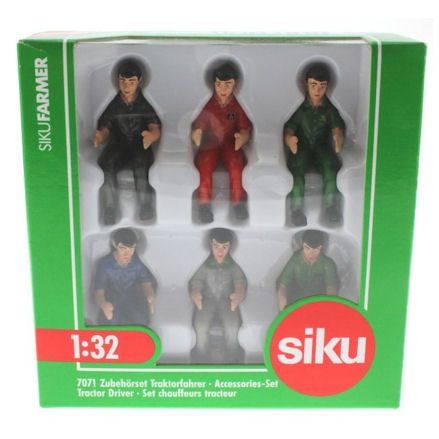 Siku 7071: Tractor Drivers (Set of 6), 1:32 Scale
Bring realism to your Siku Farmer Series tractors with a set of 6 Siku (7071) tractor drivers compatible with all the Siku 1/32 scale range.
Brand:
Siku
Product description
Finally a set of toy tractor drivers compatible Siku tractors that fit into the driver's cabin sitting firmly in the seat with their hands placed on the steering wheel.
Each figure has a very distinguish overall that will go well with a matching tractor in the same colour or a choice to mix and match.
To add these farm figures to the 1/32 Siku tractors simply lift up the whole cabin and sit the driver down on the seat and then reassemble the cab and away you go.
These detailed drivers each feature a different manufactures logo including Claas in bright green, Fendt in dark green, Deutz Fahr, Massey Ferguson in red and and John Deere in green.
Features
Item No: 7071
Scale: 1:32 Scale
Age: 3 years and up
Presented in blue window display box
Made from durable plastic
Includes 6 tractor driving figures
Siku Farmer range
Compatible with Siku tractors in 1:32 scale
Dimensions: L2 x W1.5 x H4 cm
Weight: 49.9g
Siku
This item: Siku 7071: Tractor Drivers (Set of 6), 1:32 Scale
Age: 3 Years
L2 x W1.5 x H4 cm
Weight: 49.9g
Britains
Age: 3 Years
L2 x W0.5 x H5 cm
Weight: 18.1g
Britains
Age: 3 Years
L2 x W0.5 x H5 cm
Weight: 18.1g
SHOP BY THEME
SHOP BY
INFORMATION