Siku 1856: John Deere 9630 Tractor with Amazone Centaur, 1:87 Scale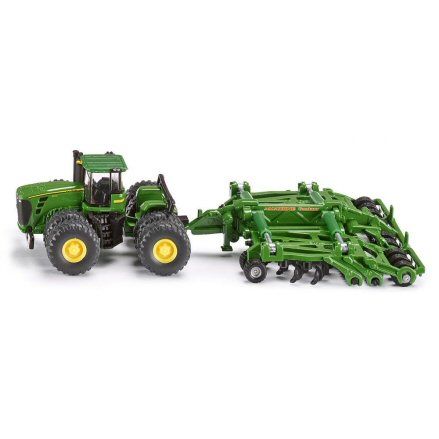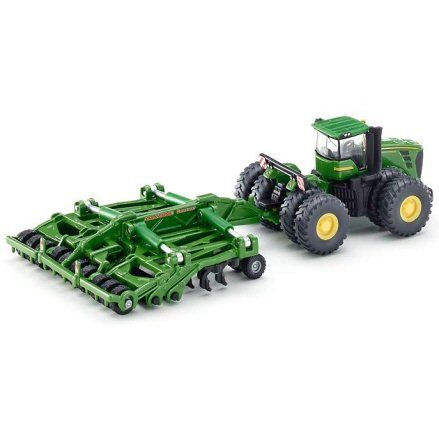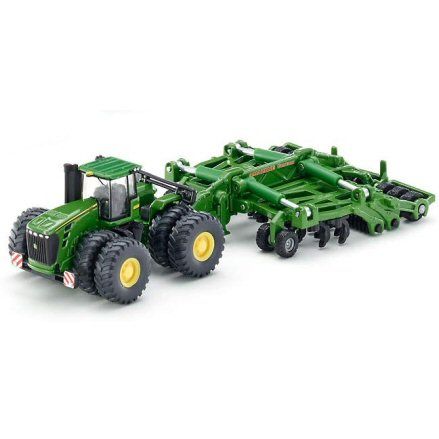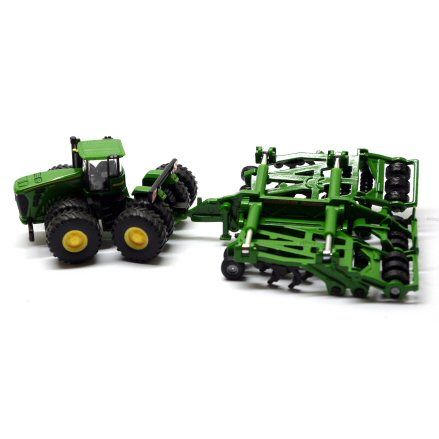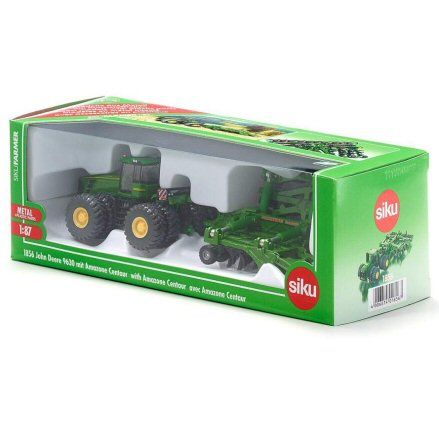 Siku 1856: John Deere 9630 Tractor with Amazone Centaur, 1:87 Scale
Monster scale replica Siku John Deere tractor in 1:87 scale with detachable cab, tow hitch; Amazone Centaur has folding up function with rolling wheels.
Brand:
Siku
Product description
Empty the tractor shed or else you won't get this beast inside; its so large in fact its the biggest model in 1:87 scale series - in the Siku Super range or anywhere else as a matter of fact.
If you do manage to fit the tractor in the farm shed, then you'll have the task of trying to fit the Amazone Centaur also; a farm implement that can only be dragged using the monster John Deere 9630 tractor.
Unlike the John Deere tractor that would have trouble maneuvering the narrow country roads; at least with the Amazone harrow, it can be folded up to make it more road worthy, or for storing away.
Replica Siku 1856 John Deere 9630 tractor is a little larger, so therefore there's room for more functionality, and that comes in the articulated steering for taking corners at a tighter radius.
Then there's the usual detachable driver's cab, free rolling wheels and the standard rear tow hitch.
Big heavy-duty tractor needs more tread to prevent sinkage with more pulling power, so its fitted with dual wheels to help with more tread when rolling over wet muddy fields as they plough the field.
Functionality exists in the Amazone Centaur harrow implement; its towed on free rolling wheels, well the hanging forks would otherwise be used to dig into the ground - if that was possible.
Once on the round, left and right side will fold up into a more narrow implement, thus making it road worthy for heading back to the yard.
Features
Item No: 1856
Scale: 1:87
Age: 3 years and up
Presented in window display box
Made from die-cast metal
Articulated steering
Free rolling, dual wheels
Amazone Centaur harrow
Compatible rear hitch
Dimensions: L19 x W3.5 x H4 cm
Weight: 240g
Manufacturer details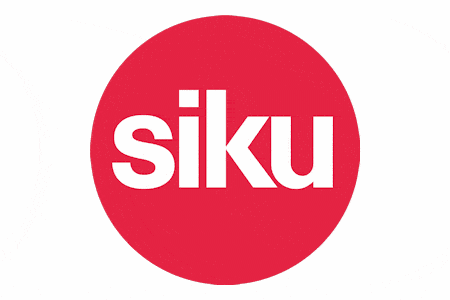 One of our favourite Siku tractor/implement sets in the Super series, this 2009 release model boosts a very large John Deere tractor to an equally larger harrow. At first glance, it would appear to be a bigger scale, but don't be fouled, its still a miniature 1:87 scale model. Despite its looks, it still features the usual rear tow hitch, rolling wheels and detachable cab.
Guide to Siku John Deere 9630 Tractor with Amazone Centaur
Serious small scale farming using a large size model tractor in just 1:87 scale. Understand what this John Deere tractor/implement can do so they can take full advantage of its potential.
Siku John Deere 9630 Tractor
Siku John Deere 9630 is the biggest miniature 1:87 scale model in the Super series. Towering over all regular tractors; it needs articulated steering with a centrally located driver's cab.
In order to haul the harrow in tow, the John Deere tractor is fitted with dual wheels. Features detachable cab, rear tow hitch and exterior detail including: steps, exhaust, big bonnet, reflectors and lights.
Amazone Centaur - or Harrow
What this Siku Amazone Centaur actually is, is a harrow - like a plough - for digging into the ground to prepare it for seeding. Rolling wheels adjust to the correct height, well forks penetrate the ground.
So big and wide, its impossible to take on the road, so that's why it folds up to a narrow transportation mode. Can be attached to rear tow hitch with a simple drawbar connecting it between the rear wheels.
Articulated Steering
Only way to get this monster around corners in a timely manner is articulated steering; that way it can maneuver around bends as if its towing behind a trailer - which the rear section essentially is.
Siku John Deere tractor has two sections; front half is cab and bonnet with front wheels; rear section has tow hitch with back wheels - of which the centrally located hinge helps make the turning action.
Drawbar to Hitch
Don't be intimidated with this monster John Deere tractor and Amazone Centaur; it is just a larger tractor and harrow after all. And with that the rear tow hitch on tractor is built just like all others.
Therefore, rear hitch is built identically to all other models in the series; its positioned at the same level for taking on the very basic drawbar on the Amazone Centaur implement.
Dual Wheels
One major feature of this Siku John Deere tractor you may notice is the whopping big dual - or twin - wheels fitted side-by-side on both the front and rear set of wheels.
Large scale farming in all conditions requires the wheels to take to the ground at a larger scale, thus the soft muddy ground will take more tread from the tyres, resulting in better grip to move forward.
Big Driver's Cab
Big machine like this one needs a large cab with window surround to help operate safely. And you can see that it is with a set of steps and a platform needed to stand on to access the cab door.
Its a centrally positioned cab for better control, well the interior detailing can be touched as the cab is a detachable one - which will result in cab window frame being pulling off, leaving the interior behind.
Siku
This item: Siku 1856: John Deere 9630 Tractor with Amazone Centaur
Age: 3 Years
Scale: 1:87
L19 x W3.5 x H4 cm
Weight: 240g
Siku
Age: 3 Years
Scale: 1:87
L20.5 x W3.7 x H4 cm
Weight: 152g
Siku
Age: 3 Years
Scale: 1:72
L12.5 x W3.4 x H4 cm
Weight: 49.9g
SHOP BY THEME
SHOP BY
INFORMATION