Siku 1665: John Deere 7530 Tractor with 990 Baler, Super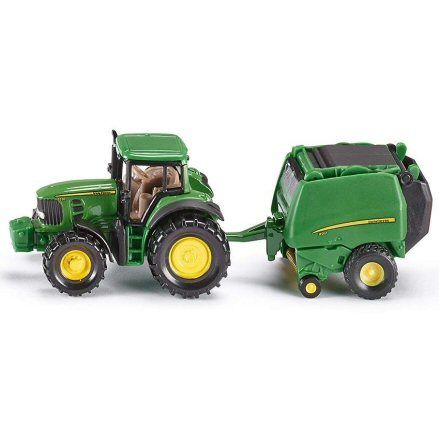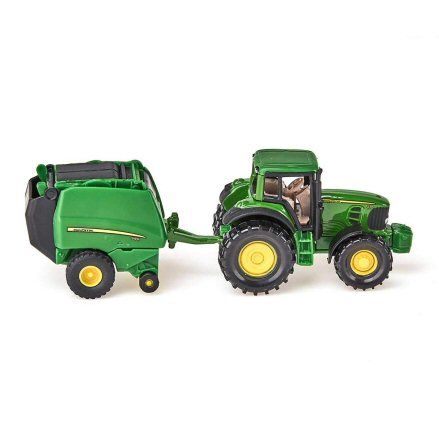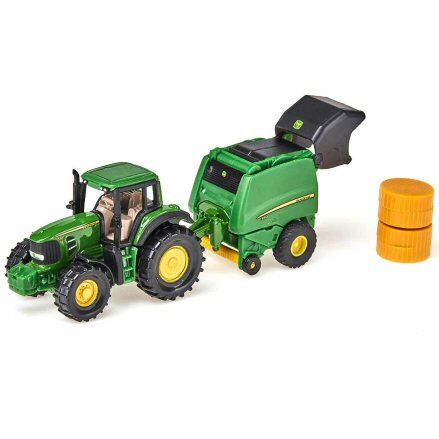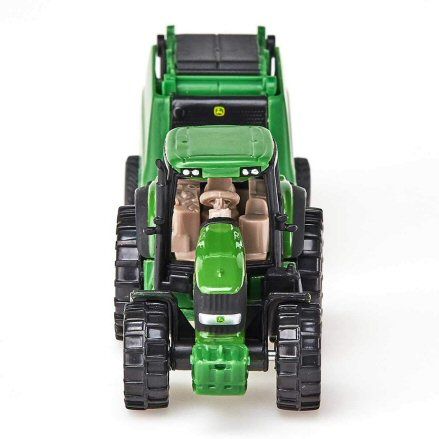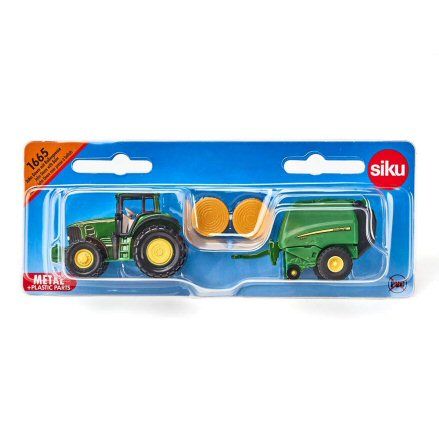 Siku 1665: John Deere 7530 Tractor with 990 Baler, Super
Replica scale model Siku John Deere tractor with removable cab, counter-weight and hitch; baler has opening tailgate where the 2 hay bales can be rejected.
Brand:
Siku
Product description
Sit back and just appreciate how accurately portrayed this Siku John Deere tractor is; perfectly sized to a 1:72 scale, with still lots of intricate detailing, on the inside and out.
Its not without its features, which include: radiator, headlights, exhaust, steps to the cab, engine detail and a counter-weight fixed to the front mount.
John Deere tractor has rear tow hitch, rolling wheels and a detachable cab for inspecting the interior.
In tow is quite a small, yet functional matching Siku John Deere baler sitting on a single axle. It has an opening rear tailgate which will allow the bales to roll out.
Front set of wheels help the hay/straw mechanism inject the loose hay to then force into the baler drum to then be transformed into the rounded bales - which offload out the back to be left behind.
Set of two rounded bales in included will help keep things moving in play; use for the reason they were intended for - injecting out baler; store in the barn; stack them or haul them in the front loader or trailer.
Features
Discontinued
Item No: 1665
Scale: 1:72
Age: 3 years and up
Presented in blister packaging
Made from die-cast metal
Baler for holding bales
2 Rounded hay bales
Rolling wheels
Compatible rear hitch
Dimensions: L12.5 x W3.4 x H4 cm
Weight: 49.9g
Manufacturer details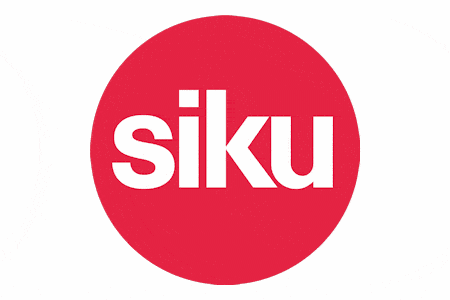 Still a fairly new tractor/trailer set that was released in 2012, it set a standard in a new series of models in the Siku Super range. All tractor and trailer/implement combinations set a theme; in this case its for harvesting time once the hay or straw is cut. So with that in mind, Siku have supplied a matching JD combine harvester, as you'll need it to cut the field first.
Guide to Siku John Deere 7530 Tractor
To get the most out of this John Deere tractor/baler set, they need to know what that means; and to put it lightly, the set is used for once the hay field as been harvested, as our guide will explain.
John Deere 7530 Tractor
Small, chunky really attractive Siku John Deere tractor looks just as it should be; only its in a 1:72 scale but still with interior detailing and intricate exterior decor.
When it needs repairing, its helped by removing the detachable driver's cab, there's also an imitation counter-weight and a rear tow hitch.
John Deere 990 Baler
Sat on a twin-axle for better maneuverability, the Siku John Deere baler is towed by the matching John Deere tractor well the round bales can be stored inside, before rejecting them as you roll forward.
Connect Siku baler to tractor rear tow hitch using drawbar; front wheels are connected to mechanism that collects the harvested hay/straw, well the tailgate opens up as to allow the rounded bale to roll out.
2 Rounded Bales
Set of 2 rounded bales are needed to further interject extended play value in this tractor/baler set. Add a bale into the baler one at a time, to then allow it to roll out as the tractor rolls over the field.
Bales can then be left behind to be picked up later by a telehandler or tractor with a bucket/fork attachment on its front loader. Store bales in the barn, stack them or move them around in a trailer.
Make use after harvesting straw
Siku John Deere tractor/baler set in 1:72 scale represents a theme here; its designed for use after the field of hay/straw has been cut by the combine harvester.
Then you turn up with your baler in tow to then sweep up all the loosely cut hay or straw off the ground, hay bales are then dried out for farm animal feed or bedding.
Siku
This item: Siku 1665: John Deere 7530 Tractor with 990 Baler
Age: 3 Years
Scale: 1:72
L12.5 x W3.4 x H4 cm
Weight: 49.9g
Siku
Age: 3 Years
Scale: 1:72
L9.6 x W3.6 x H46 cm
Weight: 90.7g
Siku
Age: 3 Years
Scale: 1:72
L9.7 x W3.8 x H4 cm
Weight: 40g
SHOP BY THEME
SHOP BY
INFORMATION