Siku 1843: John Deere 6920 S Tractor with Loader & Trailer, 1:87 Scale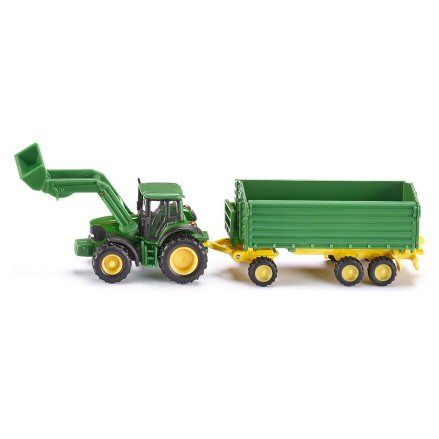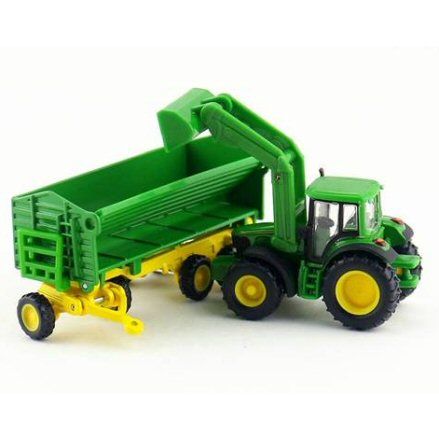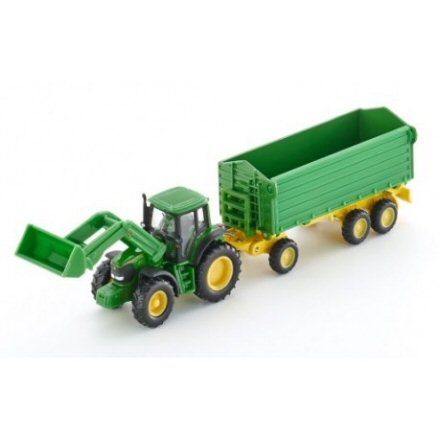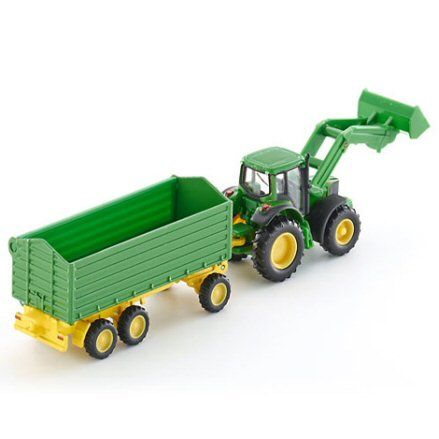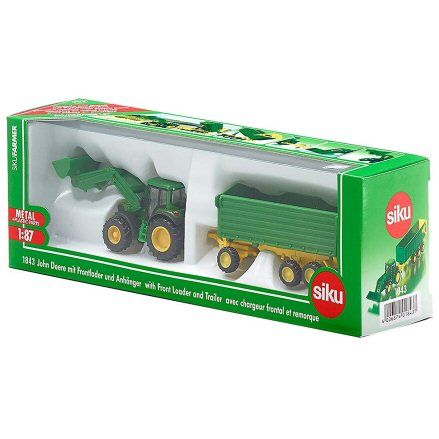 Siku 1843: John Deere 6920 S Tractor with Loader & Trailer, 1:87 Scale
Highly functional John Deere tractor/trailer set with front loader. Siku tractor features detachable cab, tow hitch; well the trailer as a side-tipping up function.
Brand:
Siku
Product description
Three for the price of one on this set with a Siku John Deere tractor featuring a functional front loader and a matching trailer that as a bunch of features of its own.
Large series Siku 1843 John Deere 6920 S tractor, but still in a miniature 1:87 scale; it as free rolling wheels, detachable cab, imitation counter-weight and rear tow hitch as the stand out features.
Exterior detail extends to most John Deere tractors here; with the distinguishable engine radiator, along with headlights, mud guards, steps to cab, exhaust - along with JD insignia printed on bonnet.
Fixed to bonnet is the functional front loader that as an up/down movement, with a functional tipping bucket attachment used to scoop up and offload silage, manure or sand around the yard.
Connected to the rear tow hitch is the long, steerable drawbar of the Siku John Deere side-tipping trailer with a hinged bar to allow accessibility.
It does not tip back in the traditional sense, but rather to the side with an opening side panel to offload.
Not a farm trailer for hauling standard farm materials this one, such as: manure, potatoes etc. But a farm trailer that is used to haul silage to spill out on the cow field or barn to allow cattle to feed.
Features
Item No: 1843
Scale: 1:87
Age: 3 years and up
Presented in window display box
Made from die-cast metal
Side-opening tipping trailer
Functional front loader with bucket
Compatible rear hitch
Full Dimensions: L20.5 x W3.7 x H4 cm
Tractor: L8.7 x W3.7 x H3.7
Trailer: L13 x W3.9 x H4.8
Weight: 152g
Manufacturer details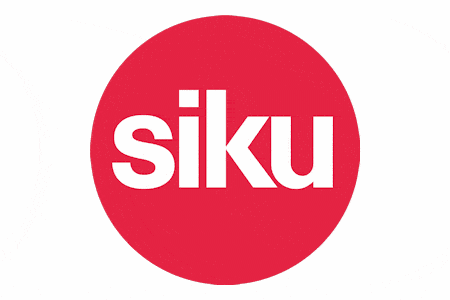 You know a tractor/trailer set is popular with kids and parents alike due to Siku continuing to supply the toy in their Farmer 1:87 series since 2006. For good reason too, you can always rely on John Deere tractors to get the job done. On top of that, a tractor with a basic trailer for hauling all sorts of contents is always a winner, and its all that is needed on the farm.
Guide to Siku John Deere 6920 S Tractor with Loader & Trailer
You'd be mistaken thinking this is a standard tractor/trailer set; when in fact its a side-tipping trailer which is one of a few interesting features we go into detail below.
Siku John Deere 6920 S Tractor
Highly detailed, replica scale large series John Deere 6920 S tractor in 1:87; it features accurate JD exterior detailing, including: exhaust, steps, counter-weight, tow hitch, headlights and engine radiator.
Due to the green colouring with black trim, along with the bright yellow wheels rims we know its a John Deere. Its further recognised as a John Deere thanks to the insignia printed along side of bonnet.
Front Loader
Up and down movement of the front loader will give them all they need to operate a loader that functions similar to the real thing. It doesn't have moving hydraulics, but there is imitation imprint detail.
All plastic front loader requires the up/down action manually; hinged on the bonnet near to the cab to give it that basic lowering and raising movement.
Pivoting Bucket Attachment
Basic pivoting bucket attachment fixed to end of front loader is essential for using to swoop up items before offloading in a trailer or elsewhere on the yard.
Bucket has a pivoting action which is vital as it needs to be tipped up or down depending on the positioning of the loader - so to prevent contents falling out of attachment.
Triple-Axle Side-Tipping Trailer
You know a standard tipping up action trailer, well this one is similar, only it tips over to the left-side, as oppose to tipping back to empty on rear tailgate.
Instead, the Siku John Deere side-tipping trailer as a side opening panel that opens up to empty, and well it might not be ideal for hauling potatoes, its perfect for emptying silage for the cattle to feed.
Siku
This item: Siku 1843: John Deere 6920 S Tractor, Loader, Trailer
Age: 3 Years
Scale: 1:87
L20.5 x W3.7 x H4 cm
Weight: 152g
Siku
Age: 3 Years
Scale: 1:87
L19 x W3.5 x H4 cm
Weight: 240g
Siku
Age: 3 Years
Scale: 1:72
L12.5 x W3.4 x H4 cm
Weight: 49.9g
SHOP BY THEME
SHOP BY
INFORMATION