Siku 1848: Deutz Fahr Agrotron Tractor with 3 Piece Joskin Trailer Set, 1:87 Scale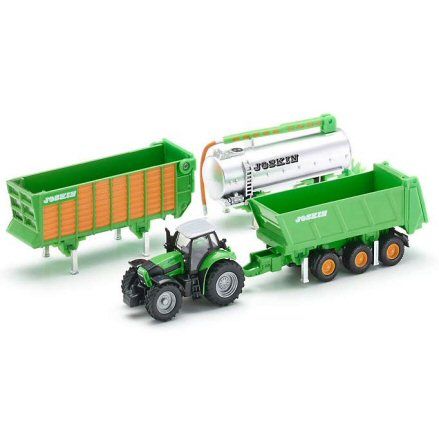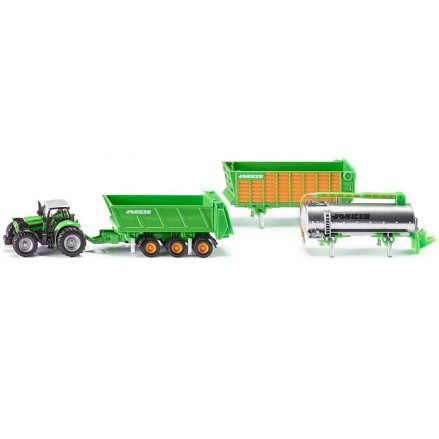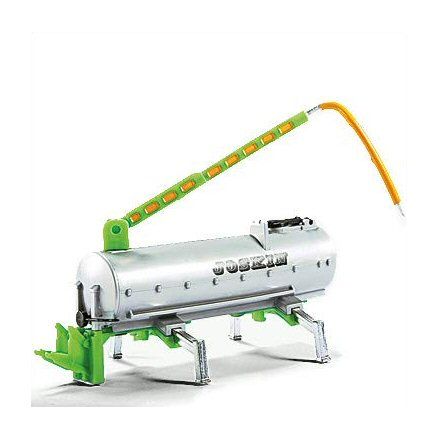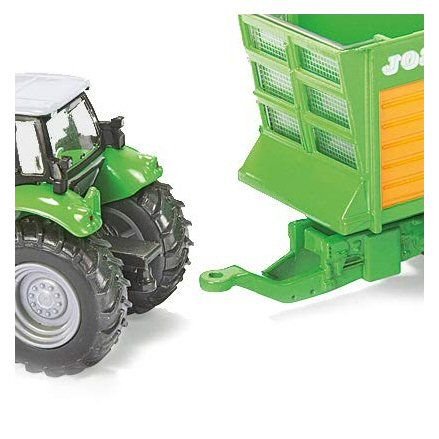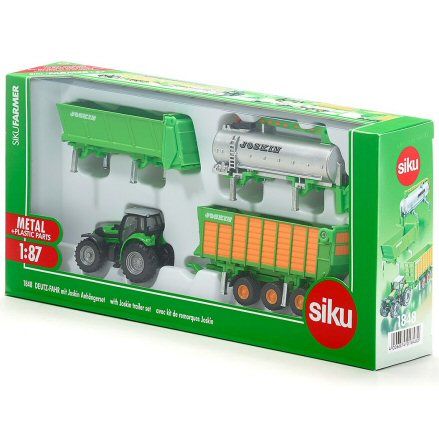 Siku 1848: Deutz Fahr Agrotron Tractor with 3 Piece Joskin Trailer Set, 1:87 Scale
All in one Deutz tractor with detachable cab, rear tow hitch; features 3-axle chassis trailer along with three Joskin trailers units that are carried on the trailer.
Brand:
Siku
Product description
Not possible to haul all three trailer units at one time as they're designed to be used with the tripe-axle chassis one at a time; its used like a trailer that carries all three Joskin trailer units.
In a way this Siku 1848 Deutz Fahr tractor with a three-piece Joskin trailer set in not a trailer set at all; in fact the set includes one trailer - plus three trailer units that can only be towed one at a time.
But that's where lays the fun; going back and forth between all three trailers units, depending on what they need it for during play.
Switching between a Siku Joskin trailer unit goes like this: Deutz tractor tows triple-axle chassis trailer; manoeuvres under any trailer unit which would be standing on four support legs to get underneath it.
Support legs are then folded up so the tractor can tow chassis unit with trailed fixed on top away to job.
Joskin trailer set includes a silage trailer for hauling cut grass; vacuum slurry tanker for spreading manure; well likewise, an open back manure spreader for fertilising the fields.
Tasked to transport the trailer units to and from the yard is the Siku Deutz tractor; features free rolling wheels, detachable cab and a rear tow hitch which connects to the drawbar on triple-axle chassis.
Features
Item No: 1848
Scale: 1:87
Age: 3 years and up
Presented in window display box
Made from die-cast metal
Triple-axle towing trailer chassis
3 Joskin trailer units
Compatible rear hitch
Dimensions: L28 x W3.5 x H4 cm
Weight: 399g
Manufacturer details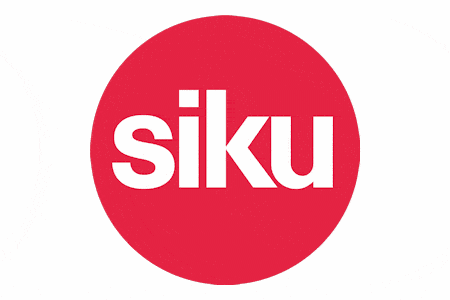 Manufacturer details
Any wonder why this Deutz tractor with a set of three Joskin trailer units have existed in the 1:87 series since 2008. Its because of the big set of trailers that have appealed to young ones; more so for parents as its a big money saver. All that you need three trailers will be sure to keep them busy, well a single tractor with chassis unit, used to tow one unit at a time.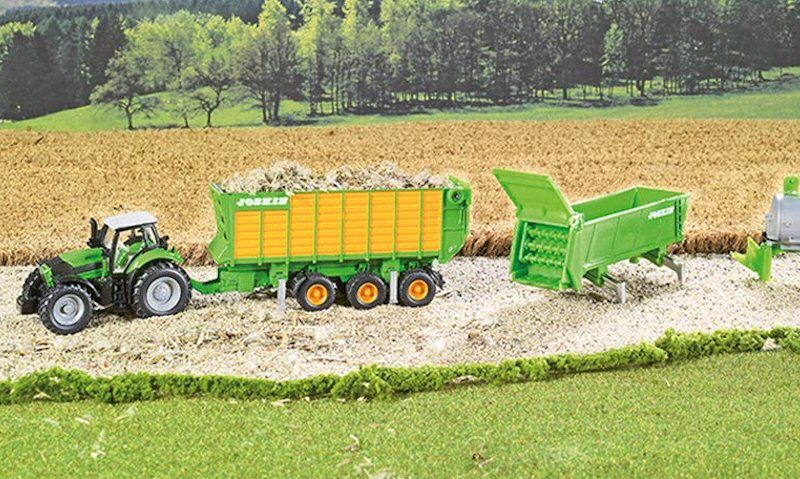 Guide to Siku Deutz Fahr Agrotron Tractor Set
Right out of the box its hard to know which Joskin trailer unit does what; so we've put this little guide together to help them understand the purpose of each farm trailer unit.
Deutz Fahr Agrotron Tractor
Hauling the three Joskin trailer units is this matching green Siku Deutz Fahr Agrotron tractor in 1:87 scale; a perfectly replicated, functional farm tractor with rolling wheels, detachable cab and tow hitch.
Rear tow hitch featured on this tractor is a basic one, designed to tow the triple-axle chassis unit well all trailers can be fixed on top to be used around the farm, one at a time.
Triple-Axle Chassis
Interchangeable trailer set don't need wheels to tow; instead they're lifted onto this triple-axle chassis which acts as a base for all three Siku Joskin trailers in 1:87 scale.
All trailers have an elevation support unit that rolls out, before dropping down to allow each trailer unit to stand on four support legs - this triple-axle unit then manoeuvres beneath it to connect.
Joskin Vacuum Slurry Trailer
Siku Joskin Vacuum Tanker trailer is used to spread slurry over the fields with use of the rear unit that pumps out manure over the ground well being towed.
Filled up using the twisting action of a hose; its then positioned near a tank, manure pit or likewise - the Joskin Manure Spreader trailer included in this set, as a way to access slurry from the open back.
Joskin Silage Trailer
Siku Joskin trailer unit with yellow panels is in fact a transportation unit for silage. In the field tractor/trailer would ride side-by-side next to self-propelled forager for it to be poured into this trailer.
Its then driven back to the yard where the packed in silage is emptied into a silage pit via the opening rear tailgate - no tipping up action so silage has to be pushed out manually on this trailer set.
Joskin Manure Spreader
Siku Joskin Manure Spreader is a trailer unit with extra bulk in the rear tailgate. Its for the use of hauling across the prepared land before driving up and down to spread manure across the ground.
Deutz tractor would position manure spreader near to manure pit or tank; filling up the open back before arriving at the farm field to give it a good spreading of manure.
All In One Trailer Set
Well all three Joskin trailer units are not trailers in the conventional sense - refer to the triple-axle chassis unit - they're instead static cargo units which are only useful when hauled on top of chassis.
Offloading trailer unit requires they pull out support legs, well the chassis can they move away. Though, when it comes to preparing fields for crops, the whole Joskin trailer unit is used for that purpose only.
Siku
This item: Siku 1848: Deutz Fahr Agrotron Tractor, 3 Trailer Set
Age: 3 Years
Scale: 1:87
L28 x W3.5 x H4 cm
Weight: 399g
Siku
Age: 3 Years
Scale: 1:72
L9.8 x W3.6 x H4.6 cm
Weight: 118g
Siku
Age: 3 Years
Scale: 1:72
L16.1 x W3.6 x H4.5 cm
Weight: 90.7g
SHOP BY THEME
SHOP BY
INFORMATION