Siku 1632: Deutz Fahr Agrotron 265 Tractor with Krampe Halfpipe Trailer, Super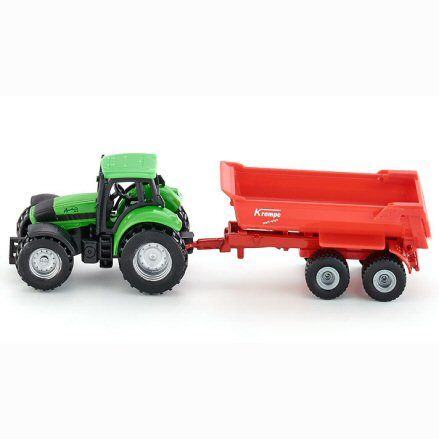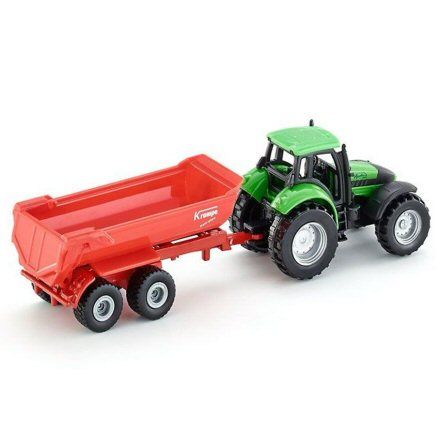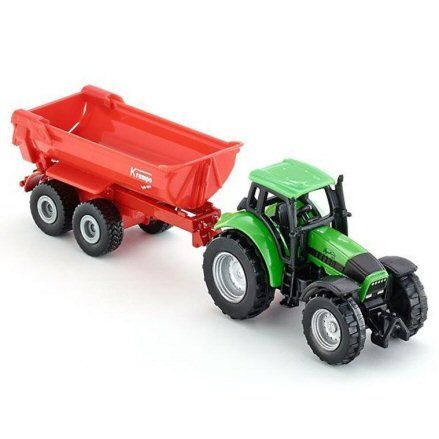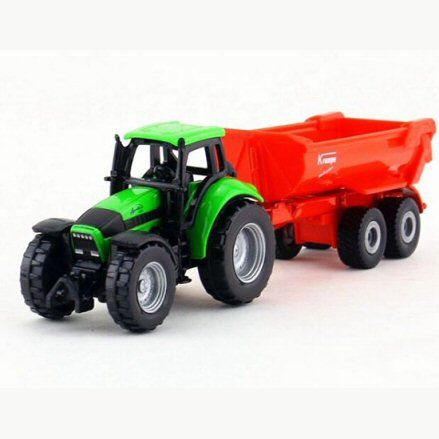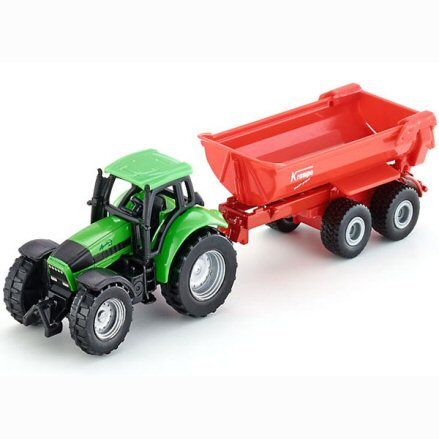 Siku 1632: Deutz Fahr Agrotron 265 Tractor with Krampe Halfpipe Trailer, Super
Replica Deutz tractor with detachable cab, free rolling wheels and rear tow hitch; Krampe trailer has a twin-axle with a tipping up action dumper with tailgate.
Brand:
Siku
Product description
Deutz tractor so it can do all heavy jobs around the tasks, as it would be a powerful farm vehicle, which is matched up with a tough little Krampe trailer.
Replica scale die-cast tractor has detachable cab, rolling wheels, interior cab detail, imitation front mount and tow hitch; while the exterior detail extends to steps, exhaust, radiator and lights.
Interior detail is visible through a windowless cab, well access to the whole thing happens through the removable cab.
Siku Krampe halfpiper dumper trailer in 1:72 scale is made from metal and plastic; featuring a tipping up action with a opening tailgate for offloading the material.
Heavy standalone trailer so even more heavier with a load in the back; that's why its sitting on a twin-axle with thick, rubberised tyres with tread.
Simply slot on the drawbar of the trailer over the tractor tow hitch to keep it all securely fastened.
Features
Item No: 1632
Scale: 1:72
Age: 3 years and up
Presented in blister packaging
Made from die-cast metal
Krampe Halfpipe dumper trailer
Rolling wheels
Compatible rear hitch
Dimensions: L16.1 x W3.6 x H4.5 cm
Weight: 90.7g
Manufacturer details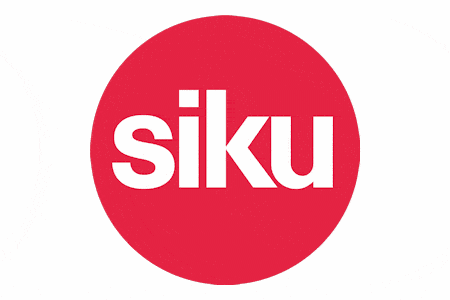 Availavle since 2010, so a tractor/trailer set that existed in the Super range for sometime. Reasoning behind the set is its colour theme; well tractor is bright green, the trailer is bright red, so would appeal to kids for the colouring alone. You'll need this set for hauling heavy loads around the farm, and the halfpipe trailer is suited to just that, along with the tractor.
Guide to Siku Deutz Fahr Agrotron 265 Tractor
Big, powerful Deutz tractor paired up with a equally strong, big halfpipe trailer; used for hauling crops to sand with a tipping action for emptying.
Deutz Fahr Agrotron 265 Tractor
Simple but effective Siku Deutz tractor in 1:72 scale; featuring free rolling wheels, detachable driver's cab, tow hitch, imitation-only front mount, exhaust with steps leading up to the interior cab detailing.
Rubberised tyres help with grip, along with the tyre tread detail. Built in die-cast with plastic areas, its finished in the Deutz green shade which is in contrast with the black trim.
Krampe Halfpipe dumper trailer
Hard-wearing, tough little Halfpipe dumper trailer in 1:72 scale; Halfpipe means it has less content hold, but its shaped in a half-circle which makes it easier to offload.
Siku Krampe trailer has a tipping up action which would otherwise be controlled by hydraulics; then there's the automatic opening tailgate, along with a twin-axle - designed to take on a lot of weight.
Towing System
To connect the drawbar of the Krampe trailer, all they have to do it slot in the bar hoop through the thin slot of the tractor rear tow hitch, before securing over the hook.
Drawbar is a lengthy one, meaning it will help them take corners at a smaller radius; which intern will prevent any rubbing of tractor tyres to the trailer.
Free-Rolling Wheels
Its important to have free rolling wheels on both tractor/trailer here as a gimmick like friction powered wheels would make it difficult for little farmers to play freely.
Thankfully Siku know that by making sure all eight wheels are allowed to roll around with no limitations.
No suspension really on either tractor or trailer, but both take rolling over rough terrain with nothing slowing them down.
Siku
This item: Siku 1632: Deutz Fahr Agrotron 265 Tractor, Krampe Trailer
Age: 3 Years
Scale: 1:72
L16.1 x W3.6 x H4.5 cm
Weight: 90.7g
Siku
Age: 3 Years
Scale: 1:72
L14.5 x W3.8 x H4.8 cm
Weight: 181g
Siku
Age: 3 Years
Scale: 1:72
L16 x W3.7 x H4.4 cm
Weight: 85g
SHOP BY THEME
SHOP BY
INFORMATION