Siku 1380: Deutz Fahr Agrotron TTV Forestry Tractor, Super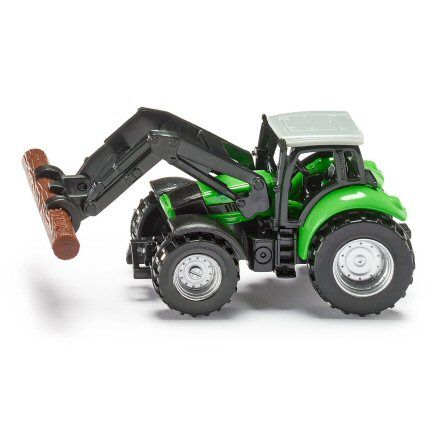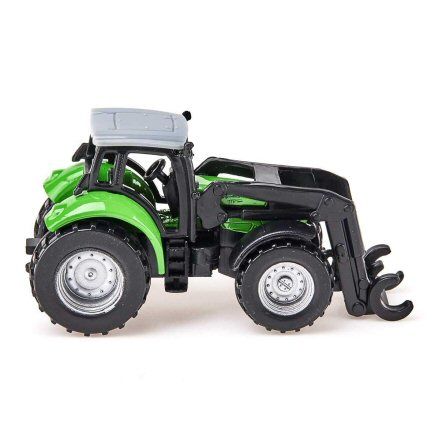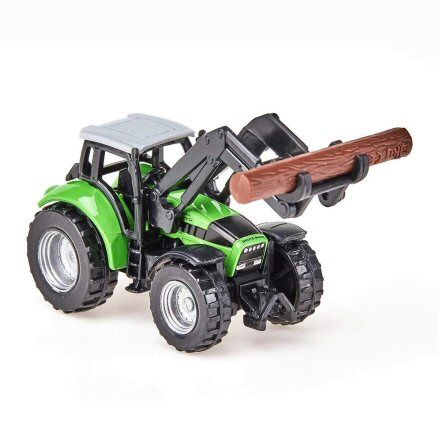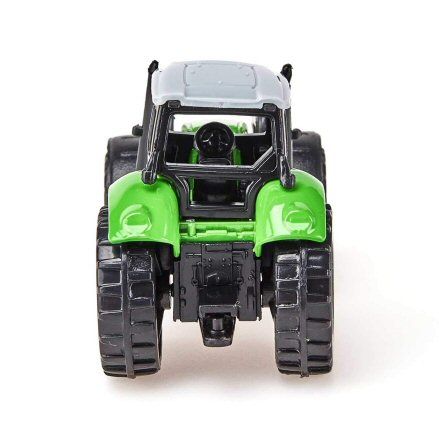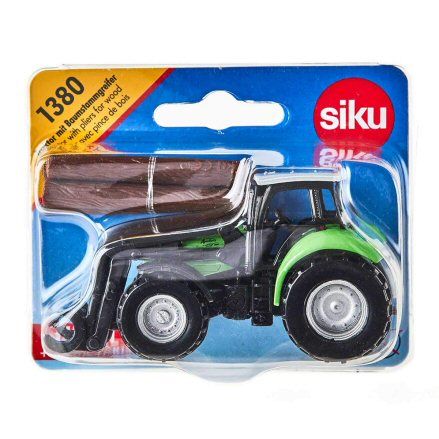 Siku 1380: Deutz Fahr Agrotron TTV Forestry Tractor, Super
Replica Siku Deutz forestry tractor in 1:72 scale with rear tow hitch, rolling wheels and detachable cab; functional front loader with grabber attachment.
Brand:
Siku
Product description
Remember this is a tractor first and a forestry machine second; only when playing they may find themselves deep in the woods helping out by removing freshly cut logs off the ground.
Forests are dense, populated grounds in rough terrain, so you can rely on the Siku 1380 Deutz forestry tractor to get you to the location safely; well bringing out logs to the awaiting trailer or forestry lorry.
Siku Deutz tractor has a removable driver's cab, free rolling wheels, imitation front mount and a working rear tow hitch for towing a forestry trailer.
Front loader has a basic up/down movement due to it being fixed to the bonnet on a metal bar. And although it doesn't bend in the middle, the attachment on the end can tip back and forth.
That end attachment is what's known as a grabber; for grabbing tree logs to be moved onto a trailer or lorry. It is a static grabber position so the logs simply squeeze onto its tight grip.
Features
Item No: 1380
Scale: 1:72
Age: 3 years and up
Presented in blister packaging
Made from die-cast metal
Front loader with grabber
Includes 2 tree logs
Rolling wheels
Compatible rear hitch
Dimensions: L9.8 x W3.6 x H4.6 cm
Weight: 118g
Manufacturer details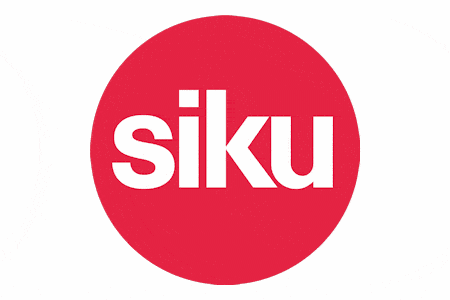 We can thank the research department at Siku for finally giving us a forestry trailer in the Super series; and for what its worth, they've chosen Deutz to head it up. Released in 2014, this Deutz Agrotron forestry tractor is fixed with a grabber, rather than the common bucket attachment in the Super range. So no need for farming with this one, its use is for logging.
Guide to Siku Deutz Fahr Agrotron TTV Tractor Set
Not a tractor you might not be used to, but a model that is used deep in the woods for forestry use; so that explains the grabber attachment on the end of the loader.
Deutz Fahr Agrotron TTV Forestry Tractor
Siku Super Deutz Fahr Agrotron tractor made for the use of forestry work; make no mistake, its still a tractor that can be used for farming, but we know its for forestry due to the loader with grabber.
Solid, die-cast tractor with plastic parts, soft rubberised wheels and exceptional exterior detail; exhaust pipe, steps, radiator detail, imitation front mount, functional rear tow hitch and Deutz insignia.
Front Loader
There's no difference between a front loader for farming to one that is used for forestry work; only the forestry loader has a grabber attachment as oppose to the usual bucket.
Connected near to the cab with use of a hinge, its possible to move the loader up/down well simultaneously using the bucket. They must keep the loader upright manually to prevent it dropping.
Grabber Attachment
Grabber, also known as a grapple, is the end part attached to the front loader. Here you'd expect the operator of the tractor to grab hold of tree trunks for loading onto an awaiting trailer.
Pivoting action to assist you in grabbing logs from multiple angles; before lifting it up off the ground to then manoeuvre around before dropping them off.
2 Tree Logs
Its amazing just how much value this simple set of two 'wooden effect' tree logs have on play. That's because they create tasks; such as lifting them up to be placed elsewhere.
Perfectly shaped to be able to slot nicely into the grabber attachment, fixed to the front loader on the tractor. The grabber does not open or close, they just have to squeeze the logs securely into place.
Siku
This item: Siku 1380: Deutz Fahr Agrotron TTV Forestry Tractor
Age: 3 Years
Scale: 1:72
L9.8 x W3.6 x H4.6 cm
Weight: 118g
Siku
Age: 3 Years
Scale: 1:72
L16 x W3.7 x H4.4 cm
Weight: 85g
Siku
Age: 3 Years
Scale: 1:72
L14.5 x W3.8 x H4.8 cm
Weight: 181g
SHOP BY THEME
SHOP BY
INFORMATION