Siku 1846: Claas Axion 850 with Trailer, 1:87 Scale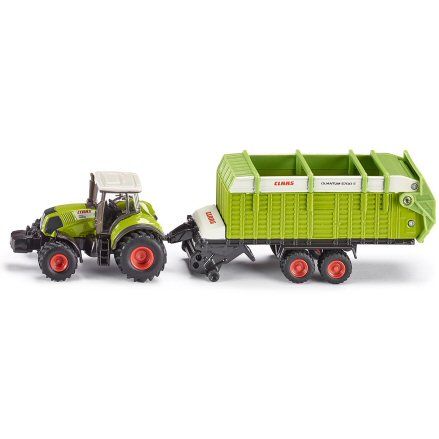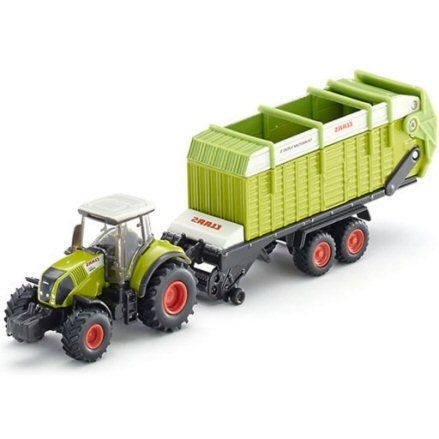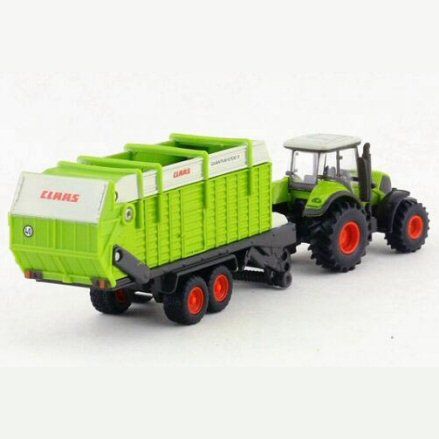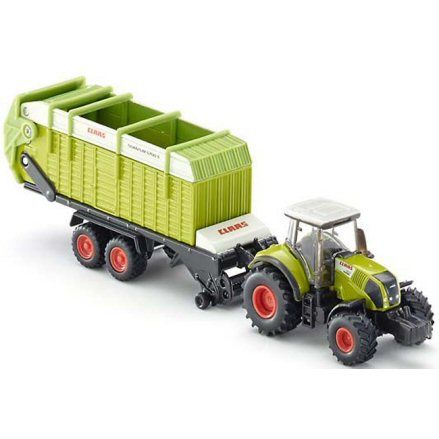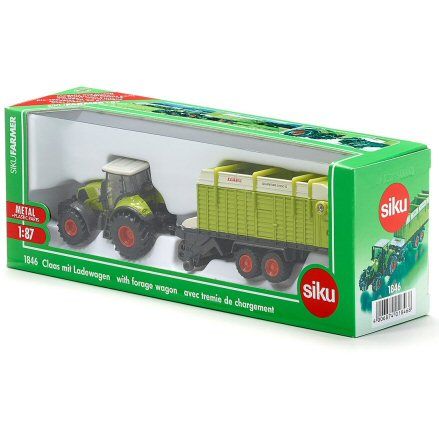 Siku 1846: Claas Axion 850 with Trailer, 1:87 Scale
Replica bright green Siku Claas Axion tractor in 1:87 scale, features detachable cab, rolling wheels; with a twin-axle hay trailer and opening rear tailgate.
Brand:
Siku
Product description
Miniature Claas tractor and trailer set in 1:87 scale is a rare one, due to the set matching. You've got the Claas tractor so why not stick with the model you like best, by using a Claas trailer.
Siku 1846 Claas Axion 850 tractor is a large model for towing heavy implements, but as you can see its still a small one in 1:87 scale.
It features a detachable driver's cab, free rolling wheels, rear tow hitch and interior detailing.
In tow is a trailer used for the purpose of mowing up freshly cut grass, and it works like this; forager mows grass; this Claas tractor/trailer follows grass cut line to sweep it all up into hay trailer wagon.
Then its all taken back to the farmyard where its emptied into a silage pit. That's made possible with the Siku Claas hay trailer featuring an opening rear tailgate.
Hay trailer sits on a twin-axle to take as much compact grass as it can, before emptying later.
Complicated mechanism near drawbar is in fact the sweeping section, NOT for CUTTING; collecting the grass well it throws into the trailer back - before another mechanism would compact it.
Features
Item No: 1846
Scale: 1:87
Age: 3 years and up
Presented in window display box
Made from die-cast metal
Hay trailer with opening tailgate
Rolling wheels
Compatible rear hitch
Dimensions: L19 x W3.5 x H4 cm
Weight: 200g
Manufacturer details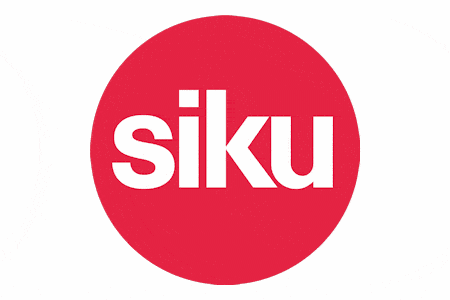 One of the earliest Siku claas tractor/trailer releases from 2007, setting a theme as a tractor used to arrive at the grassy meadow once its been cut. In matching this set, Siku rarely match but have done so perfectly with this Claas combination. And if they wish to develop the series over time, there's no trouble mixing and matching with other manufacturer's.
Guide to Siku Claas Axion 850 Tractor with Trailer
They may probably be confused what use the trailer being towed is for; well as our guide explains, its a hay trailer for mowing up cut grass, so read ahead to learn more.
Claas Axion 850 Tractor
Large scale in real life terms, but this is a 1:87 scale Siku Claas tractor that is unmatched for power and reliability - and that's why its being used to tow the heavy hay trailer.
Fixed with an imitation counter-weight to counter-act the weight being towed, a detachable driver's cab and free rolling wheels. Exterior detail includes exhaust, steps, headlights and engine radiator.
Claas Hay Trailer
You know when the meadow as been cut using a self-propelled forager or likewise, a trailed or fixed mower combination, this Siku Claas tractor/trailer combo arrives after to mow it all up.
Large, tall hay trailer is made that way to pack in as much grass as possible; in doing so a mechanism would compact the cuttings before releasing it back at the yard in the silage put via opening tailgate.
Tow Hitch to Tow Bar Coupling
Nothing complicated with the Siku Claas tractor to hay trailer here; simply slot trailer drawbar into the basic hook of the tractor tow hitch.
As the twin-axle on the trailer is positioned centrally, this shouldn't put any strain on the tow hitch, thus making is a secured fix without fear of it disconnecting well in motion.
Rolling Wheels
You know its a Claas tractor thanks to the distinguished red rims on the inside of the wheels, of which, all are free rolling with tread detail, and made from rubberised material.
Similarly, the twin-axle of the Siku Claas hay trailer are also fixed with red rims, free rolling and have a tyre tread pattern that is different to the tractor.
Siku
This item: Siku 1846: Claas Axion 850 with Claas Hay Trailer
Age: 3 Years
Scale: 1:87
L19 x W3.5 x H4 cm
Weight: 200g
Siku
Age: 3 Years
Scale: 1:87
L22 x W3.5 x H4 cm
Weight: 163g
Siku
Age: 3 Years
Scale: 1:87
L23 x W3.5 x H4 cm
Weight: 186g
SHOP BY THEME
SHOP BY
INFORMATION