Siku 1826: Claas Xerion 5000 Tractor with Amazone Cayena 6001 Seeder, 1:87 Scale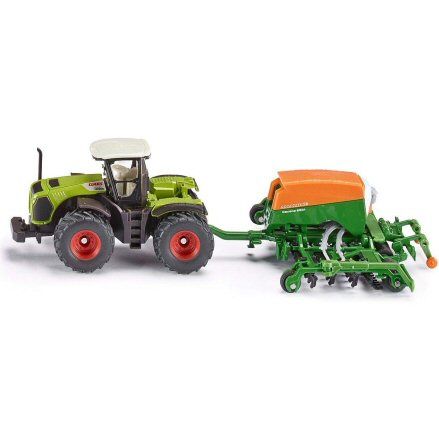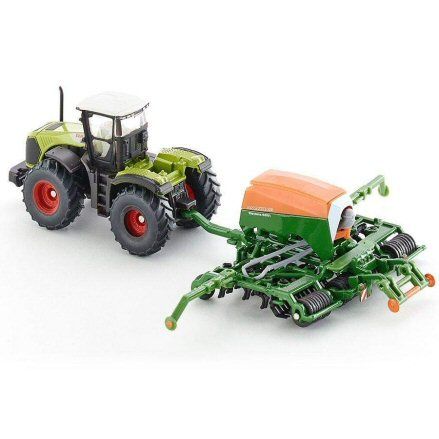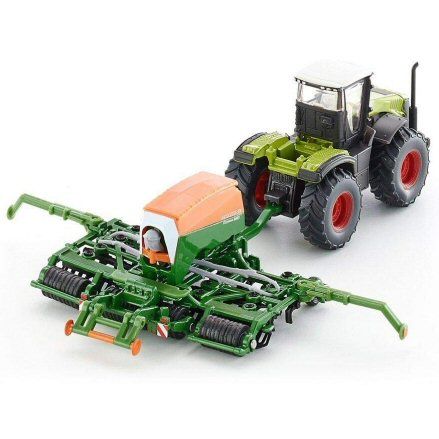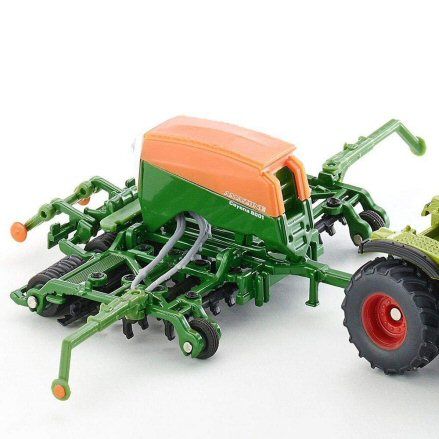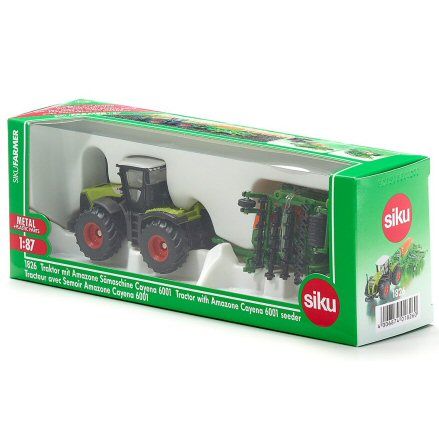 Siku 1826: Claas Xerion 5000 Tractor with Amazone Cayena 6001 Seeder, 1:87 Scale
Big yet miniature Siku Claas Xerion tractor with detachable cab, 2-point hitch; Siku Amazone Cayena 6001 Seeder has folding up mechanism on wheels.
Brand:
Siku
Product description
Make no mistake if its realistic farm work you need in child's play then make it this Siku Claas Xerion tractor, matched with a replica model Amazone Cayena Seeder - all in a miniature 1:87 scale.
Bigger, more interesting model Siku 1826 Claas Xerion tractor is made from die-cast with plastic parts, it as rubberised tyres with a free rolling action.
Features a detachable cab for accessing interior, two-point rear tow hitch; one for towing standard trailers or implements; plus additional hitch for towing implements that use a different drawbar design.
Exterior detail on this tractor is there to admire; includes steps leading up to driver's cab, a front hitch with mount for use later, exhaust pipe and the Claas insignia along side bonnet.
Being towed behind the tractor is an implement used exclusively for field work. Its a replica die-cast Amazone tillage and sowing tool.
Centre positioned free rolling wheels help transport the implement to field, well the out wide tillage tool can be folded up to tow safely on road.
Features
Item No: 1826
Scale: 1:87
Age: 3 years and up
Presented in window display box
Made from die-cast metal
Folding seeder
Rolling wheels
Compatible rear hitch
Dimensions: L22 x W3.5 x H4 cm
Weight: 163g
Manufacturer details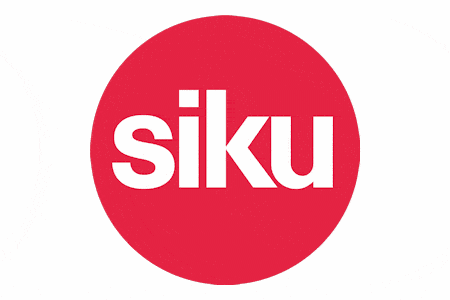 Released 2013 as part of a the newest series of tractor and trailer sets; Siku released this model set to represent tillage and sowing of fields. First comes the plough, then the sowing before planting seeds, and its this Siku Claas tractor matched with a Amazone Seeder used for those duties. An all in one implement with an opportunity to use a plough later.
Guide to Siku Claas Xerion 5000 Tractor with Seeder
In order to get the most of this tractor/trailer set, the young farmer should really understand what the implement is used for, which we outline in our guide below.
Claas Xerion 5000 Tractor
Powerful, yet miniature scale Claas Xerion tractor is capable of hauling the largest of large farm implements and trailers; all with use of its one of two rear tow hitches fixed to this model.
Model Claas tractor features detachable cab, rolling wheels and intricate interior detail. Exterior detail includes steps to cab, exhaust fixed to frame, engine radiator detail and reflective headlights.
Amazone Cayena 6001 Seeder
Tillage and seeder combination farm implements can be dragged behind the powerful Class tractor through the field or folded up to be towed on the road.
Rolling wheels help haul the Siku Amazone Cayena Seeder to and from the farm, well the sharp blades can fold up or down. Additional pull out mechanism will help guide this implement for doing its duty.
Tow Hitch, Drawbar
Despite its sheer size, its still a Siku Claas tractor with a standard rear tow hitch to make it compatible with all the implements and trailers in the series - and would be used to tow this Seeder.
However, there is an additional tow hitch mechanism that is located inside the back section. No need to use it to tow the implement included, but you may need it for say the Siku Samson Slurry Tanker.
All-in-One Tillage to Sowing
Once the field as been harvested, its time to prepare it for growing crops again, and that's where this Claas tractor/seeder set is used for - to tillage the ground before planting seeds.
Its an all in one tillage/sowing implement so all they have to do is connect it to the rear hitch before dropping the blades, before dragging it through the muddy ground.
Siku
This item: Siku 1826: Claas Xerion 5000 Tractor with Seeder
Age: 3 Years
Scale: 1:87
L22 x W3.5 x H4 cm
Weight: 163g
Siku
Age: 3 Years
Scale: 1:87
L23 x W3.5 x H4 cm
Weight: 186g
Siku
Age: 3 Years
Scale: 1:87
L8 x W6 x H5 cm
Weight: 81g
SHOP BY THEME
SHOP BY
INFORMATION