Siku 1844: Massey Ferguson 8480 Tractor with Krampe Trailer, 1:87 Scale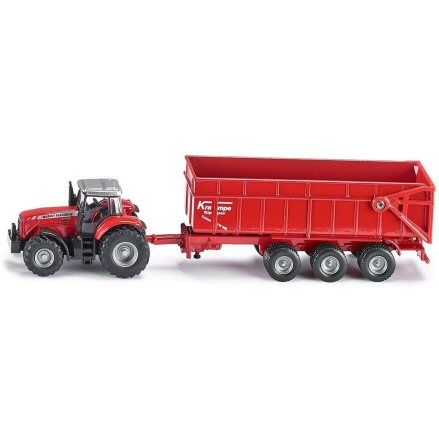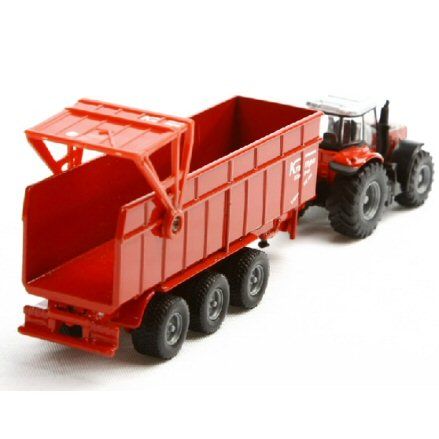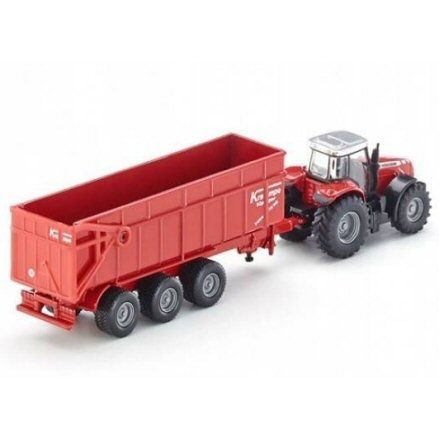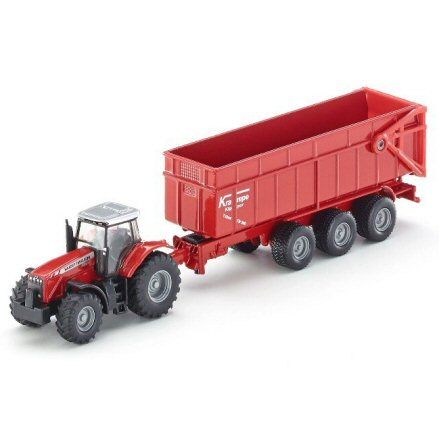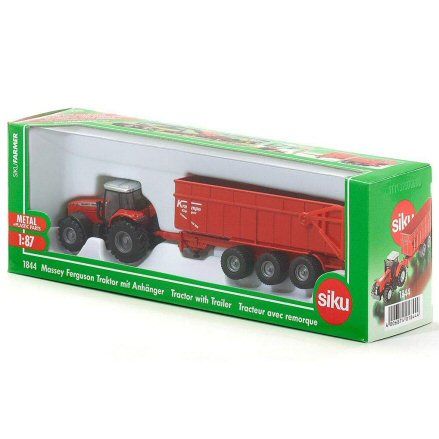 Siku 1844: Massey Ferguson 8480 Tractor with Krampe Trailer, 1:87 Scale
Replica scale Siku Massey Ferguson 8480 tractor in 1:87 with detachable cab; Krampe trailer has tipping action and opening tailgate on a triple-axle.
Brand:
Siku
Product description
Whatever they can think of its possible to haul around said items in the open back of this Siku Krampe tipping trailer, supported on a triple-axle with an opening rear tailgate for emptying contents.
Siku tractor of choice hauling this extra long tipping farm trailer is the Massey Ferguson 8480 tractor in 1:87 scale. It features a detachable cab with a compatible rear tow hitch.
Using the rear tow hitch is as simple as it comes; basically fits into the drawbar of the Siku Krampe trailer through the thin slot between tow hitch hook and secure plate above.
Siku 1844 Massey Ferguson 8480 tractor has free rolling wheels for going forwards and back, it does not have steerable wheels, but there's nothing stopping them going left and right without steering.
Triple-axle wheels on the tipping trailer are free rolling also, and should be kept firmly on the ground at all times when pushing or pulling the tractor in front.
Features
Item No: 1844
Scale: 1:87
Age: 3 years and up
Presented in window display box
Made from die-cast metal
Tipping action trailer
Opening tailgate
Rolling wheels
Compatible rear hitch
Dimensions: L19 x W3.5 x H4 cm
Weight: 200g
Manufacturer details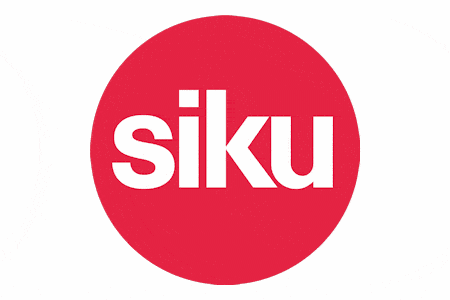 Hard to believe this Siku Massey Ferguson tractor and Krampe tipping trailer as been in the Farmer 1:87 series since 2007. Still going strong today, the set has out lasted most other models for one simple fact: the open design of the trailer for hauling any items, along with the tipping up action. All that the Siku tractor as to offer is simply a delightful bonus.
Guide to Siku Massey Ferguson 8480 Tractor with Trailer
Not just a Siku tractor trailer set, but one that has a feature with undiscovered functionality, and a trailer that has a tipping up action to emptying contents - as we explain in our following guide.
Massey Ferguson 8480 Tractor
One of Massey Ferguson's larger series tractor, though you wouldn't think so as its built in a miniature 1:87 scale, perfectly replicated in MF colours, confirmed with their insignia along the bonnet.
Has a detachable driver's cab for accessing the interior detailing; while the exterior decor extends to the tow hitch, imitation counter-weight, steps to cab, silver top cab roof, headlights and radiator detail.
Krampe Kipper Tridem TW 900
Siku Krampe Kipper trailer is a long, open trailer with a tipping action; it features an opening rear tailgate so to empty contents once back at the yard.
It is sat on a triple-axle to help withstand the weight it holds, well the tipping up feature is supported with a basic extending hydraulic-look mechanism - only visible once trailer is tipped up.
Drawbar to Rear Tow Hitch
Basic rear tow hitch on Siku Massey Ferguson tractor is one that is made from durable plastic; it has a slot design as to push in the drawbar of the trailer in tow.
Drawbar on Siku Krampe tipping trailer is fixed on a long tow bar, with a basic hoop for hooking over the rear tow hitch coupling.
Items to haul around
If only left to the imagination the young farmer is free to think up interesting contents to haul; amongst them perhaps silage, potatoes or hay bales.
Why not go the extra mile for them by making use of real items found around the house: cotton rolls, lollipop sticks, balled up paper, chopped up corks - with so many more items safe to use.
Siku
This item: Siku 1844: Massey Ferguson 8480 Tractor with Trailer
Age: 3 Years
Scale: 1:87
L19 x W3.5 x H4 cm
Weight: 200g
Siku
Age: 3 Years
Scale: 1:72
L6 x W3.5 x H4 cm
Weight: 40.8g
Siku
Age: 3 Years
Scale: 1:72
L6.8 x W3.5 x H4.3 cm
Weight: 43g
SHOP BY THEME
SHOP BY
INFORMATION