Siku 1484: Massey Ferguson Tractor with Front Loader, Super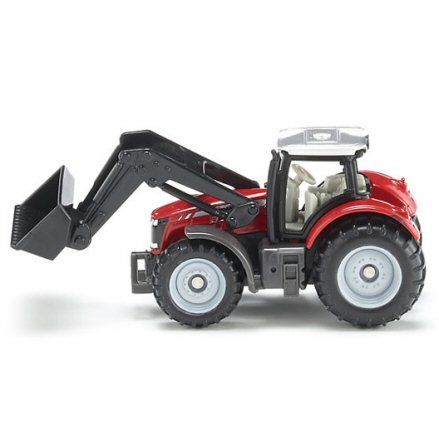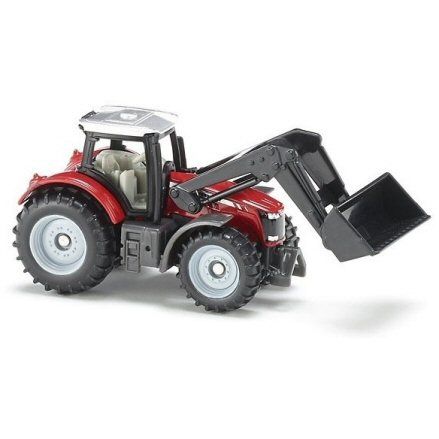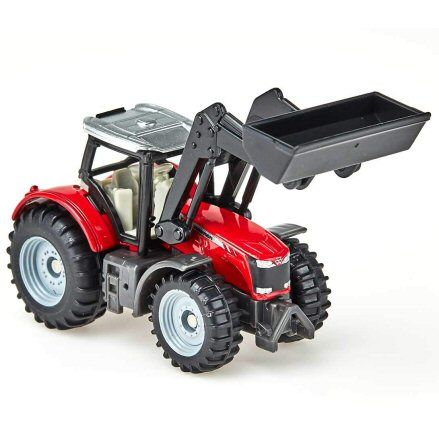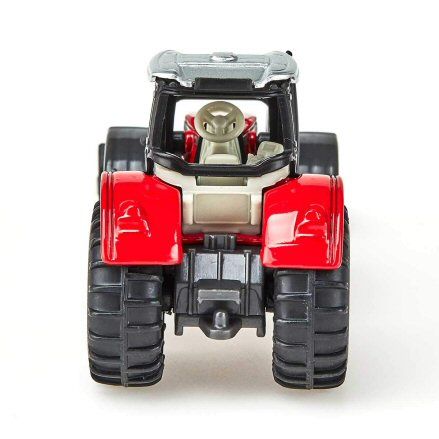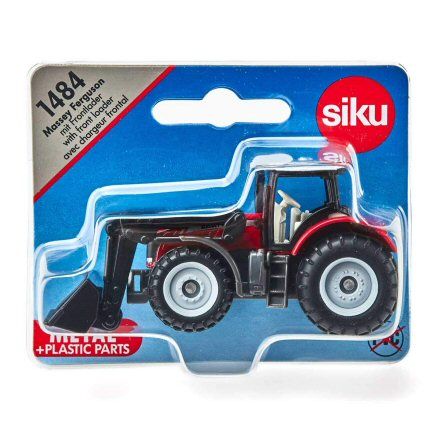 Siku 1484: Massey Ferguson Tractor with Front Loader, Super
Cheaper but more accurate scale Siku Massey Ferguson tractor in 1:72 scale; standard tow hitch, detachable cab and free rolling wheels.
Brand:
Siku
Product description
Siku make intriguing model tractors in all scales; only the Super series was previous left behind in terms of being a perfect replica, with lack of intricate detailing.
Not anymore as this Siku 1484 Massey Ferguson is as close to perfection as it could possible be; and as its a Super model, its a cheaper option over all other tractors in their ranges.
First thought, the body design with wheel placement is replicated off the real life tractor, well the cab and body detailing is more busy with intricate detail.
As its an open, windowless cab design you can view the interior detailing with no restrictions; and we can tell the detailing here is far more accurate than the rest of the series.
To get up closer they only need to pull off the driver's cab from the body to view the inside of the cabin.
Exterior detailing includes a lesser seen step leading to the cab on the right side, well the left side has more alluring steps to assist in the driver accessing the cab door.
Fixed to the front is an imitation front mount only, well the rear has a functional tow hitch that is made to haul all farm trailers and implements in the 1:72 Super series.
Features
Item No: 1484
Scale: 1:72
Age: 3 years and up
Presented in blister packaging
Made from die-cast metal
Front loader with bucket
Rolling wheels
Compatible rear hitch
Dimensions: L6 x W3.5 x H4 cm
Weight: 40.8g
Manufacturer details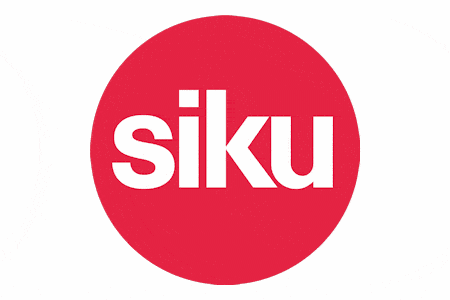 Since this Siku Massey Ferguson tractor was released in 2015; its an upgrade on previous MF tractors that have, shell we say, less care and attention. Now we have a model that is replicated with more intricate detailing, which brings it in line with their Farmer range. Despite the upgrade, its still fixed with a standard tow hitch with a detachable cab.
Guide to Siku Massey Ferguson Tractor
Accurate scale Siku Massey Ferguson tractor toy; no other model in the range is scaled so well, though it has the bonus of a functional front loader.
Massey Ferguson Tractor
In Siku Super series standards, this model Massey Ferguson tractor is as accurately portrayed as they come; perfectly replicated but in a cheaper, more affordable 1:72 scale.
Framing work is more intricate, well the die-cast body has more detailing. Steps lead up to the detachable cab with seat and steering wheel - with front mount, exhaust, lights and mud guards.
Front Loader
Front loader extends over the length of the bonnet, with a bend on the imitation hinge section folding down to where it sits near to the ground.
It can only go up/down at the end of the loader nearer to the driver's cab; forcing the child to hold the loader up in place, or allowing the front loader to gently sit on its natural position.
Big Bucket Attachment
Front loader is not much use if there's not anattachment for moving farm sundries or materials; so this one comes with what appears to be a bigger bucket attachment with pivoting action.
Imitation teeth only replicate what would really be moulded to the bucket; instead you get a softer touch with a flat lip to assist in scooping up loads - which can be offloading by tipping the bucket.
Rear Hitch, Imitation Front Mount
Scale replica Massey Ferguson tractor has all you need in the model, if only with the front loader helping them extend play in the farm; though the rear tow hitch can be used later for any farm trailer.
Fixed to the front, hidden behind the front loader when its in a sitting position, is the imitation only front mount. It might look functional, but this mount is just there as it would be in real life, and is not functional.
Siku
This item: Siku 1484: Massey Ferguson Tractor with Front Loader, Super
Age: 3 Years
Scale: 1:72
L6 x W3.5 x H4 cm
Weight: 40.8g
Siku
Age: 3 Years
Scale: 1:72
L8 x W3.8 x H4.5 cm
Weight: 40g
Siku
Age: 3 Years
Scale: 1:72
L6.8 x W3.5 x H4.3 cm
Weight: 43g
SHOP BY THEME
SHOP BY
INFORMATION