Siku 1802: Claas Xerion 5000 Tractor, 1:87 Scale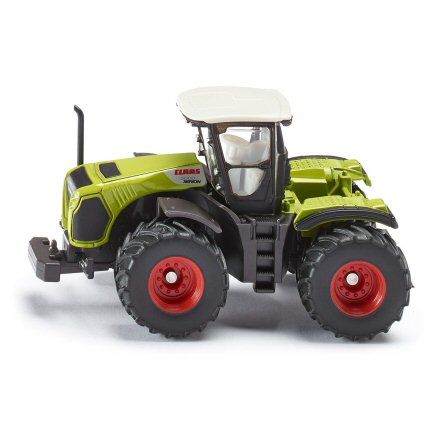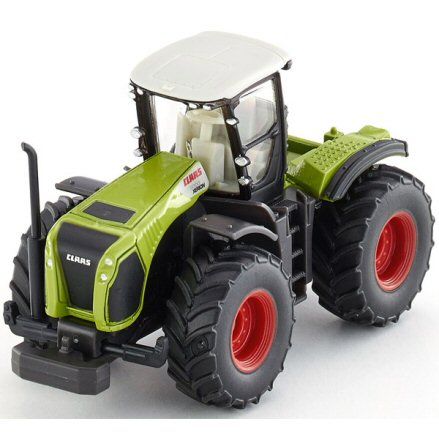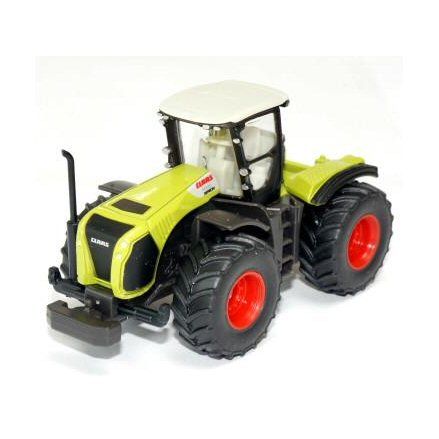 Siku 1802: Claas Xerion 5000 Tractor, 1:87 Scale
Large, die-cast Siku Claas Xerion tractor in 1:87 scale with detachable driver's cab, rolling wheels with tread, rear tow hitch and replica exterior detailing.
Brand:
Siku
Product description
Developing a farm with acres of land to prepare for crops requires a high performance Siku Claas tractor to finish the work without restrictions - well a regular tractor is too small for the job.
Instead this massive Siku 1802 Claas Xerion 5000 tractor as the pulling power to tow the largest cultivators or spreaders, to the heaviest trailers through the most challenging fields.
Large tractor requires visibility for safety reasons; so the centre located driver's cab as all the viewing area they could need out of the clear plastic windows.
As it happens, the tractor also has detachable cab as to gain access to the interior decor with detail.
We know its a Siku Claas tractor simply from the colour theme, along with the Claas insignia printed on the bonnet - there's also the red wheel rims that are only associated with Claas.
Forward or back motion with free rolling wheels, but no steering. Tyres are made from rubberised material to help with grip along with tread.
Exterior detail includes steps leading to big driver's cab, engine radiators, mud guards and a front mount which also acts as a frame to hold the exhaust pipe, away from the cab.
Two-point rear tow hitch; original for towing all implements or trailers in the range; secondary hitch for towing specialty implements with a unique drawbar design.
Features
Item No: 1802
Scale: 1:87
Age: 3 years and up
Presented in window display box
Made from die-cast metal
Rear tow hitch, front mount
Rolling wheels
Compatible rear hitch
Dimensions: L8 x W6 x H5 cm
Weight: 81g
Manufacturer details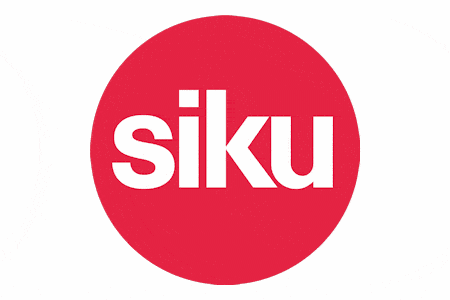 Well only realised in 2012, its still a fairly brand new model to make a real a judgemental on it, but for sure its a model that would interest young farmers from its design. If you want to tow large implements or similarly, heavy trailers, this is the tractor to do it with. Its equipped with standard features, including detachable cab, rolling wheels and a basic rear tow hitch.
Guide to Siku Claas Xerion 5000 Tractor
More to this Claas tractor than meets the eye, and if they know what it can offer in terms of pulling power, they will get the most out of the tractor from the get go.
Claas Xerion 5000 Tractor
Only with a Claas Xerion tractor can you drag the heaviest implements to hauling the giant trailers. Yet, its all still done in just 1:87 scale, thanks to this replica model that has a detachable cab and tow hitch.
Technically, it has a 2-point rear tow hitch but only the standard hitch is much use, as there's no trailer to fit the secondary hitch which is facing upwards.
2-Point Tow Hitch
If you're familiar with the Siku Farmer 1:87 scale series you might know what the standard rear tow hitch looks like; well it still features on this Claas tractor, there is indeed another hitch for towing.
Not that you'll get much use from it as there's no implement or trailer in the series to fit, well there is but that comes with this tractor already. So in the meantime, use the original tow for hauling the biggest, heaviest implements and trailers in the series.
Front Mount
Talking of a defunct rear tow hitch function, that might also be the same for the front mount that would otherwise take on front facing implements - not so here as there's no corresponding implement to fix.
Well the front mount section has a tow to perhaps fix implements when available later, the front section is imitation only for the meantime, with the frame spreading out wide where the exhaust is located.
Large Rolling Wheels
If you need to roll over large acres of land with a big implement in tow then you're going to need a giant high performance Siku Claas Xerion to get you over the finish line.
Free rolling wheels will help with that and so will the deep treads in the tyres. Big, wide wheels will also prevent the driver getting bogged down in wet, muddy fields.
Siku
This item: Siku 1802: Claas Xerion 5000 Tractor
Age: 3 Years
Scale: 1:87
L8 x W6 x H5 cm
Weight: 81g
Siku
Age: 3 Years
Scale: 1:87
L22 x W3.5 x H4 cm
Weight: 163g
Siku
Age: 3 Years
Scale: 1:87
L23 x W3.5 x H4 cm
Weight: 186g
SHOP BY THEME
SHOP BY
INFORMATION