Siku 1677: Fendt Favorit 926 Tractor with Irrigation Reel, Super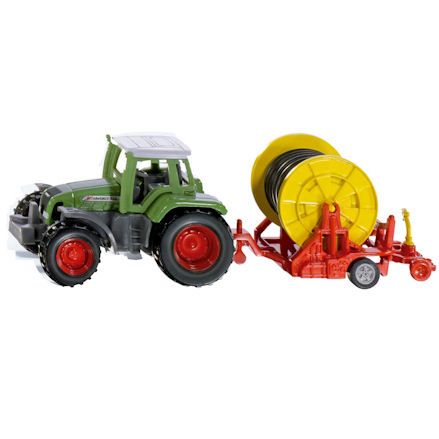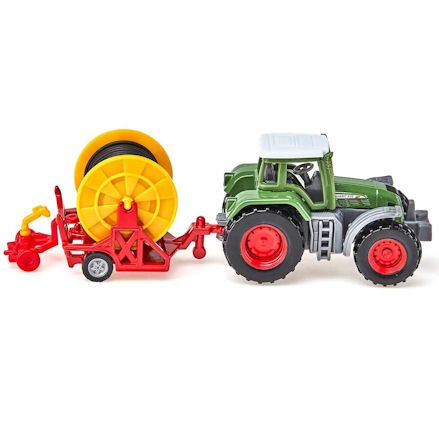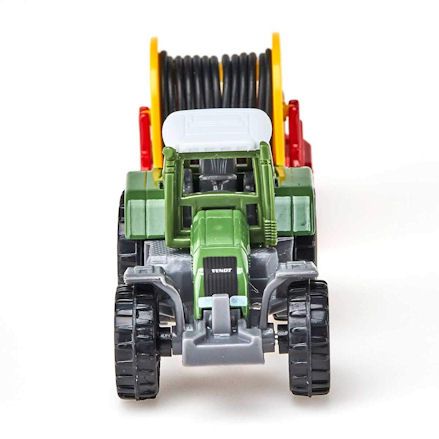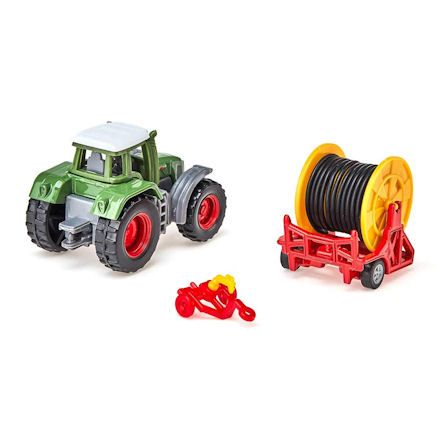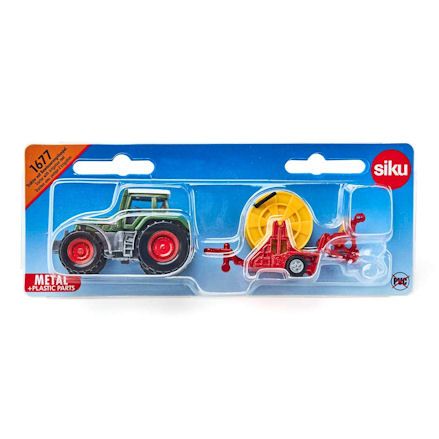 Siku 1677: Fendt Favorit 926 Tractor with Irrigation Reel, Super
Ultra fun in a pocket size Siku Fendt tractor with a winding irrigation wheel with an additional sprinker, all made to water the fields during the dry spell.
Brand:
Siku
Product description
Not just a small imitation die-cast tractor with this Siku Fendt, but rather one that has extended play value in the rotating, extending hose from the trailed irrigation wheel.
The replica Siku Fendt Favorit tractor has all that you'd expect from a small model, with the body perfectly imitating that of the real life machine.
And despite its size, it still has that intricate detail in the driver's cab along with a neat ladder the farmer climbs up to access the cabin.
That's not all, all focus is on the trailer with an irrigation reel that really rolls up; its now possible to water the crops from a near by well during the dry summer months.
Fendt tractor has all four free rolling wheels well the trailer has a single axle that is rested on a support arm/jack when not in use.
Features
Item No: 1677
Scale: 1:72
Age: 3 years and up
Presented in blister packaging
Made from die-cast metal
Irrigation wheel with trailed sprinker
Rolling wheels
Compatible rear hitch
Dimensions: L13.8 x W4.3 x H3.9 cm
Weight: 81.6g
Manufacturer details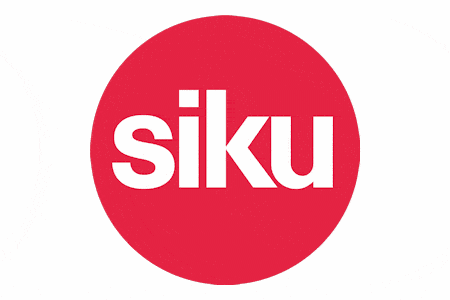 Since 2016, only was it possible to get your hands on a small model like this one that boosts lots of interesting features - and it may be possible you haven't noticed at all; from the towed irrigation trailer with rotating, pull-out reel, to an additional sprinkler trailer that connects to the trailer. In all, Its all towed behind a replica Fendt tractor with rear tow hitch.
Guide to Siku Fendt Favorit 926 Tractor with Irrigation Reel
More to this Fendt Favorit with irrigation reel trailer than meets the eye; the tractor tows the larger trailer, well a smaller sprinkler is then towed behind the large irrigation reel trailer.
Fendt Favorit 926 Tractor
Its not difficult to recognise this as a Fendt tractor if you're familiar with this model; if not its that shade of dark green with the grey trim that makes it what it is... a Fendt tractor.
That's backed up with the Fendt branding along the bonnet and those striking red allow wheels that is only recognisable on a Fendt - and a white/light grey cabin roof that is.
All Rolling Wheels
Fun on the farm would be some what restrictive with limitation in the wheels, so you get free-rolling wheels on the tractor and the trailer towed behind.
What that means is the tractor/trailer can be pushed backwards and forwards with ease, with no awkward friction-like powered wheels bringing the play to a crawl.
Hitch to Tow Trailer
Fendt tractor is all good an all, but we think you'd agree the focus is more on what's being towed behind this tractor - and that the irrigation wheel.
But first, let's remember its fixed to a trailer so they still get the enjoyment of that, with the irrigation wheel fixed on top to be played with well still attached or removed from the rear tow hitch.
Amazingly, you also get an additional trailer/sprinkler that is then dragged behind the irrigation trailer.
Functional Irrigation Real
Trailed behind the Fendt tractor is this rather special irrigation wheel that has functional parts, along with an additional sprinkler that is then attached behind the hose.
In all, the tractor tows the large irrigation wheel, well the irragation wheel tows the small sprinker.
Making use of this set happens during the hot months with lack of water; its time to unreel the hose to water the fields with help from a nearby well as the water source.
Siku
This item: Siku 1677: Fendt Favorit 926 Tractor with Irrigation Reel
Age: 3 Years
Scale: 1:72
L13.8 x W4.3 x H3.9 cm
Weight: 81.6g
Siku
Age: 3 Years
Scale: 1:72
L16.5 x W3.9 x H4.2 cm
Weight: 109g
Siku
Age: 3 Years
Scale: 1:72
L9.4 x W3.9 x H4.3 cm
Weight: 40.8g
SHOP BY THEME
SHOP BY
INFORMATION