Siku 1666: Claas Xerion 5000 Tractor with Samson Vacuum Tanker, Super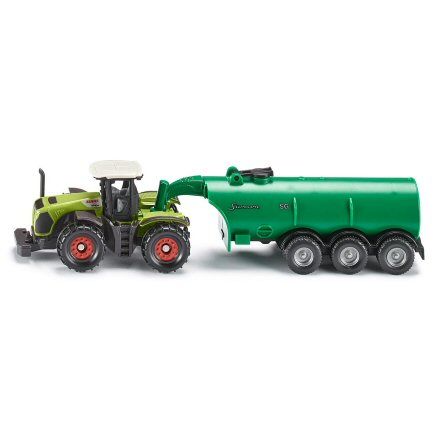 Siku 1666: Claas Xerion 5000 Tractor with Samson Vacuum Tanker, Super
Big but small scale Siku Claas Xerion tractor with detachable cab, rolling wheels and 2 hitches; Samson vacuum tanker as triple-axle with open hatch.
Brand:
Siku
Product description
Big, powerful model that is unique to this series of tractors; made to haul the heaviest, bigger trailers and implements, which are connected with a unique tow bar to tow hitch coupling.
Said coupling doesn't use the standard rear tow hitch in the Super series, but hitch on the tractor is more a large open gap, where the corresponding implement tow bar fixes too it.
Designed this way to allow for better maneuverability when taking corners out on the field to steering on the road. As its happens, tractor still has its standard hitch coupling so is compatible with all trailers.
Extra long farm implement is used for transporting manure or fertilisers. All of which can be filled up using the opening latch on top of the tanker.
Siku Samson Vacuum Tanker in 1:72 scale will only fix to this Claas Xerion tractor or similar tractors designed with a facing up hitch.
Siku 1666 Claas Xerion 5000 tractor has detachable driver's cab, two-for-the-price-of-one rear tow hitches, large rolling wheels and remarkable exterior detail.
Samson tanker sits on a triple-axle to withstand the load weight once full, with a drawbar that is designed to fix to only the Claas tractor included, or similar models.
Features
Discontinued
Item No: 1666
Scale: 1:72
Age: 3 years and up
Presented in blister packaging
Made from die-cast metal
2 Rear tow hitches
Samson Vacuum Tanker
Compatible rear hitch
Dimensions: L19.7 x W3.5 x H4 cm
Weight: 49.9g
Manufacturer details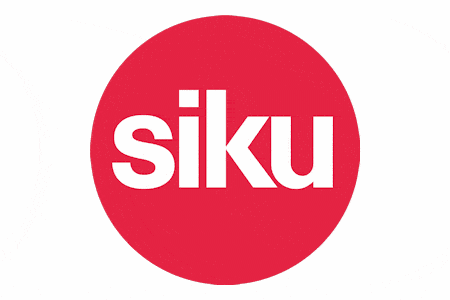 Not a tractor/trailer that lasted long in the series, as it was first released in 2012, but no more. Which is a big shame as this set makes for a fun, yet educational setup. Siku Claas Xerion tractor perfectly matched with the large, heavy Samson branded tanker. Well the tractor is still available, unfortunately its the end of the line for the farm implement.
Guide to Siku Claas Xerion 5000 Tractor with Tanker
For use of the transportation of smelly manure or the safe transport of dangerous fertilisers. Similar implement would have hoses and pipes that extend out to fertilise the field with the tanker.
Claas Xerion 5000 Tractor
Only can this big, powerful Claas Xerion 500 tractor be capable of hauling this heavy tanker. Which it will with great effect as it rolls smoothly over rough terrain with the tanker in tow.
As a matter of fact, this Siku 1421 Claas Xerion 5000 tractor in 1:72 scale is available as a standalone model. It features rolling wheels, detachable cab and an unconventional hitch fixed to the rear section.
Samson SG Vacuum Tanker
Not made for spreading this one but a tanker used for the transportation of manure. At the farm the tanker collects the manure using a series of pipes and pumps to fill up the tanker all the way.
That happens with an opening hinged lid for filling up, well it sits on a triple-axle with rolling wheels. Will take sharp corners thanks to the way the tow bar mechanism hangs over to fix onto tow hitch.
Tow to Hitch
Unless its a Claas Xerion Tractor or similar, it won't be possible to connect this Samson Vacuum Tanker; no thanks to the unique design of the implement tow bar to tractor tow hitch.
Rather than hook over the standard tow hitch, it instead fixes to a facing up hitch coupling. Design of trailer will allow for better maneuverability when taking those tight corners.
Transporting
Well the Samson tanker does not have spreading pipes; its more or less a transporter of manure but it is possible to reinvent its purpose by fertilising the fields with pretend only extending pipes.
Otherwise, its fun to use it for its sole purpose of the transport of manure or chemicals to and from the farm. It can take manure away well delivering fertilisers for preparing the fields.
Siku
This item: Siku 1666: Claas Xerion 5000 Tractor with Tanker
Age: 3 Years
Scale: 1:72
L19.7 x W3.5 x H4 cm
Weight: 49.9g
Siku
Age: 3 Years
Scale: 1:72
L7.5 x W4 x H4 cm
Weight: 40.8g
Siku
Age: 3 Years
Scale: 1:72
L16.5 x W3.6 x H4.5 cm
Weight: 109g
SHOP BY THEME
SHOP BY
INFORMATION