Siku 1634: Claas Ares ATZ 697 Tractor with Fortuna Trailer, Super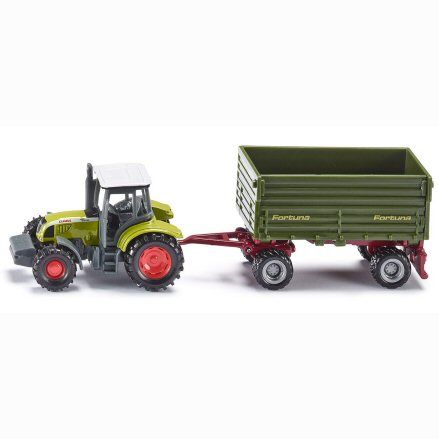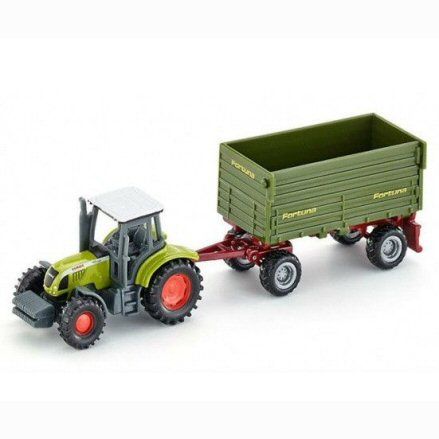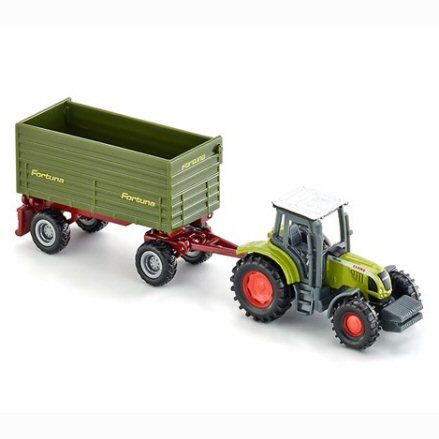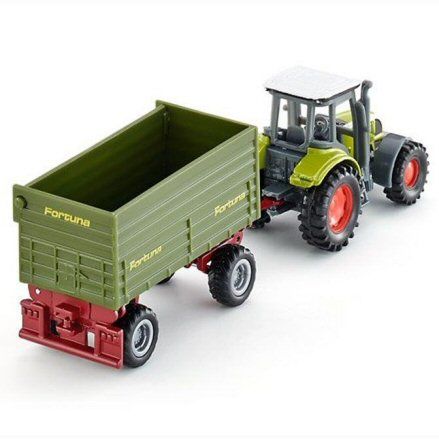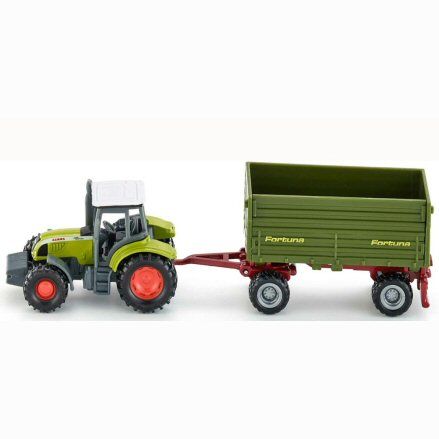 Siku 1634: Claas Ares ATZ 697 Tractor with Fortuna Trailer, Super
Compact Claas tractor with tow hitch, rolling wheels and detachable cab; Fortuna trailer has tipping up action, opening side-gate and steerable front axle.
Brand:
Siku
Product description
What you get out of this favourite Siku tractor/trailer set is a pairing used for collecting and offloading materials and crops out of the field.
Tough, made from die-cast metal Siku 1634 Claas tractor that has rolling wheels that freely spin around; along with a detachable cab, rear tow hitch and counter-weight.
Rear tow hitch coupling of the tractor will easily connect to the long drawbar of the Fortuna trailer with ease, just slot in and hoop over tow hitch hook.
Drawbar is on a hinge to help with suspension, well its then connected to a steerable front axle that will assist in taking those corners at a sharper radius.
Then there's a twin-axle fitted to the rear of the trailer so it helps distribute the weight when its fully loaded up.
Rather than tipping backwards, its instead a side-tipping trailer along with a side-gate that will open up on a top hinge as to allow the contents to pour out.
Features
Item No: 1634
Scale: 1:72
Age: 3 years and up
Presented in blister packaging
Made from die-cast metal
Fortuna Side-tipping trailer
Rolling wheels
Compatible rear hitch
Dimensions: L16.5 x W3.6 x H4.5 cm
Weight: 109g
Manufacturer details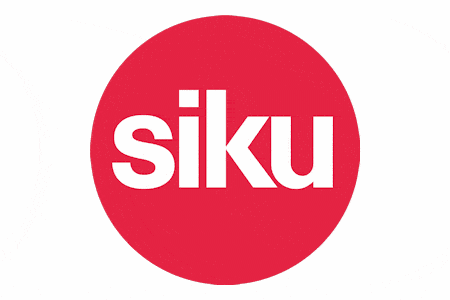 Been in the Siku Super range since the very beginning, well still lasting the test of time in the series as its a favourite with the company, and their customers too. Not a colour match be any means, but a set that is used for collecting and offloading, so performance is more important than theme. Regardless, it has all the standard features in them even to this day.
Guide to Siku Claas Ares ATZ 697 Tractor with Trailer
What would be a tractor used on the family farm is now roped in to do the bigger jobs, with lots of features and functionality in both the trailer and tractor to be had.
Claas Ares ATZ 697 Tractor
What would otherwise be a compact trailer used for smaller jobs; this Siku Claas tractor would be required here to pull the heaviest of loads inside the tipping trailer in tow.
So its a compact Claas tractor, featuring detachable cab, tow hitch and rolling wheels. Claas insignia along the bonnet, counter-weight, exhaust, engine and radiator detailing, plus interior detailed cab.
Fortuna Side-Tipping Trailer
Fully functional, heavy-duty die-cast with plastic parts Fortuna side-tipping trailer; so instead of tipping backwards, it tips over to the left-side tow allow the load to spill out.
Along with an opening side gate, it all sits on a pair of twin-axle wheels as to take the weight of the load that can be loaded in the back.
Tow Hitch to Drawbar
Basic made from die-cast/plastic rear tow hitch with simple hook for taking on the hoop of the trailer.
What is interesting is the drawbar of the Fortuna tipping trailer is long, and built on a hinge. Lengthy drawbar is designed to allow the trailer to take tight corners without any rubbing on the wheels.
Front positioned twin-axle is in fact steerable, which will make it easy for you to maneuver around bends.
Rolling Wheels
Claas trailer is fitted with the usual free rolling wheels, with tread detail and bright red rims; which can only be associated with the Claas name.
Fortuna trailer has a pair of free rolling, twin-axle wheels that roll around, depending on the direction of the trailer. Small wheels, but they should have no trouble coping with rough terrain on the farmland.
Siku
This item: Siku 1634: Claas Ares Tractor, Fortuna Trailer
Age: 3 Years
Scale: 1:72
L16.5 x W3.6 x H4.5 cm
Weight: 109g
Siku
Age: 3 Years
Scale: 1:72
L9.2 x W3.5 x H4.1 cm
Weight: 47g
Siku
Age: 3 Years
Scale: 1:72
L7.5 x W4 x H4 cm
Weight: 40.8g
SHOP BY THEME
SHOP BY
INFORMATION