Siku 1640: Massey Ferguson 9240 Tractor with Cattle Trailer, Super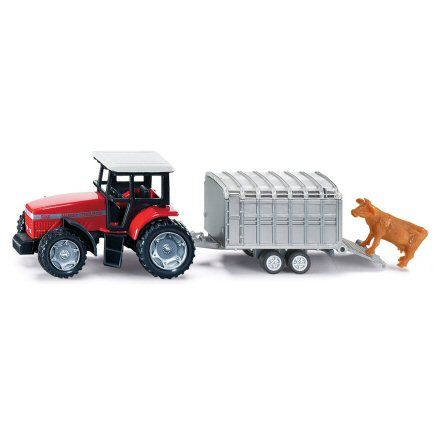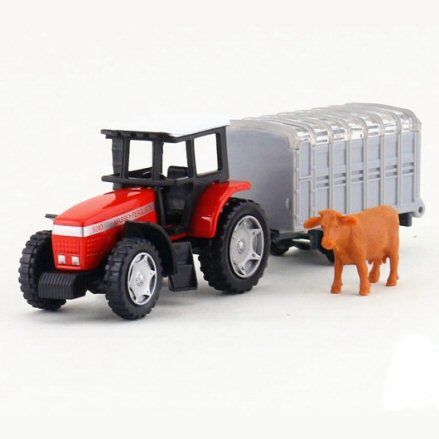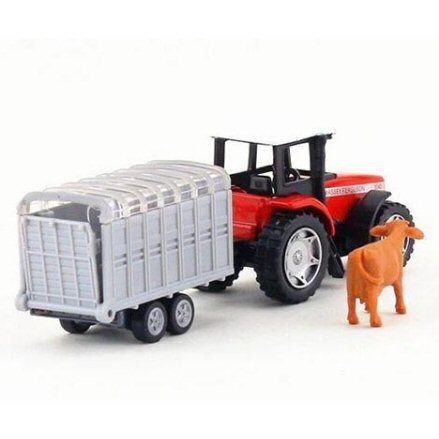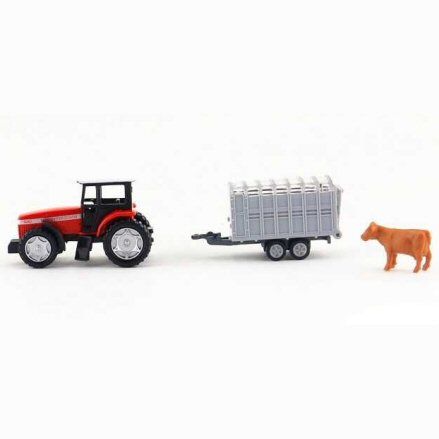 Siku 1640: Massey Ferguson 9240 Tractor with Cattle Trailer, Super
Reliable Siku Massey Ferguson tractor with detachable cab and rolling wheels; connected to hitch is this cattle trailer with opening tailgate and toy cow.
Brand:
Siku
Product description
Push this 16cm long Siku tractor/trailer set around the farm as you carefully manoeuvre as to not hurt the cow in tow - using the tractor only is 6.5cm long, well the trailer is a little longer at 7.3cm.
All plastic cattle trailer is made with a metal effect, just as it would be in real life as an heavy-duty cattle transportation unit. And as its sat on a twin-axle, this should help with the weight of the cow inside.
Single Siku cow figure is quite possibly the only 1:72 scale figure you'd find. Its designed for this setup and can be inserted into the cattle trailer by securing her in using the opening rear tailgate.
Tailgate has a lowering/raising action so when its folded onto the floor, the cow can use it as a ramp.
In all you only need to connect the drawbar of the trailer to the rear tow hitch of the Siku 1640 Massey Ferguson tractor to haul it.
Siku tractor has a detachable driver's cab, imitation counter-weight and free rolling wheels with tread, well tyres are made from a softer rubberised material.
Exterior decor makes way for MF insignia along bonnet, steps to cab, lights with interior cab detailing.
Features
Discontinued
Item No: 1640
Scale: 1:72
Age: 3 years and up
Presented in blister packaging
Made from die-cast metal
Cattle trailer with opening tailgate
1 Cow figure
Compatible rear hitch
Dimensions: L16 x W3.7 x H4.4 cm
Weight: 85g
Tractor: L6.5 x W3.7 x H4.4 cm
Trailer: L7.3 x W2.8 x H3.6 cm
Manufacturer details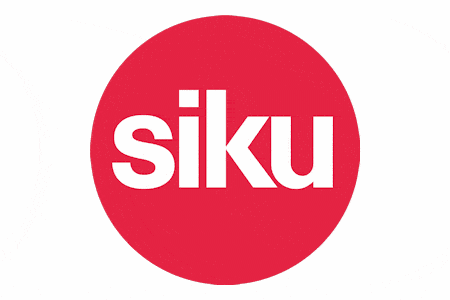 Lasted in the Super series since 2008, this Siku Massey Ferguson tractor/cattle trailer set is designed to haul the cow around the yard or road. All releases before and after have never included a farm animal, so make the most of it as its not found elsewhere, including as a standalone cow. Begin building up an animal farm starting with this Siku toy cow.
Guide to Siku Massey Ferguson Tractor with Trailer
Point of this Siku tractor/trailer set is to learn how to transport cattle around the farm or on the road, and they can do just that using this standalone cow figure, not available anywhere else.
Siku Massey Ferguson 9240 Tractor
Siku figured this cattle trailer, along with the cow should be hauled with there most reliable tractor in the series; with the Siku 0847 Massey Ferguson tractor also available as a standalone model.
Basic, but a tough die-cast tractor with plastic parts and rubberised tyres with tread. Free rolling wheels with imitation counter-weight, steps to cab, rear tow hitch and removable cab to access interior.
Cattle Trailer
Hook up this 'metal effect' plastic Siku cattle trailer in 1:72 scale to the Massey Ferguson or any tractor in the series. Simple hoop-designed drawbar will make it a quick fix well its securely stays put.
Sat on a twin-axle with rolling wheels also as to withstand weight of cattle. Opening rear tailgate lowers and raises as a ramp so the cow can be loaded/offloaded with ease.
Cow
No where else would you find a strong little 1:72 scale cow figure like this one. Away from the tractor and trailer setup, you end up with a fun little cow for creating a farm scene or keeping in the cow shed.
Small so will get lost if not careful, and its hard to replace. Cow stands up on all four legs, well its designed to ride in the cattle trailer, well moving up/down the tailgate ramp.
Drawbar to Hitch
Drawbar on cattle trailer is quite short so may prevent tight corners, long enough though so shouldn't be an issue. Tow bar is made with a metal effect with a small hole that is used to hook over tractor hitch.
Tractor tow hitch is made from both die-cast metal for strength, plastic for durability. In all it should be a breeze well you haul the cattle trailer with cow included around the farm and out on the road.
Siku
This item: Siku 1640: Massey Ferguson 9240 Tractor with Cattle Trailer
Age: 3 Years
Scale: 1:72
L16 x W3.7 x H4.4 cm
Weight: 85g
Siku
Age: 3 Years
Scale: 1:72
L6 x W3.5 x H4 cm
Weight: 40.8g
Siku
Age: 3 Years
Scale: 1:72
L6.8 x W3.5 x H4.3 cm
Weight: 43g
SHOP BY THEME
SHOP BY
INFORMATION