Siku 1335: Claas Ares 697 Tractor with Front Loader, Super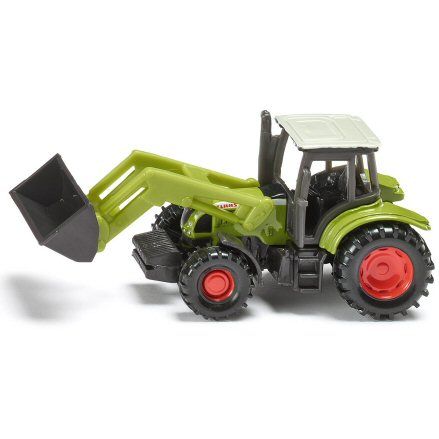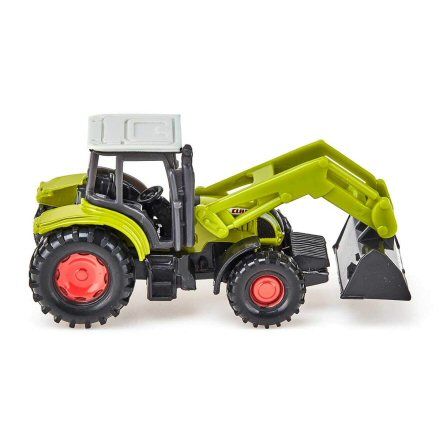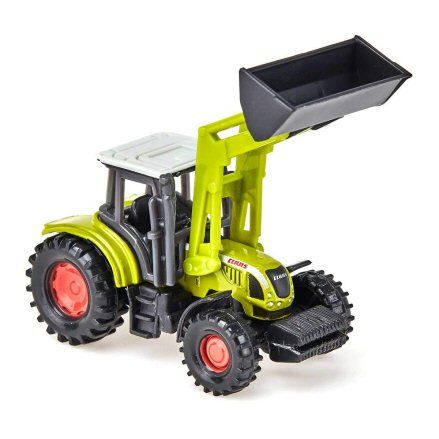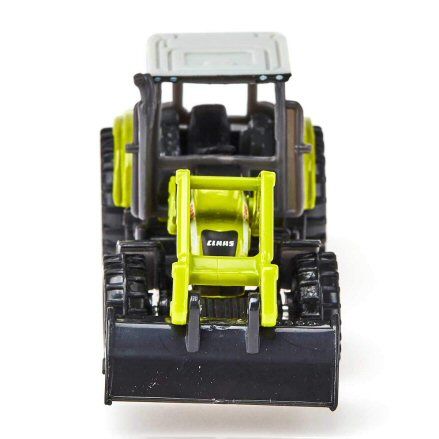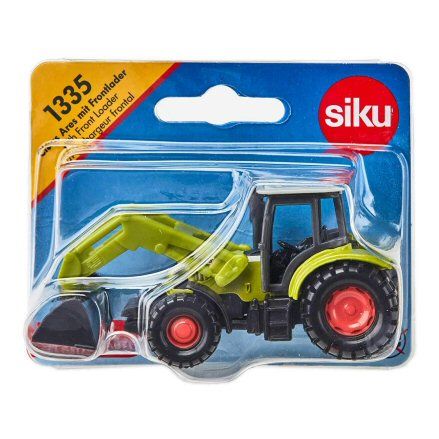 Siku 1335: Claas Ares 697 Tractor with Front Loader, Super
Siku Claas tractor featuring rolling wheels, removable cab and tow hitch; functional front loader moves up/down, well the bucket has a pivoting action.
Brand:
Siku
Product description
Small Claas toy tractor as it comes in 1:72 scale, so why bother with a tractor that promotes itself as a compact one; well for good reason if space is limited on there little farm setup.
You see compact tractors such as this one are cheaper to buy and operate in real life, and as they're smaller they are better suited to working on small family farms or orchards.
Regardless of size, it still has all its functionality you've come to expect from Super; rolling wheels, tow hitch, detachable cab and exterior detail.
That includes the colour theme that is only made in the Claas lime green; along with branding that is printed on the side of the bonnet.
To the front is a fixed counter-weight when towing trailers, well the tow hitch coupling fixed to the rear will connect to all the trailers in the Super range.
Standout feature is the fully functional front loader offering a simple up/down action; that is then used in conjunction with the tipping bucket attachment for scooping and offloading bales or muck.
Features
Item No: 1335
Scale: 1:72
Age: 3 years and up
Presented in blister packaging
Made from die-cast metal
Front loader with attachment
Rolling wheels
Compatible rear hitch
Dimensions: L9.2 x W3.5 x H4.1 cm
Weight: 47g
Manufacturer details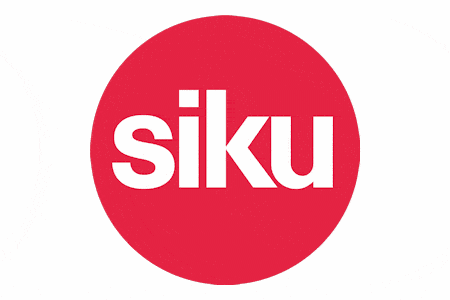 Quite possibly one of the best replicated tractors in the Super series, or at least an accurate replicated scale Claas tractor. And despite being released in 2008, it still holds its own of being a model that has, and continues to last the test of time. Smaller then most other tractors in 1:72 scale, but that's only because its a compact tractor for doing smaller tasks.
Guide to Siku Claas Ares 697 Tractor with Loader
Small Siku Claas tractor doesn't get much smaller; but it does with this compact tractor for use on the small family farms or out on the orchards.
Claas Ares 697 Tractor
Compact, small farm tractor designed with a small cab with limited body mass; finished in the lime green with bright red wheel rims that are only associated with Claas tractors.
Despite its size, its still holds its own with detailed driver's cab interior; well exterior detail extends to the exhaust, steps, engine radiator, counter-weight and Claas insignia on the bonnet.
Front Loader
Loader is capable of moving all the way up before sitting on its natural position with the front loader down. In all, it will stand up straight at a 45 degree angle, with a bend half way up on the loader arm.
Simple up/down movement will allow for realistic functionality found on the real machine; though the child will need to hold the front loader in place at all times to keep it upright.
Bucket Attachment
Small, compact tractor doesn't have to be restrictive in farm work; so there's a fully functional, tipping bucket to collect loads before offloading.
Much like the front loader, its controlled using a basic hinge to allow for the pivoting action. Well loader and bucket attachment must be used simultaneously to make use of the scooping/off loading function.
Towing Small Trailers
Small but still powerful enough to tow the entire Siku Super series of farm implements and trailers.
Though you might want to recreate realistic play by only towing the smallest of trailers you can get your hands on; if you're using a compact trailer then its quite possible you'd have little space to work.
Thankfully, the multi-use rear tow hitch will allow for such smaller equipment, but don't be afraid to make use of larger implements to drag.
Siku
This item: Siku 1335: Claas Ares 697 Tractor with Front Loader
Age: 3 Years
Scale: 1:72
L9.2 x W3.5 x H4.1 cm
Weight: 47g
Siku
Age: 3 Years
Scale: 1:72
L7.5 x W4 x H4 cm
Weight: 40.8g
Siku
Age: 3 Years
Scale: 1:72
L16.5 x W3.6 x H4.5 cm
Weight: 109g
SHOP BY THEME
SHOP BY
INFORMATION