Siku 1487: New Holland T8.390 Tractor with Pallet Fork & Pallet, Super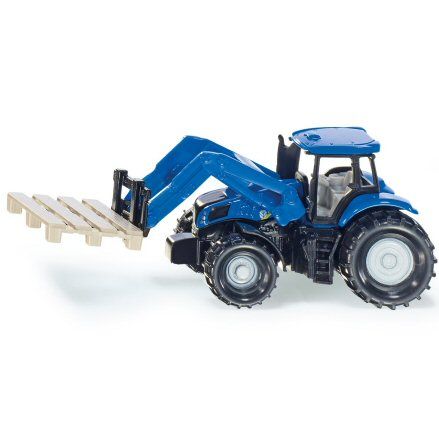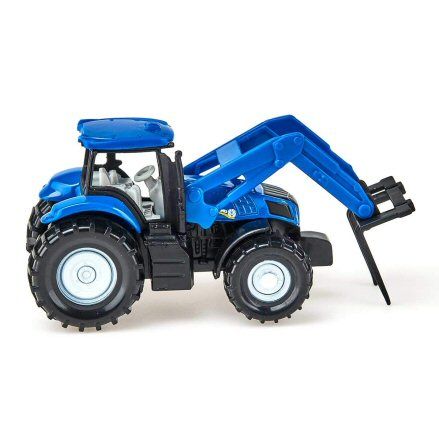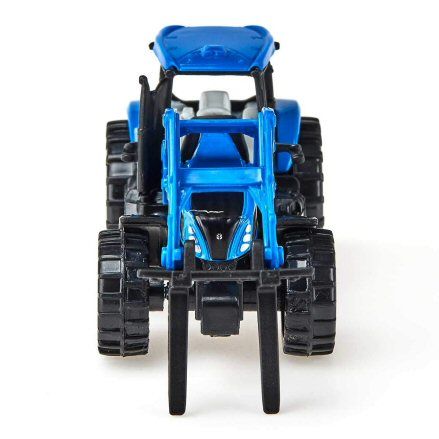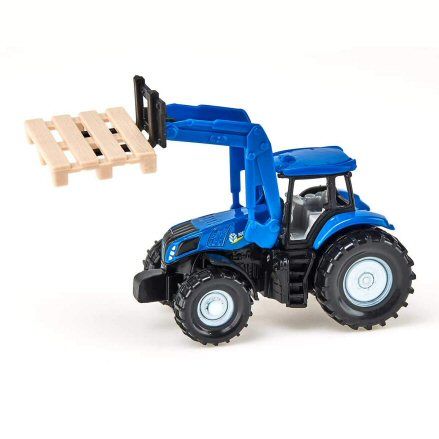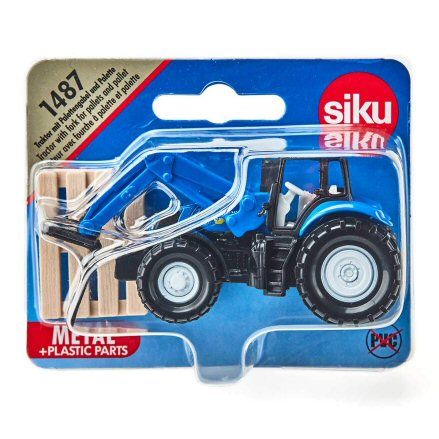 Siku 1487: New Holland T8.390 Tractor with Pallet Fork & Pallet, Super
Small but big series Siku New Holland tractor with rolling wheels, detachable cab and tow hitch; front loader with pivoting fork attachment and pallet.
Brand:
Siku
Product description
Forget the functional front loader with fun pallet fork attachment for a moment; appreciate the quality of the die-cast, plastic replica scale New Holland tractor in 1:72 scale.
It has it all, which is bound to keep them going for hours of farm play; that includes the unrestrictive free rolling wheels, detachable driver's cabin and rear tow hitch.
Attention to the exterior detailing is second-to-none; includes exhaust pipe, imitation counter-weight, engine detail, steps leading to cab and imitation only headlights.
Rubberised tyres with tread detail, and well the wheels roll around, they're not steerable.
To make things more interesting, there's a fully functional front loader with pallet fork attachment. So well the loader moves up and down, the attachment has a pivoting action.
Rear tow hitch will probably not be used for a while if you don't bring in a trailer or implement right away, but know when you do a toddler can make it out in no time.
Features
Item No: 1487
Scale: 1:72
Age: 3 years and up
Presented in blister packaging
Made from die-cast metal
Functional front loader
Pallet fork attachment
1 Pallet included
Rolling wheels
Compatible rear hitch
Dimensions: L9.7 x W3.5 x H4 cm
Weight: 40.9g
Manufacturer details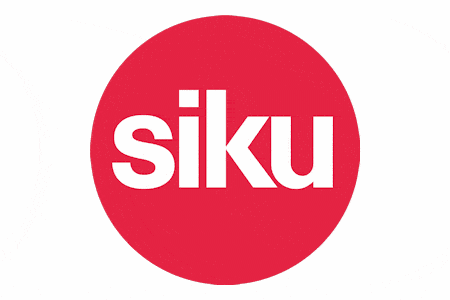 Get out of your comfort zone with the usual front loader with bucket; then make it a fork attachment with a pallet included. Siku have upgraded the range with series of front loaders with interesting attachments, with this set the only one centred around a pallet. Released in 2016, Siku have you covered with a tractor, loader and the pallet to go with it.
Guide to Siku New Holland T8.390 Tractor with Fork
No other model tractor in the Siku Super series than this one with a functional front loader, with a pallet fork this time; along with a single pallet and a replica scale New Holland tractor to move it all around.
New Holland T8.390 Tractor
Big series model New Holland tractor is designed with power and strength; suitable then for doing all types of jobs around the farm; including collecting and moving pallets, like this one.
Scale replica New Holland in 1:72 scale, features rolling wheels, detachable cab and rear tow hitch; exterior detail extends to exhaust, steps, lights and counter-weight.
Front Loader
Static front loader designed to go up/down manually, well the hydraulics and things that make it work in real life, are simply imitation only on this functional loader.
Hinged on the bonnet section to help with the up and down movement; well there's a bend in the middle section, this helps it fold over the bonnet well lifting it up high as you transport the pallet.
Fork Attachment
Attached to the end of the front loader is a unique, and perhaps one of the kind fork attachments. Here its possible to slot the forks into the pallet before lifting it up and moving it around.
Pivoting attachment as always which should help you position it to lift up the pallet; so position the loader to to the ground to pickup, then lift it up by hand to drive around the yard.
All while tipping the fork attachment back that will balance the pallet on the end, preventing it falling off.
1 Pallet included
Well we can't have a tractor with pallet fork attachment without a pallet now can we; and that's exactly what you'll get with a 'wooden effect' single pallet for lifting up and moving around on the pallet fork.
Nothing to put on the pallet in the set mind you so its up to the child to use there imagination; that can include: make it you own boxes (what we recommend) used cotton plastic tubes, lollipop sticks, etc.
Siku
This item: Siku 1487: New Holland T8.390 Tractor with Pallet Fork
Age: 3 Years
Scale: 1:72
L9.7 x W3.5 x H4 cm
Weight: 40.9g
Siku
Age: 3 Years
Scale: 1:72
L19.7 x W3.6 x H4 cm
Weight: 500g
Siku
Age: 3 Years
Scale: 1:72
L8 x W3.5 x H4 cm
Weight: 49.9g
SHOP BY THEME
SHOP BY
INFORMATION