Siku 1324: Case IH Quadtrac 600 Tractor, Super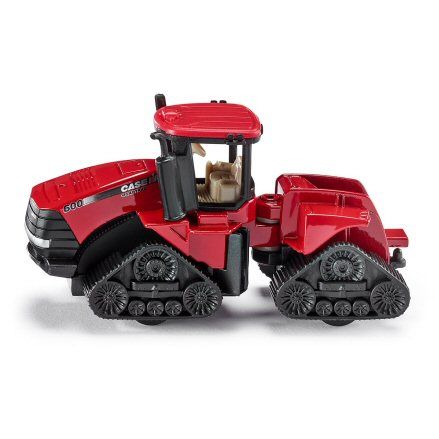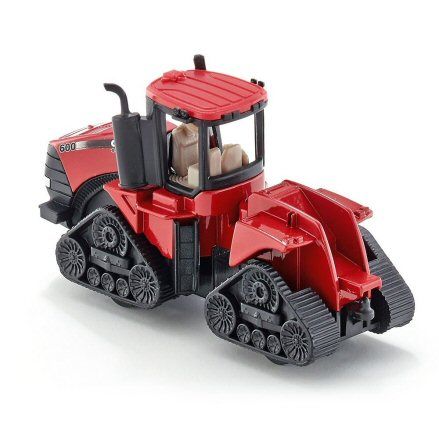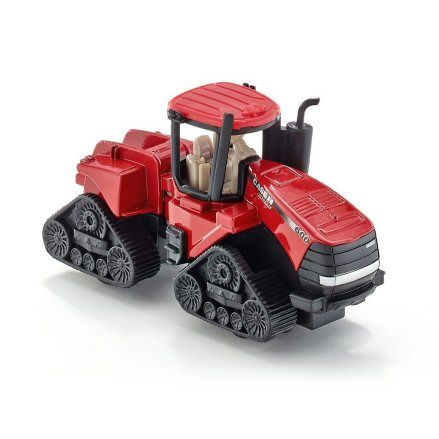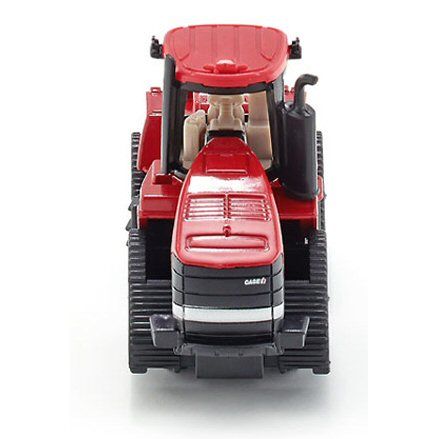 Siku 1324: Case IH Quadtrac 600 Tractor, Super
Tough, powerful Siku Case IH Quadtrac designed with articulated steering; imitation only tracks with hidden free-rolling wheels, tow hitch and exterior detail.
Brand:
Siku
Product description
Unique Siku Case IH Quadtrac in 1:72 scale; features replica exterior decor with exhaust pipe, steps leading up to cab door and a big headlight.
Articulated steering is the feature that makes this Case IH tractor a stand out; and that's due to the steering happening not from the front wheels, but the middle hinged section.
Imitation only tracked wheels will not roll around; instead there're free-rolling wheels that are discreetly tucked away behind the tracks for the free-rolling wheel movement.
Big in appearance but will still be capable of hauling the entire Siku Super farm trailer or implements in the range; all of which connect to the standard tow hitch coupling.
Of all the driver's cab in the Siku Super tractor series; only this model has such an open cab which is easily accessible, and is also detachable.
Features
Item No: 1324
Scale: 1:72
Age: 3 years and up
Presented in blister packaging
Made from die-cast metal
Articulated section
Rolling wheels
Compatible rear hitch
Dimensions: L8 x W3.8 x H4.5 cm
Weight: 40g
Manufacturer details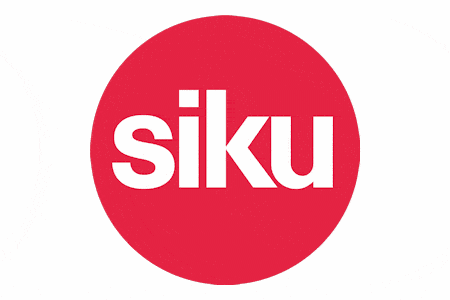 Released in 2013, this model tractor stands as the only Quadtrac in the Siku Super series; so will work within the current setup as standard. That means despite is size it will still take on Super agriculture trailers. Its a Super tractor so not many working parts; so you'll notice the tracks don't roll around, though the steering does happens from the hinged centre.
Guide to Siku Case IH Quadtrac 600 Tractor
Understanding how this Siku Quadtrac tractor works will reveal a standard tractor; only its more powerful with the ability to haul big trailers and heavy farm implement.
Case IH Quadtrac 600 tractor
Not your standard farm tractor this one is it; as a matter of fact is a long-standing Case IH Quadtrac that is designed to tow the biggest, heaviest of trailers or implements for field work.
So big in fact it has to be steered normally, well the middle articulated section has its own control.
All manufacturers have there own Quadtrac; only this Case IH one has the branding along the bonnet, its finished in red with remarkable exterior decor.
Articulated Steering
Hard working, powerful articulated Case IH tractor; meaning it can be steered from the middle section.
Well the front cab section steers, the rear section (where the tow hitch is located) follows the front section around corners.
Closer inspection in the middle joints unveils a hinge that creates the articulated movement; which is suited for taking the corners on a tighter bend, well making it road worthy.
Imitation Track Wheels
No free rolling movement in these flat track wheels; in fact they're imitation wheels only so they don't move around, but rather stay static.
That's where the real working free-rolling wheels hidden from view inside the imitation track wheels take over for the rolling wheel action.
Regardless, its still possible to replicate the rule of the track wheels by towing big, heavy loads.
Rear Tow Hitch
Imagine a large, heavy duty tractor such as this 4WD Quadtrac out on the road (which it can) with a trailer or implement in tow; you might be thinking just how they can get around corners.
That's mostly due to articulated part in the middle section; so well the length of the tractor won't make the corner itself - as its in two-section that will help it manoeuvre the roads.
Now that you understand is cansteer in the middle, the trailers or farm implements in tow can easily follow the rear section around corners on roads or driving up and down fields.
Siku
This item: Siku 1324: Case IH Quadtrac 600 Tractor
Age: 3 Years
Scale: 1:72
L8 x W3.8 x H4.5 cm
Weight: 40g
Siku
Age: 3 Years
Scale: 1:72
L6.8 x W3.5 x H4.3 cm
Weight: 43g
Siku
Age: 3 Years
Scale: 1:72
L6 x W3.5 x H4 cm
Weight: 40.8g
SHOP BY THEME
SHOP BY
INFORMATION