Siku 1474: John Deere 8360 RT Tractor on Tracks, Super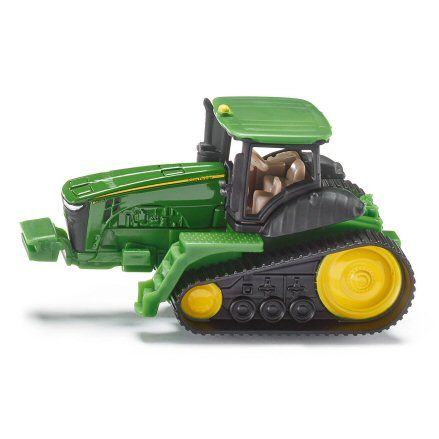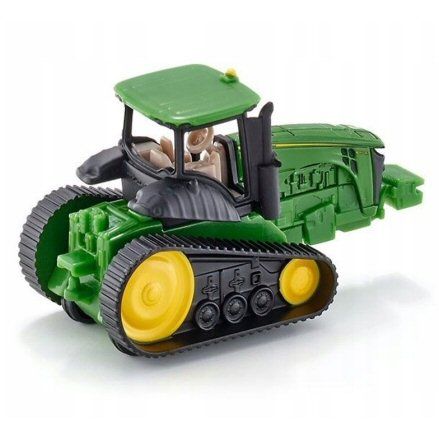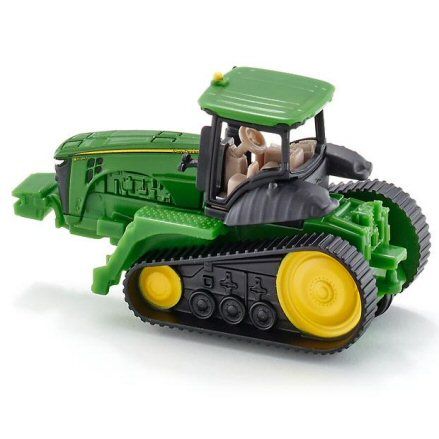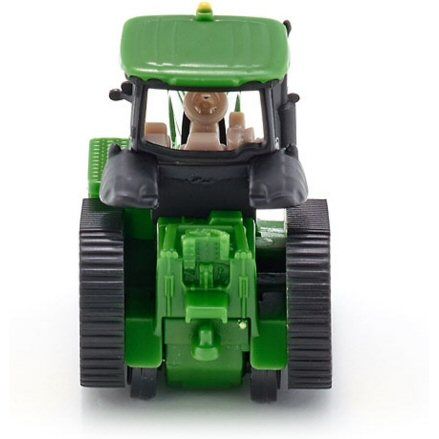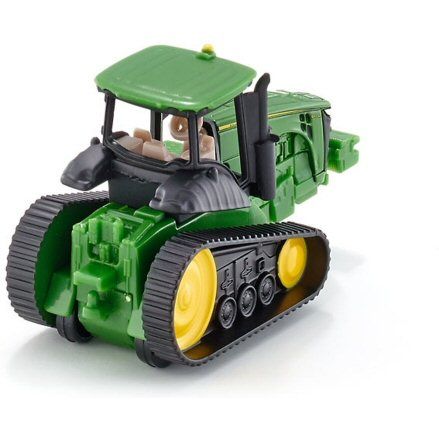 Siku 1474: John Deere 8360 RT Tractor on Tracks, Super
Powerful, hard-wearing John Deere RT tractor with imitation tracked wheels; along with counter-weight, rear tow hitch and a removable driver's cab.
Brand:
Siku
Product description
Unusual Siku tractor, but this is machine that does exist in real life; only its scaled to 1:72 scale with all the standard features as expected.
That includes a basic rear tow hitch for towing all types of farm implements and trailers in the range.
Though thanks to the tracked wheel design this would allow for you to haul the heaviest, the biggest implements that are available.
As the tracked wheels roll flat on the ground, this would provide more tread, so thereby allowing for more power; though these tracked wheels are imitation only, and do not function.
Instead, there're free rolling wheels fixed to the inside of the tracks which act as the rolling wheels.
Removable driver's cab is a nice touch, and so is the imitation counter-weight. Big tractor so therefore the driver needs to climb up the steps, onto the platform before heading to the cab door.
Features
Item No: 1474
Scale: 1:72
Age: 3 years and up
Presented in blister packaging
Made from die-cast metal
Imitation track wheels
Compatible rear hitch
Dimensions: L7.5 x W3.5 x H4.5 cm
Weight: 91g
Manufacturer details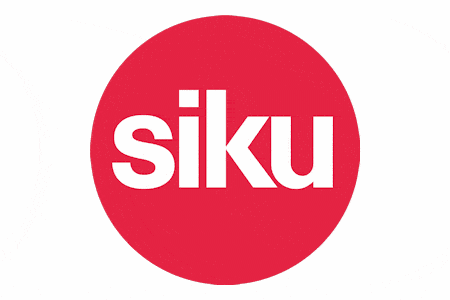 Released in 2012, this Siku Super John Deere RT tractor is fitted with tracks, which means its the only model in the series with such wheels. Not functional mind you as the Super series is the cheaper range; meaning functionality is reduced in certain areas. Regardless, its still a model tractor that will fit in with the entire series without limitation.
Guide to Siku John Deere 8360 RT Tractor on Tracks
Incredibly unusual Siku John Deere tractor that is designed with tracked wheels; meaning it has the ability to haul bigger and heavier loads due to better tread.
John Deere 8360 RT Tractor
Siku John Deere like no other, this RT series tractor has all the features of a basic model; only the design allows for more tread on the ground, meaning you can haul larger, heavier loads.
Its recognised as a John Deere tractor by its colour theme alone; though there eyes will sure be drawn to the fascinating wheel mechanism.
Imitation Tracked Wheels
If you take a careful look, you'll notice thetrack wheels don't roll around whatsoever; instead, they're imitation only tracked wheels that just look the part, rather than function.
Well the tracks don't move around, instead there're a set of wheels discreetly hidden out of sight which take over the free rolling wheel duties.
Tow Big, Heavy Implements
If its available in the Siku Super series, then its possible this John Deere RT series tractor can tow it along, thanks to its standard rear tow hitch.
In reality, it would haul all farm trailers and implements in 1:72 scale; though in real life that's what its intended for... to haul the biggest, heaviest loads thanks to its flat tracked wheels with lots of tread.
Removable Cab
Central to the model is where the driver's cab is located, and as its an open cab design; all interior decor is visible to all, incased in a windowless cabin.
Not only is the interior decor within reach, better still the cab can be removed completely off the tractor itself so only the seat, steering wheel and controls are left behind.
Siku
This item: Siku 1474: John Deere 8360 RT Tractor on Tracks
Age: 3 Years
Scale: 1:72
L7.5 x W3.5 x H4.5 cm
Weight: 91g
Siku
Age: 3 Years
Scale: 1:72
L6.5 x W3.7 x H4.3 cm
Weight: 44g
Siku
Age: 3 Years
Scale: 1:72
L8.7 x W3.7 x H4.1 cm
Weight: 48g
SHOP BY THEME
SHOP BY
INFORMATION