Siku 1341: John Deere 7530 Tractor with Front Loader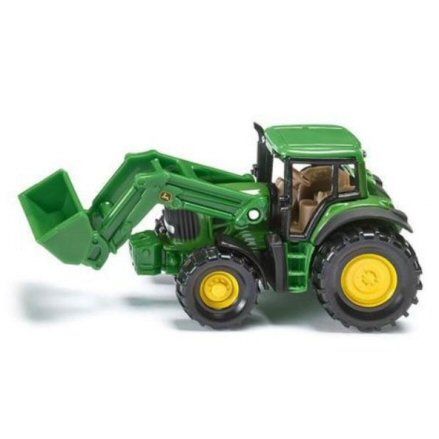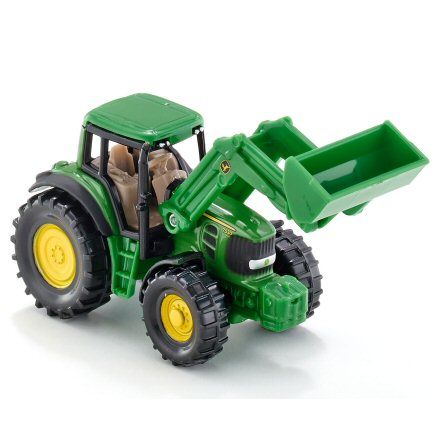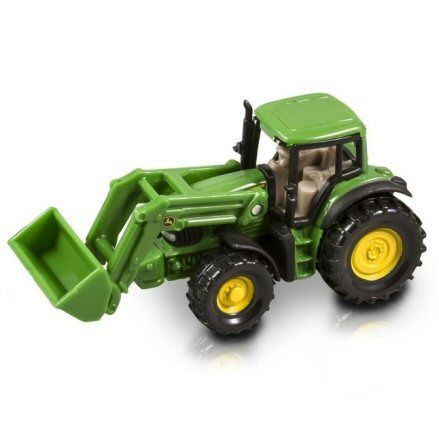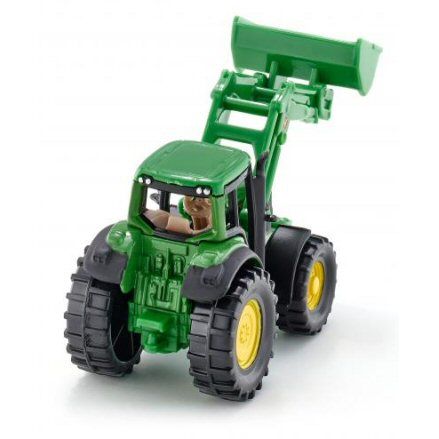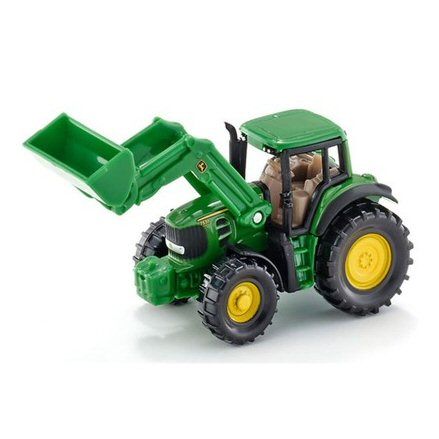 Siku 1341: John Deere 7530 Tractor with Front Loader, Super
Tough, made from die-cast metal John Deere 7530 series tractor with functional front loader with bucket; rolling wheels, remove cab and rear tow hitch.
Brand:
Siku
Product description
If its a Siku Super John Deere tractor in a small 1:72 scale you need then this one will fit the bill. Its small but its not without its functionality.
Well it has rolling wheels and removable cab, static features include a metal rear tow hitch and an imitation fixed counter-weight attached to the front mount.
Simply looking at it, then its that front loader that grabs the attention, and rightly so as its one that has both an up/down motion, along with a pivoting bucket attachment for scooping and dumping.
When in need of repairs be sure to fix the engine as its visible from the exterior detail, well the driver's cabin can be removed to get up close and personal to the driver's seat, controls and steering wheel.
If you have a Siku Super farm implement/trailer already or plan to bring in one later than that's perfect, as the rear tow hitch will be compatible with the entire series.
All four free-rolling wheels have a yellow rim which is vital to what makes a John Deere stand out.
Features
Item No: 1341
Scale: 1:72
Age: 3 years and up
Presented in blister packaging
Made from die-cast metal
Front loader with bucket
Removable cab
Rolling wheels
Compatible rear hitch
Dimensions: L8.7 x W3.7 x H4.1 cm
Weight: 48g
Manufacturer details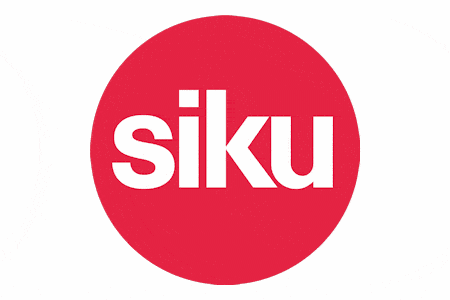 Still a fairly new release by Siku standards, so its a model that has all the latest functionality, design and features. Small replica tractor so that does limit what can be functional, but that hasn't stopped Siku fixing a front loader along with a tipping bucket. Then there's all the usual features to tie them over including a tow hitch, removable cab and rolling wheels.
Guide to Siku John Deere 7530 Tractor with Loader
With first impressions you get a basic replica Siku Super John Deere tractor; at closer inspection it has interesting functionality, including a working loader, hitch and removable cab.
John Deere 7530 Tractor
Its a 7530 series tractor so in terms of size this one is a beast, with a powerful engine and the ability to tow the largest of implements and loads in trailers.
That doesn't reflect the small scale of this Siku John Deere tractor mind you, but if its lined up with all JD's in the series, its stands out as one of the largest.
Front Loader
Big but small John Deere tractor is capable of loading up a tonne of dirt, sand and grit thanks to use of the working front loader that has an up and down movement.
To imitate a real life scenario the loader should be elevated up when in road/transport mode, well it is then lowered to the ground to scoop up using the bucket attachment.
Bucket Attachment
That said bucket attachment has a pivoting action, therefore it can tip up either way to upload or offload contents onto the ground or in a dirt pile.
It will be used simultaneously with the up/down action of the front loader function, thereby you can scoop and dump at the same time - if they don't master this technique it will slow things down.
Removable Cab
Get to work making repairs and maintaining the tractor in the shed by removing the driver's cab all together so you get unlimited access to the interior.
Simply pull to remove cab then align the holes with the corresponding slots to reattach. Well the driver's cab is windowless, there's never a need to remove cab as its all within reach by there little fingers.
Rear Tow Hitch
Use as a standalone tractor with loader or add a trailer later, but imagine this...
Well operating the front loader well at the same time tipping the bucket, they will then have to skillfully maneuver the tractor forwards, back, left and right.
Then, with the option to fix a multitude of farm trailers/implements they will have to master that too, luckily for them its all helped with an easy-to-use tow hitch.
Rolling Wheels
Have you ever heard of friction powered wheels on toy tractors, well such function does not exist on this model so therefore there's no limit in play.
Its a simple push forward or back motion that will turn the wheels depending on the speed of which its repelled. That makes it a free-rolling motion with no possibility of bringing the wheels to a standstill.
Siku
This item: Siku 1341: John Deere 7530 Tractor with Front Loader
Age: 3 Years
Scale: 1:72
L8.7 x W3.7 x H4.1 cm
Weight: 48g
Siku
Age: 3 Years
Scale: 1:72
L6.5 x W3.7 x H4.3 cm
Weight: 44g
Siku
Age: 3 Years
Scale: 1:72
L9.8 x W5.4 x H7.8 cm
Weight: 40.8g
SHOP BY THEME
SHOP BY
INFORMATION