Siku 1009: John Deere 7530 Tractor, Super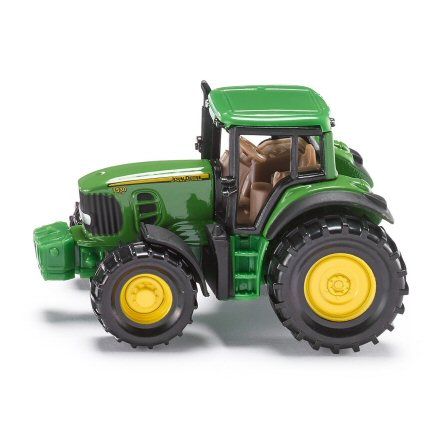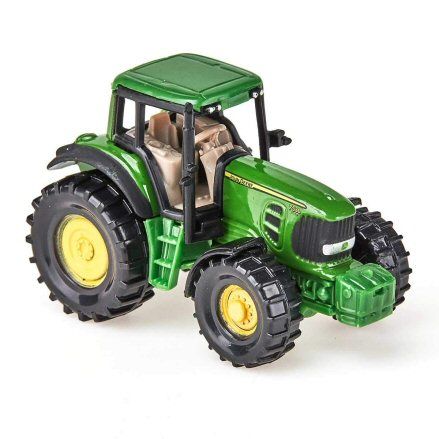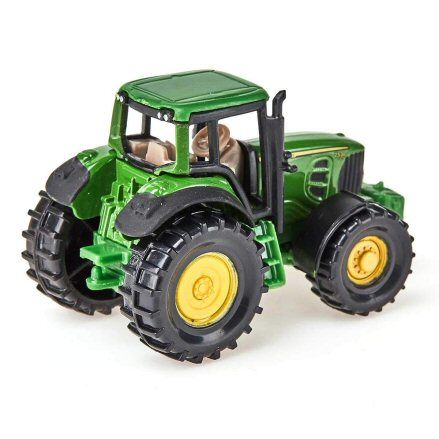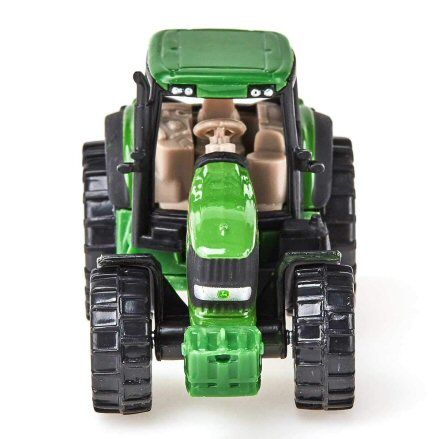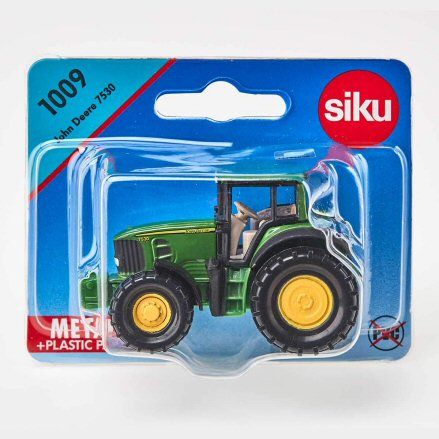 Siku 1009: John Deere 7530 Tractor, Super
Standalone, yet multi-use small Siku John Deere tractor in 1:72 scale; rear hitch for towing, removable cab and all four free rolling wheels for unrestrictive play.
Brand:
Siku
Product description
They love a John Deere tractor over all other models, and despite its small size; there's no stopping them getting maximum enjoyment from this hard-wearing, made from die-cast metal model.
Its not without its functionality which is available in the free rolling wheels, a rear tow hitch for hauling all available trailers in the series, plus a detachable driver's cab.
Its a windowless model so the interior detail is within reach. Though what better way to have unlimited access to the driver's cab by removing the cab all together.
Rolling wheels with rubberised tyres, the yellow rims are unique to John Deere well the deep treads help rollover rough terrain.
Simple to use rear tow hitch will take on any trailer or implement in the series without compromise; secured on using a metal plate to prevent the trailer coming off well in motion.
Exterior detail extends to the imitation counter-weight fixed to the front mount; exhaust running up the cab; along with steps leading to the cab door; with imitation lights and engine detail.
Features
Item No: 1009
Scale: 1:72
Age: 3 years and up
Presented in blister packaging
Made from die-cast metal
Detachable driver's cab
Rolling wheels
Compatible rear hitch
Dimensions: L6.5 x W3.7 x H4.3 cm
Weight: 44g
Manufacturer details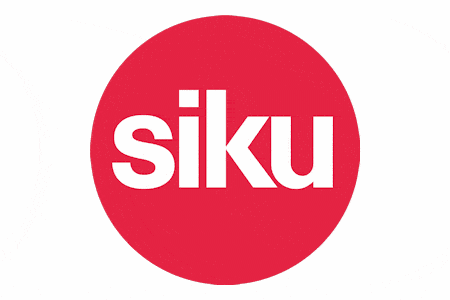 Proof is in the pudding with this model, as one that has stood in the Siku Super series since 2008, so it can only mean Siku have had faith in this John Deere tractor ever since. Don't let this tractor 'with no farm trailer or implement' hold you back. Well it has a lot of value in play as is, Siku have built-in a rear tow hitch, rolling wheels with a removable driver's cab.
Guide to Siku John Deere 7530 Tractor
Not much can be said about a standalone Siku tractor, but when its a John Deere one you might want to prioritise this model over all others, and its not without its functional parts.
John Deere 7530 Tractor
Authentic as they come replica larger series Siku John Deere tractor in 1:72 scale; small at heart but with an engine powerful enough to tow big implements, or the biggest trailer loads.
Stand out John Deere tractor thanks to its unique colouring; bright yellow rims finish off the branding well its further guaranteed as JD due to the insignia along the bonnet.
Exterior Detail
Well its obvious to most its a John Deere just by appearance, the exterior detail unique to the JD name is replicated in small detail on the outside.
What makes the John Deere tractor so special is the engine detail; including engine radiator visible along side the bonnet. There's also an exhaust, imitation lights and visible tow hitch mechanism.
Interior detail inside cab
At a glance the interior of the driver's cab makes for interesting viewing; steering wheel, seat and the controls are all included in the detailing.
Well all this is within reach of the child, simply pop off the whole driver's cab to gain access to the interior. It's then a matter of popping back on the cab before heading out of the tractor shed.
Tow Hitch
Well this Siku Super John Deere tractor has all you need to operate successfully on a working farm, what better way to make things more interesting by bringing in a farm implement or trailer to tow.
If there's no standalone implement/trailer, then why not make use of a trailer/trailer set so you can use said trailer for this tractor, well having a much needed second small toy tractor to operate.
Siku
This item: Siku 1009: John Deere 7530 Tractor, Super
Age: 3 Years
Scale: 1:72
L6.5 x W3.7 x H4.3 cm
Weight: 44g
Siku
Age: 3 Years
Scale: 1:72
L8.7 x W3.7 x H4.1 cm
Weight: 48g
Siku
Age: 3 Years
Scale: 1:72
L9.8 x W5.4 x H7.8 cm
Weight: 40.8g
SHOP BY THEME
SHOP BY
INFORMATION