Siku 1472: John Deere 9560R Tractor, Super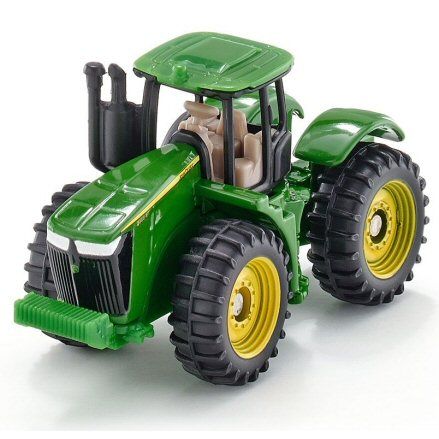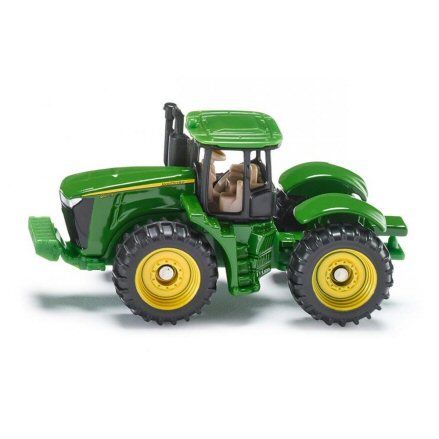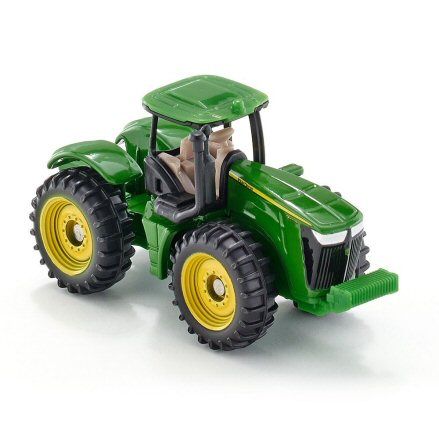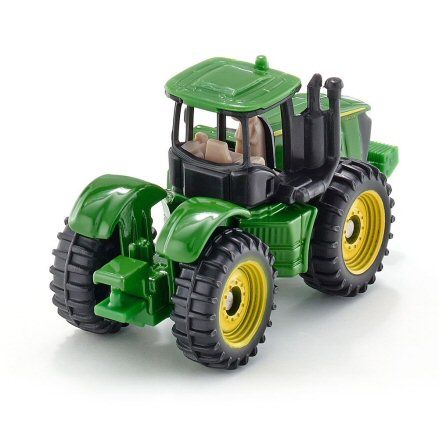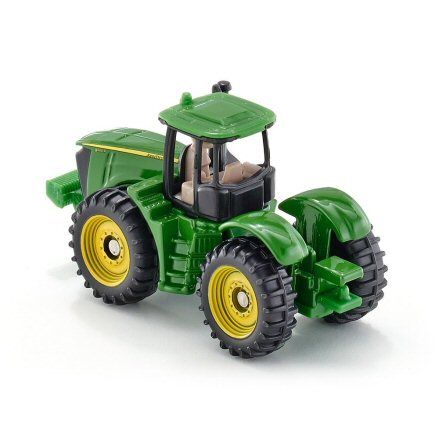 Siku 1472: John Deere 9560R Tractor, Super
Big, tall powerful Siku John Deere 9R series tractor with articulated steering; features rear tow hitch, rolling wheels, counter-weight and detachable cab.
Brand:
Siku
Product description
You'll much less see this John Deere 9R series tractor do the heavy hauling then seeing it wondering around the yard with a loader fixed to the front.
And that's all this tractor is good for really; simply for towing the biggest trailers or hauling the heaviest farm implements to work the fields.
To do that its must be big and powerful, and when lined up to other standard John Deere tractors, you'll certainly see the size comparison.
Big free rolling wheels take the brute force, well the tread tyres helps with grip. To steer the tractor you will control it from the middle section that is resting on a hinge.
Its made for heavy duty work but there's nothing this Siku 1472 John Deere 9560R tractor cannot haul, including smaller trailers to the big ploughs.
Remove the driver's cab off to view the interior, well the imitation counter-weight will help keep the tractor balanced well hauling... in theory mind, its not heavy at all.
Features
Item No: 1472
Scale: 1:72
Age: 3 years and up
Presented in blister packaging
Made from die-cast metal
Articulated steering
Rolling wheels
Compatible rear hitch
Dimensions: L9.8 x W5.4 x H7.8 cm
Weight: 40.8g
Manufacturer details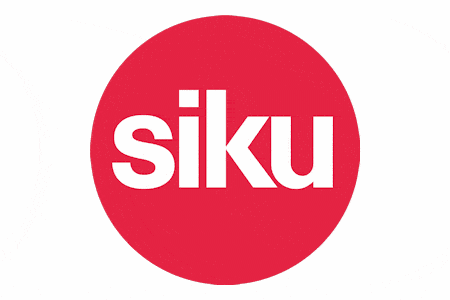 Available since 2013, you might say this is the only R type tractor in the whole Siku Super series, made in 1:72 scale. And in developing this model that replicates its real life counterpart; Siku have had to create articulated steering, as appose to the standard controls. Well all other tractors don't technically have active steering, this is the only model that has so.
Guide to Siku John Deere 9560R Tractor
Think of the John Deere 9R series tractor as any standard model; only its made bigger to hold more power for towing heavy trailers or implements through the farm fields.
John Deere 9560R Tractor
All major tractor manufacturer's have a larger model like this one; with articulated steering for towing the heaviest, biggest of loads through the ploughed fields.
You know this is a John Deere by appearance only, and its not without is exterior decor; exhaust pipe, counter-weight, steps leading to cabin, mud guards and interior cab detail.
Articulated Steering
So big and long this tractor is like an all in one tractor/implement; only the tractor as articulated steering so its steered from the hinged middle section.
In all, the front section with cab attached acts as the steering; well the rear section follows the front section around. This rear section is also the part for fixing the implements or trailers to the tow hitch.
Big Central Cab
Advantage of a centrally located driver's cab such as this one will allow for panoramic views; therefore there tractor can be controlled in complete safety, well making sure the whole field is worked on.
Driver's cab so big in fact it requires a step system to reach the cab. And if you want a better view of the interior; its a detachable cab so simply pull it off.
Haul Heavy Loads
Intended use of a John Deere 9R series tractor is use of its raw power, so that you can tow heavy-duty, hard wearing farm implements with ease.
And well its possible to fix any farm trailer or implement in the range to the rear tow hitch of this Siku John Deere tractor, you'd make the most of it by connecting up the largest farm equipment.
Siku
This item: Siku 1472: John Deere 9560R Tractor
Age: 3 Years
Scale: 1:72
L9.8 x W5.4 x H7.8 cm
Weight: 40.8g
Siku
Age: 3 Years
Scale: 1:72
L6.5 x W3.7 x H4.3 cm
Weight: 44g
Siku
Age: 3 Years
Scale: 1:72
L8.7 x W3.7 x H4.1 cm
Weight: 48g
SHOP BY THEME
SHOP BY
INFORMATION