Siku 1043: Deutz Fahr Agrotron 265 Tractor, Super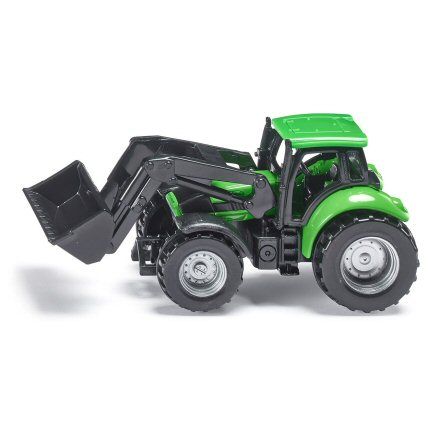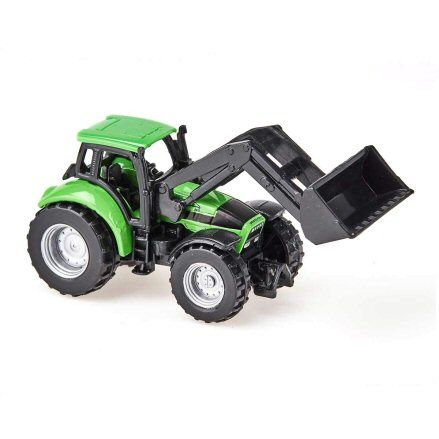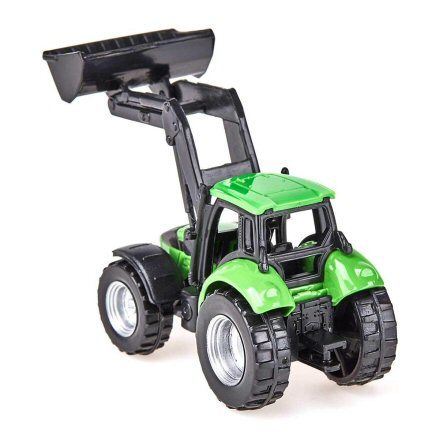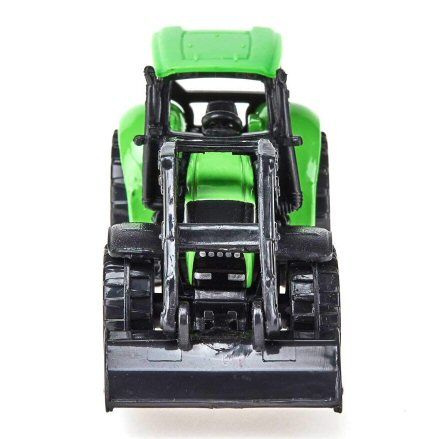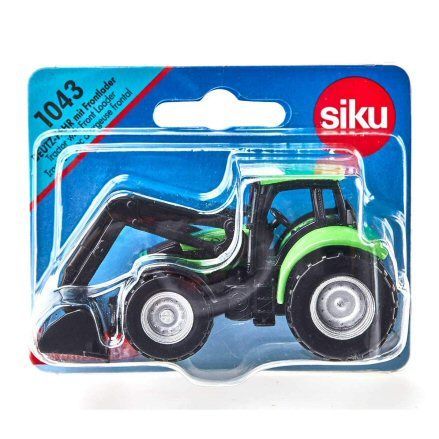 Siku 1043: Deutz Fahr Agrotron 265 Tractor, Super
Highly functional Siku Deutz tractor with tow hitch, detachable cab and rolling wheels; front loader moves up/down well the bucket has a tipping action.
Brand:
Siku
Product description
You can only rely on a Deutz tractor to get the job done quickly and effectively around the farm. Simply use the front loader to do all the heavy lifting, well the tractor does the hauling.
Lots of features on this small, yet tough little tractor that will sure keep them busy as they discover new functionality on the exterior, well the interior has detail to explore.
Cab is windowless so the usual steering wheel, seat and controls for the loader are there to see; well the cab is detachable, it leaves the interior in place as the cab is removed.
Front loader on this Siku 1043 Deutz Fahr Agrotron 265 tractor is a monster; though it will move up and down as the need to scoop and offload is required.
Fixed to the ending is a pivoting bucket attachment for scooping up sand or gravel; as it tips this will allow you to offload or carry the contents around.
If you need a farm trailer or implement to tow later, this happen with use of the rear tow hitch so you can dump anything you've picked up in the bucket into the awaiting trailer.
Features
Item No: 1043
Scale: 1:72
Age: 3 years and up
Presented in blister packaging
Made from die-cast metal
Front Loader
Pivoting bucket
Compatible rear hitch
Dimensions: L9.3 x W3.7 x H4.5 cm
Weight: 49.9g
Manufacturer details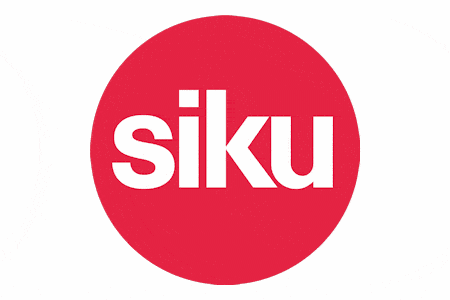 Hard to believe but this model tractor has existed in the Siku Super series since 2008, meaning it as outlasted all models that have since retired. If Siku are still making it, that can only mean people are still buying it; which should be an endorsement in itself. And rightly so, its a tough, made from die-cast with durable plastic, so will last the test of time.
Guide to Siku Deutz Fahr Agrotron 265 Tractor
Get to know how this Siku Deutz Fahr tractor functions with rolling wheels, removable cab and rear tow hitch; then there's the fully functional front loader with attachment.
Deutz Fahr Agrotron 264 Tractor
Monstrous little green toy tractor; this Deutz Siku tractor has a handful of features of its own, but when combined with the front loader, there's plenty of functionality packed into this model.
Its a Deutz tractor so that can only mean its finished in bright, lime green with black trim. Includes rolling wheels, exhaust, engine detail, front mount, removable driver's cab and insignia.
Up/Down Loader
Interesting mechanism attached across the bonnet is a front loader that has a up/down movement only, combined with a functional tipping attachment thanks to the bucket.
To scoop up mud, sand or gravel lower the front loader to the ground level to roll forward, before scooping; then in road transport mode you'd want to lift up the loader as to see the road in front of you.
Tipping Bucket Attachment
Designed to work in conjunction with the up/down movement of the front loader. Attached to said loader is the pivoting action of the bucket attachment - meaning it tips up to grab, down for offloading.
Despite its size, if there's anything small enough to scoop up - such as sand - then it will collect in the wide bucket. All you need to do is position the bucket manually as to keep the load secure in the bucket.
Hitch for Towing
Siku Deutz tractor with front loader ticks all the boxes; the option to attach a suitable farm trailer or implement to the rear tow hitch will sure bring out the best in farm tractor play.
Align implement or trailer with hitch to the rear, before hooking over the trailer tow bar to the hitch of the tractor; you'll then be able to maneuver without rubbing the trailer on the rear tyres.
Siku
This item: Siku 1043: Deutz Fahr Agrotron 265 Tractor with Front Loader
Age: 3 Years
Scale: 1:72
L9.3 x W3.7 x H4.5 cm
Weight: 49.9g
Siku
Age: 3 Years
Scale: 1:72
L7 x W3.5 x H4 cm
Weight: 49g
Siku
Age: 3 Years
Scale: 1:72
L16 x W3.7 x H4.4 cm
Weight: 85g
SHOP BY THEME
SHOP BY
INFORMATION