Siku 0859: Deutz Fahr Agrotron 265 Tractor, Super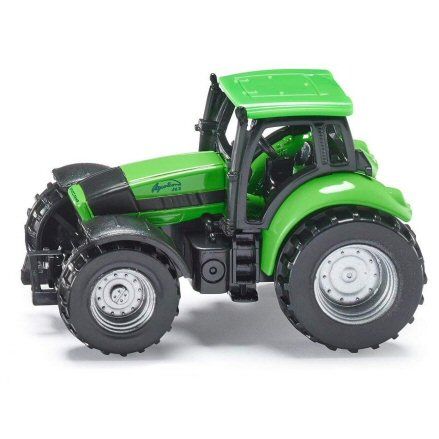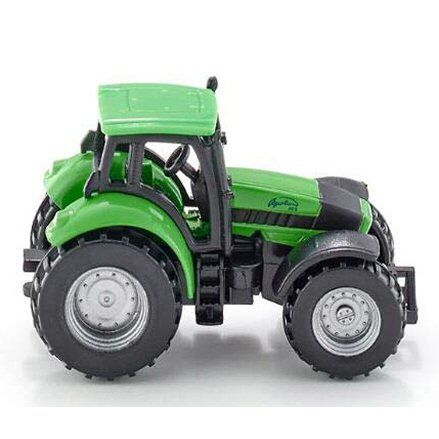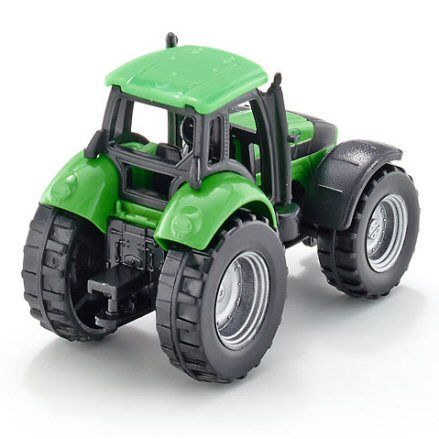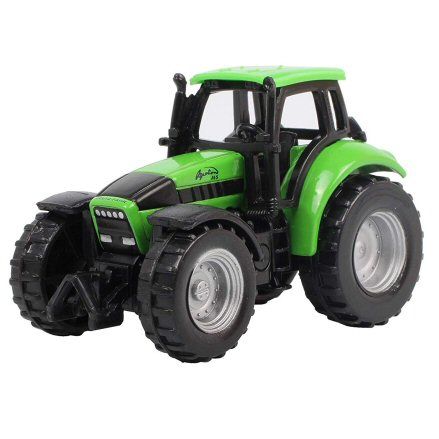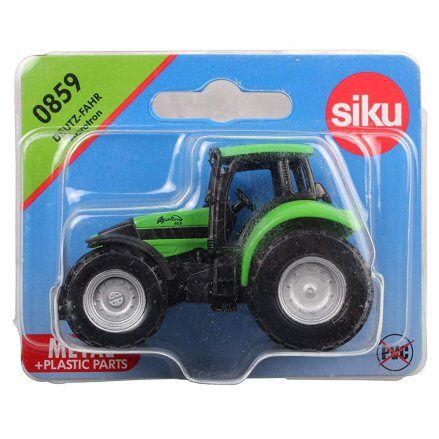 Siku 0859: Deutz Fahr Agrotron 265 Tractor, Super
Standout Siku Deutz tractor in 1:72 scale; made from die-cast metal which is finished in bright green with plastic trim; rear tow hitch with rolling wheels.
Brand:
Siku
Product description
If you're not familiar with Deutz tractors then know this is how they appear; focus on the colour scheme in bright green which is further identified as this manufacturer thanks to the insignia along the bonnet.
Big, bulky body with even bigger rear, free rolling wheels with tread detail for rolling over rough terrain; with use of the rubberised tyres to prevent slipping.
To the rear of the tractor is a compatible rear tow hitch that has a metal plate to help keep the farm trailer or implement in place well being hauled along.
Head to the front where the mount is fixed, but would normally take on front-facing implements; not so with this model as its imitation only - but its does have quite a bit of detail.
Exterior decor is clearly visible all over; headlights with more smaller lights; exhaust running up the cab; steps that lead to the cab door; plus a little engine detail.
Big driver's cab can be removed all together before fixing back on; windowless cab but the steering wheels and seat can be touched inside.
Features
Item No: 0859
Scale: 1:72
Age: 3 years and up
Presented in blister packaging
Made from die-cast metal
Removable driver's cab
Rolling wheels
Compatible rear hitch
Dimensions: L7 x W3.5 x H4 cm
Weight: 49g
Manufacturer details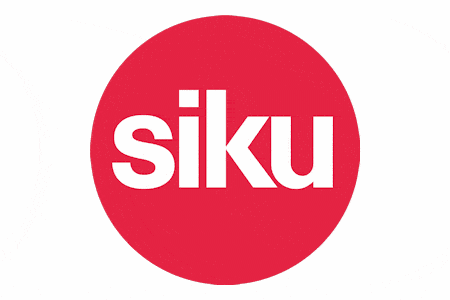 Available since 2006, this model tractor is a perfect example just how Siku Super tractors used to look; well later model releases have more detail and are a closer replica to the real machine. Its a toy tractor that's lasted mind you, all this time the tractor as existed in the Super series so take it from Siku as a dependable model that will out last the test of time.
Guide to Siku Deutz Fahr Agrotron 265 Tractor
If you understand what this dinky little green tractor has to offer them, then you'd appreciate its features and functionality more; starting with the rolling wheels and rear tow hitch.
Deutz Fahr Agrotron Tractor
Bright green Siku Deutz tractor with a die-cast metal body with black durable plastic trim. Rubberised tyres with a front mount, exhaust, steps leading to cab door, headlights and engine detail.
Large series tractor from the Deutz, big and bulky with a solid construction. Well its not possible to use the front mount mechanism, it is possible to fix a farm trailer or implement to the tow hitch.
Rolling, Tread Tyres
Big, powerful tractor like this one requires tough, durable tyres to roll over the roughest of terrains without wear and tear, which is true for this set of rubberised tyres.
All supported with use of much needed tread as to roll over the field without fear of getting bogged down. Free rolling wheels so simply push forwards or back to move.
Cabin Detail
Siku Super series are known for there durable plastic, yet made from die-cast metal small tractor toys; and its because of this small size there is lack of extra detail.
Well the driver's cab doesn't have windows inserted - refer to the Siku 1:87 tractors series instead - so with lack of windows, you still get to reach the steering wheel with driver's seat.
Tow Hitch
No restrictions with this small Deutz tractor, simply remove from packaging and away they go; take it on there travels; use at home or out in the garden.
However, play can be extended thanks to the solid, made from metal rear tow hitch which can be used with the current series of standalone implements/trailers, or use with the latest trailer/trailer set range.
Siku
This item: Siku 0859: Deutz Fahr Agrotron 265 Tractor
Age: 3 Years
Scale: 1:72
L7 x W3.5 x H4 cm
Weight: 49g
Siku
Age: 3 Years
Scale: 1:72
L9.3 x W3.7 x H4.5 cm
Weight: 49.9g
Siku
Age: 3 Years
Scale: 1:72
L16 x W3.7 x H4.4 cm
Weight: 85g
SHOP BY THEME
SHOP BY
INFORMATION