Schleich 13444: 4x4 Vehicle Driver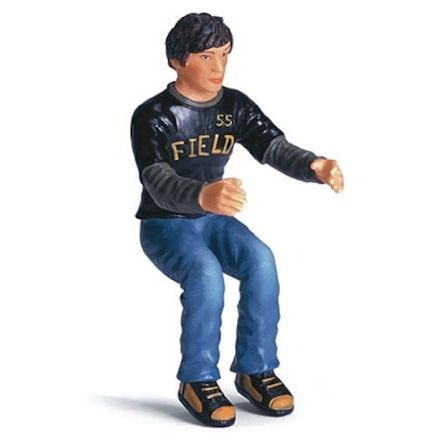 Schleich 13444: 4x4 Vehicle Driver
Sit a figure behind the wheel of the entire series; Schleich 13444 4x4 vehicle driver can be sat securely to the seat of most of the Farm World vehicle range.
Brand:
Schleich
Product description
As long as Schleich have had a truck in there Farm Life series, this figure as been needed to drive the 4x4 vehicle, as no other figure it made in a sitting position.
And that's how we can tell its a Schleich 4x4 vehicle driver; the permanent sitting pose he finds himself in, ready to get behind the wheel to drive the farm truck around.
Since he was released for use in the Schleich - now retired - truck, thankfully the company have the sense to develop the next generation of vehicles that are still compatible with this figure.
So whether you sit him behind the wheel of the Schleich tractor or truck, there will be no compatibility issues - though these new vehicles do come with a sitting figure already.
Not much use out of a vehicle as the pose doesn't make for much use, though its possible to populate the current Schleich farm with people by sitting him on a nearby wall.
Features
Item No: 13444
Age: 2 years and up
Presented loose with label attached
Made from durable plastic
Hand painted
Includes figure only
Schleich Farm Life range
Dimensions: L2 x W2 x H7 cm
Weight: 13.8g
Schleich
This Item: Schleich 13444: 4x4 Vehicle Driver
Age: 3 Years
L2 x W2 x H7 cm
Weight: 13.8g
Britains
Age: 3 Years
L2 x W0.5 x H5 cm
Weight: 18.1g
Siku
Age: 3 Years
L2 x W1.5 x H4 cm
Weight: 49.9g
SHOP BY THEME
SHOP BY
INFORMATION