Schleich 43847: Farmer's Wife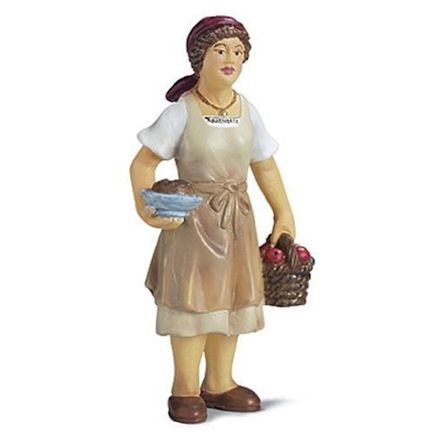 Schleich 43847: Farmer's Wife
Schleich's farmer's wife happily helping out around the yard carrying freshly picked fruit; wearing a classic dress, pinny and nicely painted by hand.
Brand:
Schleich
Product description
Schleich wife takes care of the family pets well heading out early in the morning well taking care of all the farm animals.
Firstly, she goes out to the vegetable garden and picks fresh red apples well filling up her basket. Well on the other hand she carries a freshly baked cake for when the family are all home.
Attire the Schleich 43847 wife is wearing is in keeping with clothing from the eighties to early nineties, so not fashionable or modern clothing more familiar today.
She has both hands full with a basket in one hand and dish on the other; all while her arm is down by her side, and the other folded to hold onto the fragile dish.
Rag she wears around her head is to help keep her long hair back while she bakes in the kitchen; which is obvious due to the pinny she has tied around her waist.
You'll notice she's has bigger than normal shoes, as this actually serves a purpose; bigger the shoes means the farming figure is free-standing, so no need for a base to keep her balanced.
Features
Item No: 43847
Age: 3 years and up
Presented loose with label attached
Made from durable plastic
Holding dish and basket
Items cannot be removed from figure hands
Schleich Farm Life range
Dimensions: L2 x W2 x H7 cm
Weight: 13.6g
Schleich
This Item: Schleich 43847: Farmer's Wife
Age: 3 years
L2 x W2 x H7 cm
Weight: 13.6g
Schleich
Age: 3 Years
L3.6 x W5.1 x H9.1 cm
Weight: 22.7g
Bullyland
Age: 3 Years
L3.8 x W2 x H9.2 cm
Weight: 18.1g
SHOP BY THEME
SHOP BY
INFORMATION