Schleich 13468: Farmer's Wife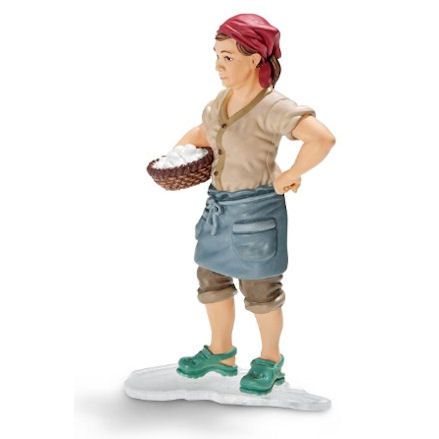 Schleich 13468: Farmer's Wife
Standing up with arms folded, holding a basket of eggs Schleich Farmer's Wife; she's wearing casual workwear well secured on a base for balance.
Brand:
Schleich
Product description
Schleich farmer's wife attends the chicken coop to feed hen's well collecting freshly laid eggs. They're all then brought back to the house for everyone's dinner later.
Positioned after she's just picked up the eggs in the coop; she now is standing stern looking over the chickens to make sure all are fine.
Dressed for the occasion, the farmer's wife is wearing working clothing that is suited to the era, has the figure as a little olden times to it.
She's dressed in a button up jumper, rolled up trousers for walking in muck; well using a tied up headscarve to help keep her hair tied back.
Schleich figure doesn't stand up all by her own; so she's assisted with use of a plastic clear base.
Basket of eggs she's hold are fixed to her arm/hand, therefore its not possible to remove the eggs as its a feature that is permanent.
Farmer's wife is suited to all types of farm tasks; though you might want to consider adding her to a farm that has a lot of chickens to look after.
Features
Item No: 13468
Age: 3 years and up
Presented loose with label attached
Made from durable plastic
Includes figure holding basket
Egg basket cannot be removed
Balanced on a large base
Schleich Farm Life range
Dimensions: L3.6 x W5.1 x H9.1 cm
Weight: 22.7g:
Schleich
This Item: Schleich 13468: Farmer's Wife
Age: 3 Years
L3.6 x W5.1 x H9.1 cm
Weight: 22.7g
Schleich
Age: 3 years
L2 x W2 x H7 cm
Weight: 13.6g
Bullyland
Age: 3 Years
L3.8 x W2 x H9.2 cm
Weight: 18.1g
SHOP BY THEME
SHOP BY
INFORMATION