Schleich 13467: Farmer with Piglet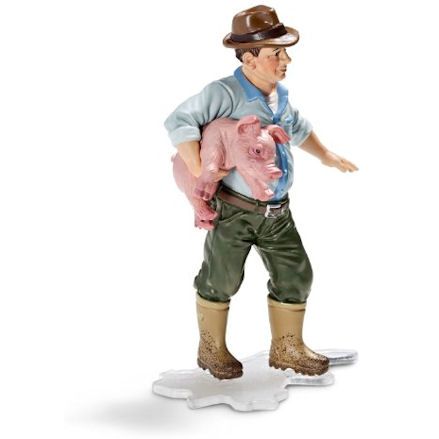 Schleich 13467: Farmer with Piglet
Classic farm look and feel with the Schleich farmer with piglet; as his boots are dirty the farmer has removed this up-to-no-good piglet from the sty.
Brand:
Schleich
Product description
Set a real farm scene with this Schleichfarmer holding a piglet under his arm; and we know he's just visited the pig sty as his boots are dirty with splatter detail.
Piglet was up to know good so farmer had to intervene to remove the little rascal who was annoying other little piglets, and probably his mother.
What would really finish off this standalone farmer figure is by using him as a figurehead where the pigs are the theme of the day; so a sty or farm pig farmer would make sense.
Well the piglet is held under his arm, this it not a detachable piglet figure so the position is always the same, so make sure you bring in more Schleich piglets to bring it to life.
Schleich farmer is wearing a blue jumper, green work trousers with belt, hat and a pair of boots that if you look carefully, you'll see they're dirty from chasing the naughty piglet in the muddy sty.
Thankfully boots are large as to keep the farming figure freely standing well the child leaves it alone.
Features
Discontinued
Item No: 13467
Age: 3 years and up
Presented loose with label attached
Made from durable plastic
Includes figure holding piglet under arm
Hand painted, brightly coloured clothing
Schleich Farm Life range
Dimensions: L3 x W4 x H9.7 cm
Weight: 27.2g
Schleich
This Item: Schleich 13467: Farmer with Piglet
Age: 3 Years
L3 x W4 x H9.7 cm
Weight: 27.2g
Schleich
Age: 3 Years
L2 x W2 x H7 cm
Weight: 13.6g
Papo
Age: 3 Years
L9 x W2 x H11 cm
Weight: 18.6g
SHOP BY THEME
SHOP BY
INFORMATION