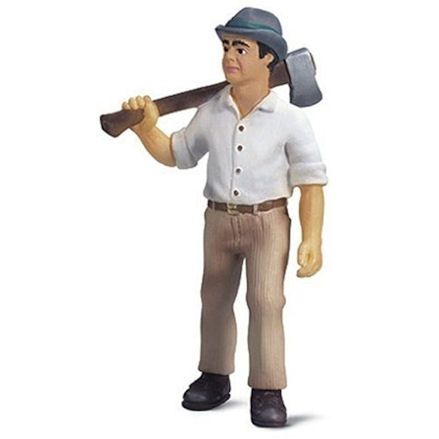 Schleich 13433: Farmer
Classic Schleich farmer holds onto a axe for chopping up fire wood in the garden; positioned in a standing pose with his axe casually over his shoulder.
Brand:
Schleich
Product description
Schleich's early farm figure releases will put you in the mind of farming in the early days; and that's what this figure is modeled on, due to use of an axe.
What he will do with this axe is head out into the woods well bringing back chopped up logs; he'll then use it as fire wood to keep the home warm.
Casually holding the axe over shoulder; bare in mind the axe cannot be removed from his grasp, nor are his limbs poseable, so therefore this is a position you'll always find him in.
Dressed in a white button shirt with casual trousers, the hat will keep the sun off his face well chopping up the fire wood out in the garden.
Large boots will keep him standing upright as he's left to his own devices by the young farmer, though a flat surface would be better suited.
Features
Item No: 13433
Age: 3 years and up
Presented loose with label attached
Made from durable plastic
Includes figure holding axe
Axe cannot be removed
Schleich Farm Life range
Dimensions: L2 x W2 x H7 cm
Weight: 13.6g
Schleich
This Item: Schleich 13433: Farmer
Age: 3 Years
L2 x W2 x H7 cm
Weight: 13.6g
Papo
Age: 3 Years
L9 x W2 x H11 cm
Weight: 18.6g
Papo
Age: 3 Years
L9 x W2 x H11 cm
Weight: 18.1g
SHOP BY THEME
SHOP BY
INFORMATION