Papo 39216: Gardener and Farm Hand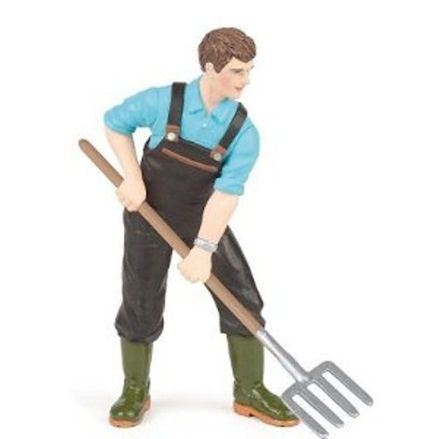 Papo 39216: Gardener and Farm Hand
Papo gardener figure can also pass as a working farmer; he holds onto an undetachable fork well the position helps him keep standing, without falling over
Brand:
Papo
Product description
Help bring the Papo farm scene to life by bringing in a figurehead to operate the large farm. And you can do just that with Papo's own gardener figure.
Papo gardener officially, but you have to admit he does look as if he will qualify as a farmer; so why not use him as both, as there's really no use bringing another figure to do the same job.
No discouraging the use of another Papo figure mind you as more workers will be needed depending on the size of the working farm.
In this standing pose, its pretty obvious he's raking the ground; that fork he's holding though cannot be separated from said figure, so he's always in this position.
Which is just as well as he'll be very busy cleaning up the farmyard of hay and muck leftover by the farm animals, well the garden will need cleaning up from playing children and pets.
Papo gardener is wearing blue overalls with a light blue undershirt. You can see he's wearing a watch to keep an eye on the time, well also wearing big green wellington boots.
Features
Item No: 39216
Age: 3 years and up
Presented loose with label attached
Made from durable plastic
Includes figure holding pitch fork
Fork cannot be removed
Hand painted in bright colours
Papo Farmyard Friends range
Dimensions: L9 x W2 x H11 cm
Weight: 18.6g
Papo
This Item: Papo 39216: Gardener and Farm Hand
Age: 3 Years
L9 x W2 x H11 cm
Weight: 18.6g
Schleich
Age: 3 Years
L5.7 x W3.9 x H8.5 cm
Weight: 18.1g
Bullyland
Age: 3 Years
L6 x W3.3 x H11 cm
Weight: 18.1g
SHOP BY THEME
SHOP BY
INFORMATION