Schleich 13452: Farmer's Wife with Rake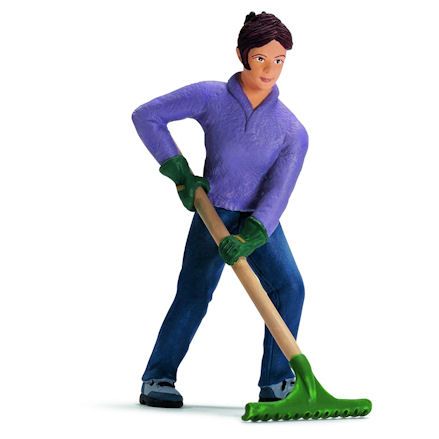 Schleich 13452: Farmer's Wife with Rake
Multi-use Schleich 13452 farmers wife with rake; well holding the rake this way, she is ready to clean out the stables or get to work on the farmyard.
Brand:
Schleich
Product description
Farmhand or stable girl, this Schleich Farmer's Wife is suited to cleaning up the barn in the farmyard, or sweeping up the horse muck on the stableyard.
She's primarily dressed in winter wear: including a thick winter jumper, blue denim jeans, pair of gloves and working shoes.
Positioned in a sweeping pose, she holds onto a rake for cleaning up hay or mucking out. Due to the way she is standing, this makes the figure self-balancing, so no need for a base to stand on.
Rake she holds has a wooden effect handle with both a plastic rake and handle. Though bare in mind the rake cannot be removed from her hands.
Hair tied back, she gets to work in the stable stalls cleaning out the old hay with new; well doing a similar task in the barn for the cattle.
Features
Item No: 13452
Age: 3 years and up
Presented loose with label attached
Made from durable plastic
Includes figure holding rake
Rake cannot be removed
Handpainted in bright clothing
Schleich Farm Life range
Dimensions: L5.7 x W3.9 x H8.5 cm
Weight: 18.1g
Schleich
This Item: Schleich 13452: Farmer's Wife
Age: 3 Years
L5.7 x W3.9 x H8.5 cm
Weight: 18.1g
Papo
Age: 3 Years
L9 x W2 x H11 cm
Weight: 18.6g
Bullyland
Age: 3 Years
L6 x W3.3 x H11 cm
Weight: 18.1g
SHOP BY THEME
SHOP BY
INFORMATION