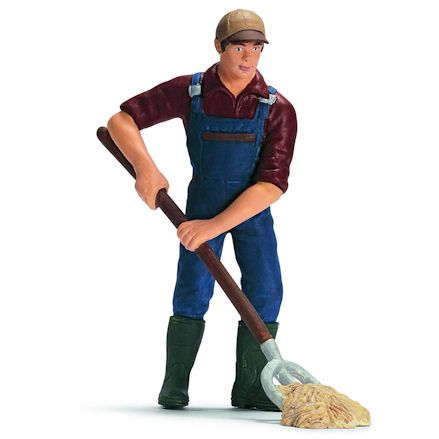 Schleich 13451: Farmer
All you need 9cm tall Schleich farmer figure is compatible with the Farm World series; positioned in a standing pose well raking the hay that is fixed to fork.
Brand:
Schleich
Product description
What most of us would consider what a hard working farmer would look; well this Schleich farmer fits the bill by the overalls he's wearing and the big wellington boots on his feet.
All clothing used to keep warm well the hat and boots acts as safety wear for working the yard.
Position the Schleich farm figure is standing in is permanent one so no poseable limbs, and that goes for the rake he has in his hands which cannot be removed.
And well the toy farmer can stand freely with no issues, the positioning of the rake with the haystack he's clearing up helps balance the figure even better.
As he his sweeping up, the figure wouldn't look out of place well set inside the Schleich barn well cleaning up the hay leftover by the cattle.
Out in the yard the hay will need clearing up which probably spilled out as the tractor transported it.
Features
Discontinued
Item No: 13451
Age: 3 years and up
Presented loose with label attached
Made from durable plastic
Includes figure hold fork
Pitch fork cannot be removed
Schleich Farm Life range
Dimensions: L6.5 x W5 x H9 cm
Weight: 22.7g
Schleich
This Item: Schleich 13451: Farmer
Age: 3 Years
L6.5 x W5 x H9 cm
Weight: 22.7g
Schleich
Age: 3 Years
L5.7 x W3.9 x H8.5 cm
Weight: 18.1g
Papo
Age: 3 Years
L9 x W2 x H11 cm
Weight: 18.6g
SHOP BY THEME
SHOP BY
INFORMATION