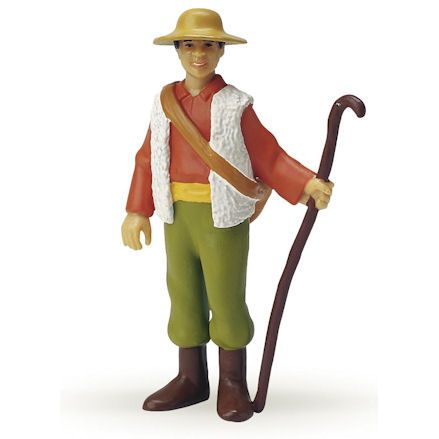 Papo 39222: Shepherd
Tough, 11cm tall Papo shepherd is wearing warm clothing with walking stick; his job is to tend to the sheep well overseeing the farm and surrounding land.
Brand:
Papo
Product description
Rely on Papo Shepherd to take care of the farm and tend the sheep; as a shepherd, the job title means rounding up, feeding and lambing.
You're not restricted to only shepherding mind you, the figure is perfectly capable of taking control of the whole farming operation.
Well he might not be a poseable figure - so no sitting or walking - the position demonstrates a figure that is used for keeping a watchful eye over the herd.
That could be standing in the sheep shedor out in the field as the sheep graze.
Shepherds usually have a Border Collie dog for herding up the loose sheep; well the use of a Papo fox would be welcomed as to make the child aware of dangers of wildlife for the sheep and there lambs.
Fitted out in bright old-style attire, the shepherd is wearing a hat, red jumper with white cardie, green trousers and big brown boots - which act as a base to keep the Papo Shepherd figure standing up.
Features
Item No: 39222
Age: 3 years and up
Presented loose with label attached
Made from durable plastic
Includes figure holding stick
Walking stick cannot be removed
Papo Farmyard Friends range
Dimensions: L9 x W2 x H11 cm
Weight: 18.1g
Papo
This Item: Papo 39222: Shepherd
Age: 3 Years
L9 x W2 x H11 cm
Weight: 18.1g
Papo
Age: 3 Years
L9 x W2 x H11 cm
Weight: 18.6g
Schleich
Age: 3 Years
L2 x W2 x H7 cm
Weight: 13.6g
SHOP BY THEME
SHOP BY
INFORMATION