Safari Ltd 820129: Farmer Mother Sue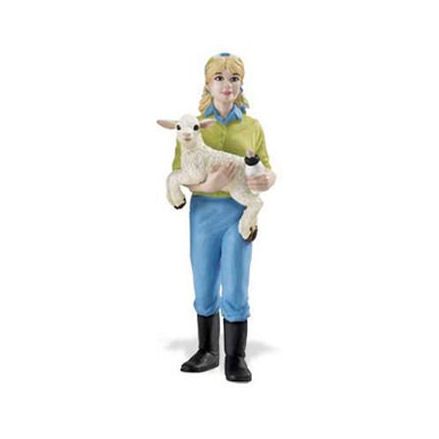 Safari Ltd 820129: Farmer Mother Sue
Young farm animals need human intervention now and then; with Safari Ltd farmer mother Sue with lamb in arms well holding onto a bottle of fresh milk.
Brand:
Safari Ltd
Product description
Mother Sue is tending to the young lamb she is holding in her arms as to help out in the lambing shed, well holding a bottle of milk to feed said lamb.
Lamb figure is not one that can be removed from Safari Ltd mother Sue's arms, but a position that cannot be changed or detached from the figure herself.
So as Sue is taking care of the lamb, we know her family is either running a sheep farm or at least has as a number of sheep on the farm to produce a number of lambs.
Sue doesn't run the farm on her own, but rather the husband will do that well they both make up the parents of Toby and their daughter.
Farming figure is standing in a way as to keep it balanced when child is not holding figure in position; and that's due to the way the feet are parted to keep it standing up right.
Features
Discontinued
Item No: 820129
Age: 3 years and up
Presented loose with label attached
Made from durable plastic
Includes figure holding lamb in arms
Lamb cannot be removed
Safari Farm range
Dimensions: L4 x W2 x H9 cm
Weight: 18.1g
Safari Ltd
This Item: Safari Ltd 820129: Farmer Sue
Age: 3 Years
L6 x W x H9 cm
Weight: 18.1g
Papo
Age: 3 Years
L6 x W x H9 cm
Weight: 18.1g
Schleich
Age: 3 Years
L3.6 x W5.1 x H9.1 cm
Weight: 22.7g
SHOP BY THEME
SHOP BY
INFORMATION