Papo 39219: Women Farmer with Basket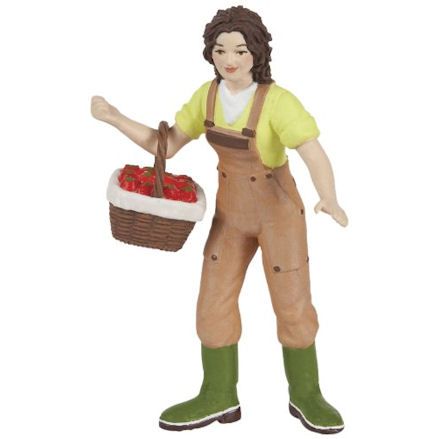 Papo 39219: Women Farmer with Basket
Multi-use Papo women farmer or gardener holding a basket; imitation apples only well the 9cm tall figure stands on big boots, to keep her freely standing.
Brand:
Papo
Product description
Papo women figure is dressed for the job of lady farmer or gardener. She's holding a basket of apples here, so for now she's playing the part of the gardener.
Why not use her as both as to expand on the Papo farm range; well avoiding bringing in another farming figure - this Papo women farmer/gardener can do both jobs.
As a gardener the work can be carriedout at the back of the farmhouse; well any farming will involve tending the Papo farm animals - depending on the animals available.
Gardener or farmer, no use limiting her to working on the Papo farm. As a matter of fact her size allows for cross-compatibility with the Schleich, Papo or Safari Ltd farm range.
Hard working lady, she is prepared to work in the garden picking the fresh red apples to pop in her basket, before attending the farm to collect the hen eggs to milking the cows in the barn.
She wears light tan overalls, yellow jumper with white shirt underneath, and big pair of green wellington boots for working in the mud.
Features
Item No: 39219
Age: 3 years and up
Presented loose with label attached
Made from durable plastic
Includes figure hold basket of strawberries
Basket cannot be removed from arm
Large feet allows the figure to stay standing
Dimensions: L6 x W x H9 cm
Weight: 18.1g
Papo
This Item: Papo 39219: Women Farmer
Age: 3 Years
L6 x W x H9 cm
Weight: 18.1g
Schleich
Age: 3 years
L2 x W2 x H7 cm
Weight: 13.6g
Bullyland
Age: 3 Years
L3.8 x W2 x H9.2 cm
Weight: 18.1g
SHOP BY THEME
SHOP BY
INFORMATION