Playmobil 6793: 1.2.3 Farmer with Wheelbarrow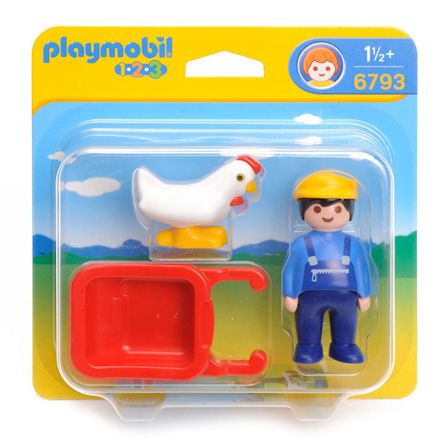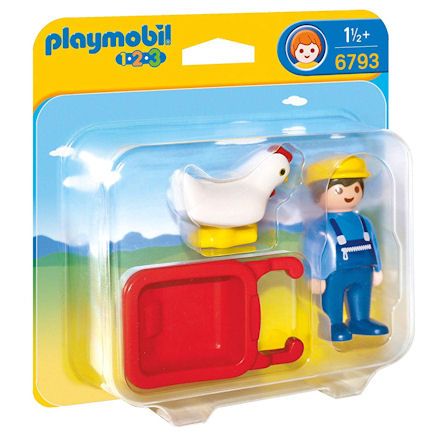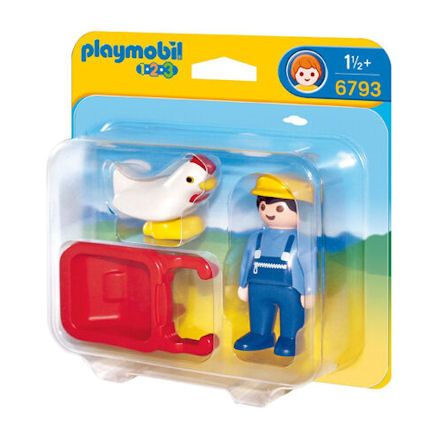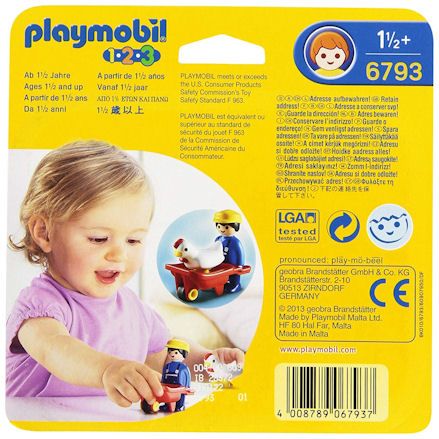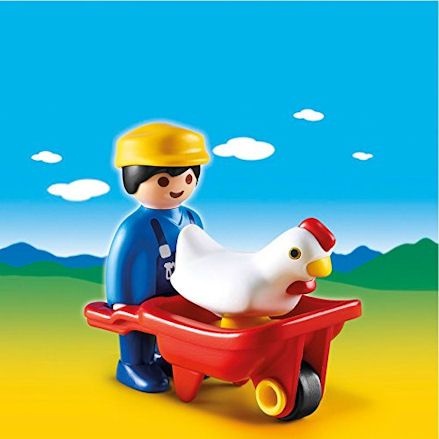 Playmobil 6793: 1.2.3 Farmer with Wheelbarrow
Designed for toddlers Playmobil 1.2.3 series farmer with wheelbarrow; non poseable figure, though the barrow wheel freely goes around, includes a single hen.
Brand:
Playmobil
Product description
Delightful little Playmobil 1.2.3. farmer with wheelbarrow set designed for toddlers, 18 months and up.
And we know that because in the 1.2.3.series; the pieces are chunkier than normal as its safer on there little hands as they play.
So wheelbarrow, hen and figure are chunky, with the addition of smooth surfaces and rounded off corners - just to make them more uncomfortable.
Designed for those at 18 months so Playmobil have ensured the farmer figure is not a poseable one; therefore they can't trap there skin in the gaps of moving limbs.
Well farmer is able to grasp onto the wheelbarrow handles, the hen is able to jump on well taking a ride around the yard, or stay with the farmer wherever he goes.
One functional area is the free rolling wheel on the wheelbarrow itself; there should be no trapping of fingers here due to the way its built.
Features
Item No: 6793
Age: 18 Months and up
Presented in clear window packaging
Made from hard plastic
Includes figure, wheelbarrow and chicken
Wheelbarrow attaches to grasped hands
Playmobil 1.2.3. range
Dimensions: L15 x W4 x H15 cm
Weight: 68g
Playmobil
This item: Playmobil 6793: 1.2.3 Farmer
Age: 18 Months
L15 x W4 x H15 cm
Weight: 68g
Playmobil
Age: 4 Years
L12.5 x W3.5 x H10 cm
Weight: 40.8g
Playmobil
Age: 4 Years
L15 x W4 x H15 cm
Weight: 59g
SHOP BY THEME
SHOP BY
INFORMATION