Playmobil 4778: Country Woman with Calves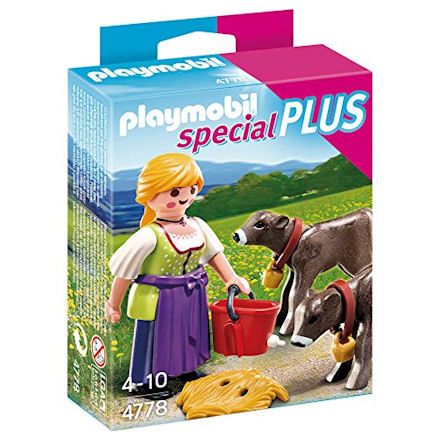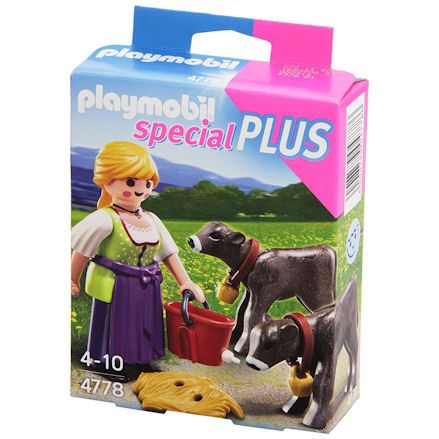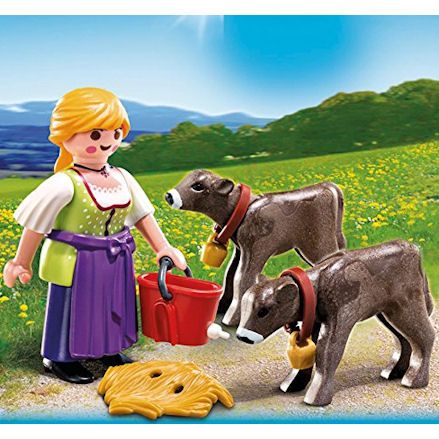 Playmobil 4778: Country Woman with Calves
Solid, poseable arms, legs and head Playmobil Country woman with calves; includes farm figure, 2 calves, bucket and a haystack for feeding the animals.
Brand:
Playmobil
Product description
Expand on a current series of Playmobil farm toys or use as a standalone set; this Playmobil Country women and calves certainly does round off a fun, interactive play farm nicely.
Little as the set is, its possible to bring in more toys to add to the current collection. Although the women - or farmer's wife if you please - looks after the young calves.
If they have Playmobil cows in there toy box already, then a couple of calves certainly adds to the joy.
Farm women is wearing country attire so she is familiar with the way of life, so handling the calves with care would be a doddle to her.
Poseable legs and arms with a twisting head makes it so, and so do the heads on the calves move up/down with bells around there necks.
They're fed with use of a haystack that's left on the ground, well the women farmer can hold onto the handle of the water bowl for the calves to drink.
Features
Item No: 4778
Age: 4 years and up
Presented in closed box with picture
Made from hard plastic
Includes women figure, 2 calves, bucket, hay stack
Figure has poseable joints
Playmobil Special Plus range
Dimensions: L12.5 x W3.5 x H10 cm
Weight: 40.8g
Playmobil
This item: Playmobil 4778: Country Woman with Calves
Age: 4 Years
L12.5 x W3.5 x H10 cm
Weight: 40.8g
Bruder
Age: 3 Years
L23 x W8 x H17 cm
Weight: 318g
Papo
Age: 3 Years
L9 x W2 x H11 cm
Weight: 18.6g
SHOP BY THEME
SHOP BY
INFORMATION