Playmobil 5514: Country Farm Woman and Boy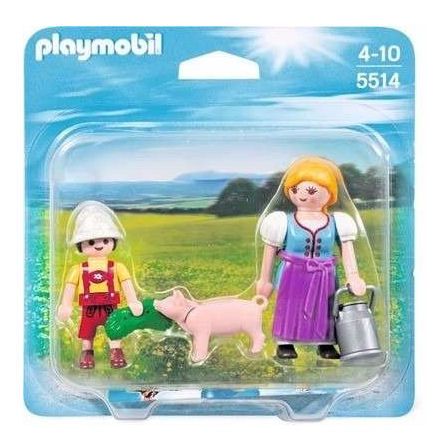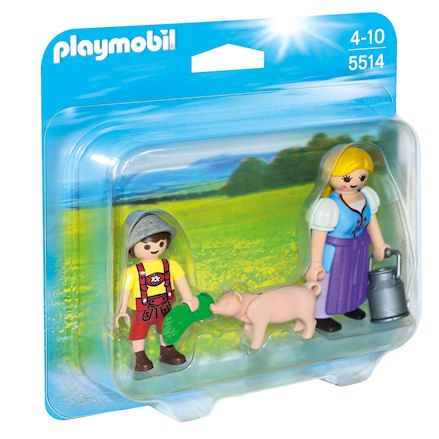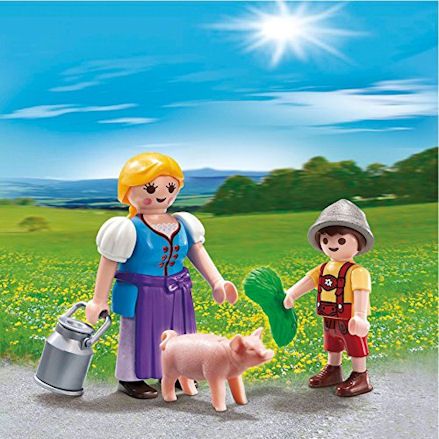 Playmobil 5514: Country Farm Woman and Boy
Fun little Playmobil Country farm woman and boy figures; includes a pig with feed and water can, well all figures have poseable limbs in the farm and waist.
Brand:
Playmobil
Product description
Well they're free to us this set where there imagination takes them; you might notice they are under the theme of a Alpine, Scandinavian setting.
So rather than working in harsh conditions, instead mum and little boy get to tend there pet pig in nicer conditions, overlooking beautiful scenery.
Playmobil Country series so figures stand at 14 to 15cms high. Figures have poseable limbs in the arms and waist, with both able to turn there head.
That also goes for the little pig who is able to tilt his head up and down as it plays.
Well the mum holds onto a water can for feeding the pig fresh water from the well, the boy holds onto a bunch of grass for the pig to eat.
Items can be removed from the grasp of hands, from of each figure, well each figures are able to switch or pick up something else completely.
If building up a Playmobil farm setting in the Country range, this little Playmobil Farm Woman and Boy set is only a little piece of the puzzle.
Features
Item No: 5514
Age: 4 years and up
Presented in clear window packaging
Made from hard plastic
Includes women, boy, pig and accessories
Accessories can be held in grasped hands
Poseable figures
Playmobil Country range
Dimensions: L15 x W4 x H15 cm
Weight: 59g
Playmobil
This item: Playmobil 5514: Country Farm Woman and Boy
Age: 4 Years
L15 x W4 x H15 cm
Weight: 59g
Playmobil
Age: 4 Years
L12.5 x W3.5 x H10 cm
Weight: 40.8g
Playmobil
Age: 18 Months
L15 x W4 x H15 cm
Weight: 68g
SHOP BY THEME
SHOP BY
INFORMATION