Bruder 62605: Farming Milking Set, 1:16 Scale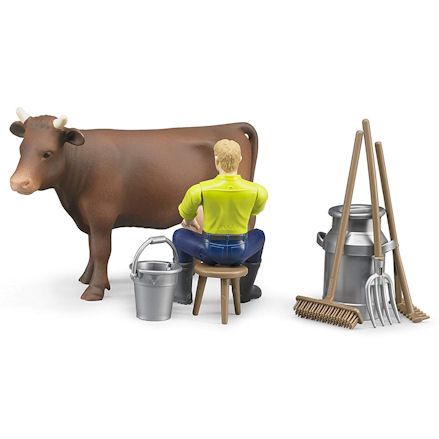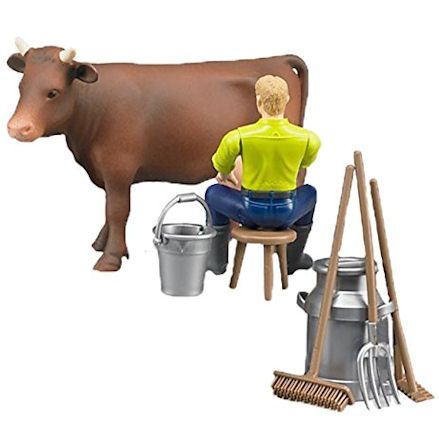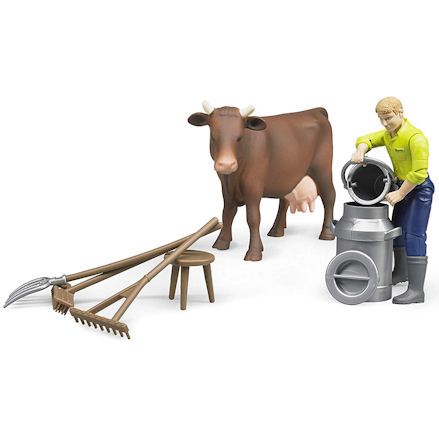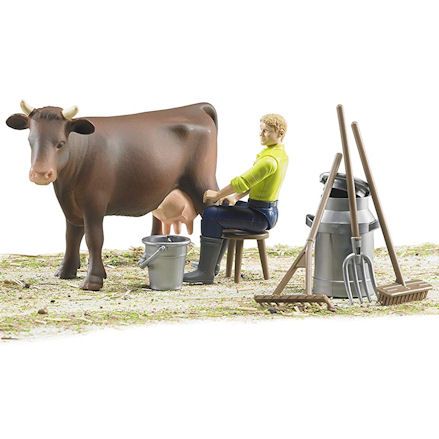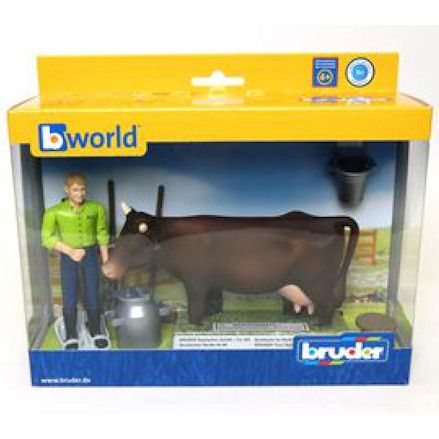 Bruder 62605: Farming Milking Set, 1:16 Scale
Large figure for leading up the farm, this Bruder farm milking set includes the farmer and cow, a stall for sitting, bucket, milk churn, broom, rake and fork.
Brand:
Bruder
Product description
Want a quick and easy way to setup up a dairy farm without the use of a big dairy shed and all the cost and time its takes to setup a Bruder farm in 1:16 scale.
Then why not use this standalone Bruder farm milking set as a way to milk your cow without the hassle.
All this Bruder 62605 farmer has to do is walk out to the field with his milking accessories to milk his cow daily; and what better way to get that done than with a Bruder cow that comes with the set.
Cow is made in a true 1:16 scale so she is sure to measure up nicely when next to the farmer.
Once the farmer has settled the cow, he'll setup his stall next to her to begin milking; well nearby he'll have a 'metal effect' bucket and milk churn, along with a rake, fork and broom.
Bucket and milk churn will be needed for milking the cow; well the rake, fork and broom will be needed for cleaning up the barn or sweeping up the farmyard.
Away from his cow milking duties, he's a poseable figure with limbs that position in various ways.
Therefore he's capable of driving one of a number of the Bruder tractors in 1:16 scale, so make use of that with this figure alone, so there's no need to bring in another farm hand.
Features
Item No: 62605
Scale: 1:16
Age: 3 years and up
Presented in window display box
Made from tough plastic
Includes cow, figure, tools
Bruder Pro range
Dimensions: L23 x W8 x H17 cm
Weight: 318g
Bruder
This item: Bruder 62605: Milking Set, 1:16 Scale
Age: 3 Years
L23 x W8 x H17 cm
Weight: 318g
Bruder
Age: 4 Years
L4.6 x W1.3 x H10.9 cm
Weight: 9.07g
Bruder
Age: 4 Years
L4.6 x W1.3 x H10.9 cm
Weight: 9.07g
SHOP BY THEME
SHOP BY
INFORMATION