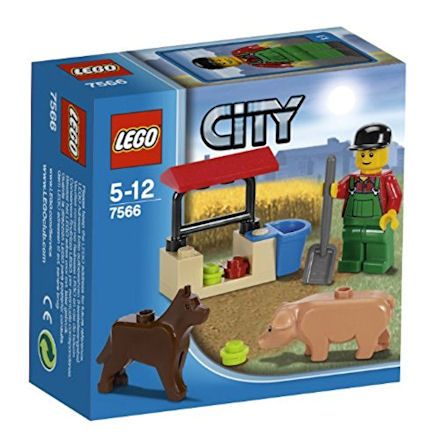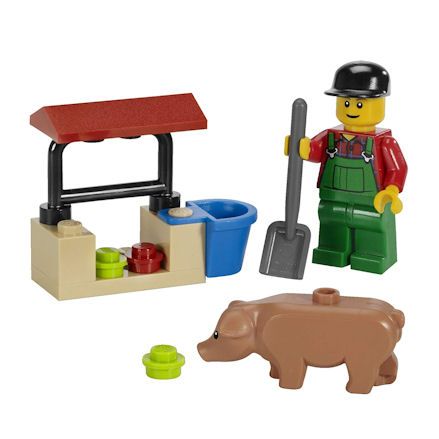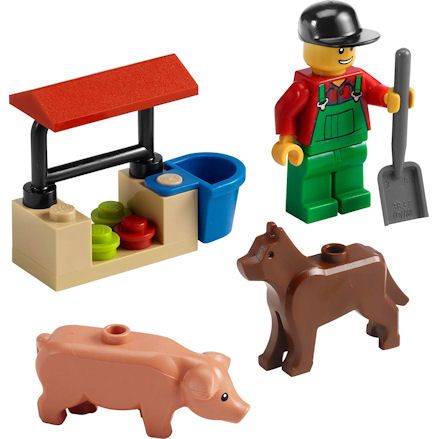 LEGO 7566: City Farmer
Little pig sty setup, minus the sty; classic LEGO Farmer with poseable limbs; includes pig, dog, feed trough and water bucket with extra round blocks.
Brand:
LEGO
Product description
Setup in a corner of the yard using this LEGO City farmer with animals; includes figure, pig, dog, trough and water bucket, plus extra pieces acting as hay or food.
Structure with red roof acts as a covered trough for the feed, with that the extra rounded LEGO blocks are used as hay.
Trough will hold food well the pig makes its way to it to eat. Alternatively, said trough could also be used as a sort of pig sty, with a little roof/shelter.
Connecting point on either side of the trough/sty can be used to hold the water bucket, therefore food and water are contained to one area.
Over looking all this is the classic LEGO farmer figure with the usual poseable arms, legs and head, well holding onto a spade he can release or hold in various positions.
Farmer tends to the pig in the sty well his pet dog plays with the pig or goes walkies with farmer.
Features
Item No: 7566
Age: 5 years and up
Presented in closed decorated box
Made from hard plastic
Includes farmer, pig, dog, trough
LEGO City range
Compatible with the whole City series
Dimensions: L9.4 x W9.2 x H4.2 cm
Weight: 40.8g
LEGO
This item: LEGO 7566: City Farmer
Age: 5 Years
L9.4 x W9.2 x H4.2 cm
Weight: 40.8g
Playmobil
Age: 4 Years
L12.5 x W3.5 x H10 cm
Weight: 40.8g
Playmobil
Age: 4 Years
L15 x W4 x H15 cm
Weight: 59g
SHOP BY THEME
SHOP BY
INFORMATION