Le Toy Van BK930: Budkins Farmer's Wife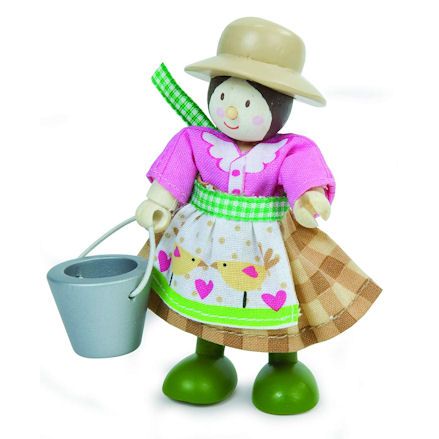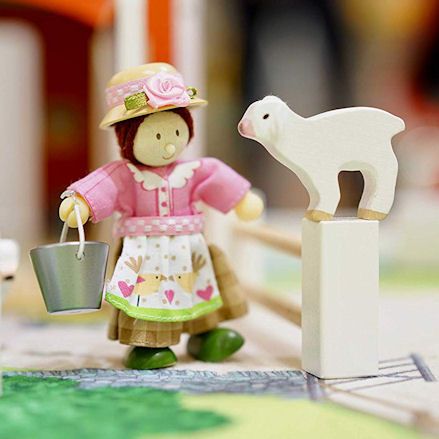 Le Toy Van BK930: Budkins Farmer's Wife
Lovely Le Toy Van Budkins farmer's wife; 10mm tall figure holding a bucket to feed the animals well the hat keeps off the sun - she's wearing real fabric clothes.
Brand:
Le Toy Van
Product description
Cherry on the cake this one with a beautifully crafted, happy-go-lucky Le Toy Van farmer's wife; holding a bucket with hat on head, dress in real fabric clothing.
Tucked under the bright, soft colourful clothing is a figure made from wood, featuring poseable legs and arms as to carry out her farming duties.
Her hands are in a grasping position so the string that is used for the bucket handle can be let go.
As she's holding a bucket, it could be used for many reasons: feeding the animals, collecting water or simply cleaning up muck off the barn floor.
Its likely though this delightful Budkins farmer's wife is feeding a number of farm animals; from the cow and sheep, to the chickens and goats.
Most bare wood areas are painted by hand in bright colours; well the feet are round and big, so to allow the figure to freely stand on her own.
Features
Item No: BK930
Age: 3 years and up
Presented open display box
Made from real wood and fabric
Includes figure holding bucket
Bucket can be removed from hands
Le Toy Van Farm range
Dimensions: L6.4 x W3.8 x H10.2 cm
Weight: 40.8g
Le Toy Van
This item: Le Toy Van BK930: Budkins Farmer's Wife
Age: 3 Years
L6.4 x W3.8 x H10.2 cm
Weight: 40.8g
Le Toy Van
Age: 3 Years
L6.4 x W3.8 x H10.2 cm
Weight: 49.9g
John Crane
Age: 3 Years
L5 x W5 x H11.5 cm
Weight: 181g
SHOP BY THEME
SHOP BY
INFORMATION