Le Toy Van BK904: Budkins Farmers Gift Pack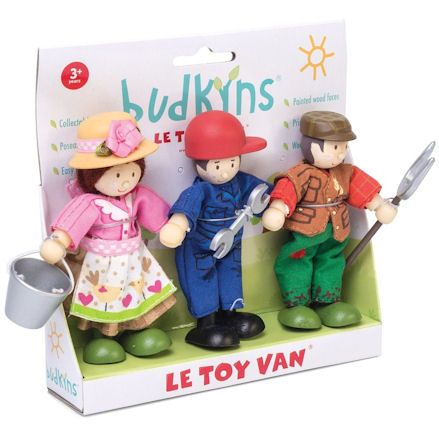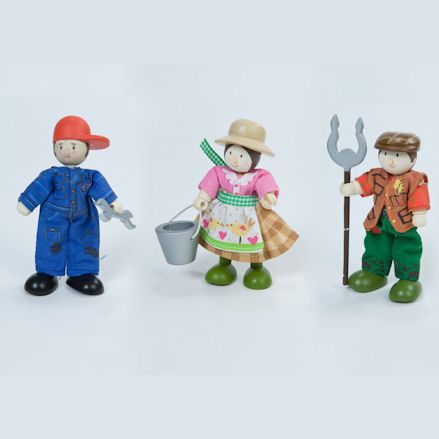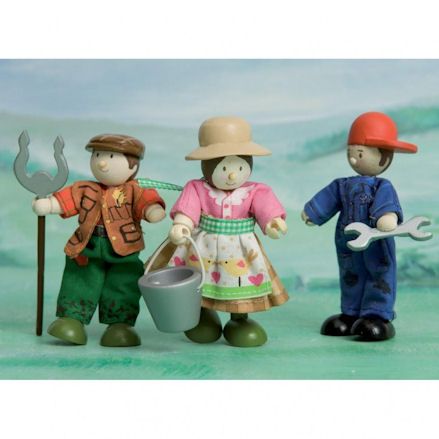 Le Toy Van BK904: Budkins Farmers Gift Pack
Set of three, functional wooden Le Toy Van Budkins Farmers; poseable limbs, all holding a tool well wearing real fabric clothing, in a soft to touch material.
Brand:
Le Toy Van
Product description
Hand over the task of looking after the Le Toy Van Wooden Farmyard to this rag-tag gang of hard working farmers; all of whom are wearing real fabric clothing, each with there own theme.
Young farming girl feeds the animals hay and water thanks to her bucket; guy in blue overalls is holding a spanner, so therefore is a mechanic; well lad holding fork is a classic farmer.
All can play the character of the farmer on the wooden farm set; although each have been given a job to do thanks to what they're wearing, and the accessories they have in hand to prove it.
All are 10cm or so tall, they're free standing thanks to each one having larger than normal footwear.
All accessories can be removed from there grasping hands well switching them between each farm figure, depending if they require the tool to get the job done.
Populate the Le Toy Van farm not only with the corresponding Le Toy Van tractor and farm animals; but make use of these figures to take charge of the whole thing, while bringing a little realism.
Poseable figures with functional limbs in the arms and legs, well the head can't move nor can you remove the clothing, but they will sit and can be put in walking poses.
Features
Item No: BK904
Age: 3 years and up
Presented in open display box
Made from real wood and fabric
Includes 4 farming figures
Each figure holding a tool and wearing a hat
Le Toy Van Farm range
Dimensions: L6.4 x W3.8 x H10.2 cm
Weight: 49.9g
Le Toy Van
This item: Le Toy Van BK904: Budkins Farmers
Age: 3 Years
L6.4 x W3.8 x H10.2 cm
Weight: 49.9g
Le Toy Van
Age: 3 Years
L6.4 x W3.8 x H10.2 cm
Weight: 40.8g
John Crane
Age: 3 Years
L5 x W5 x H11.5 cm
Weight: 181g
SHOP BY THEME
SHOP BY
INFORMATION