Le Toy Van BK929: Budkins Farmer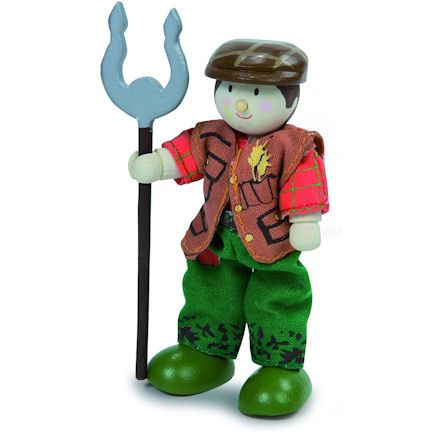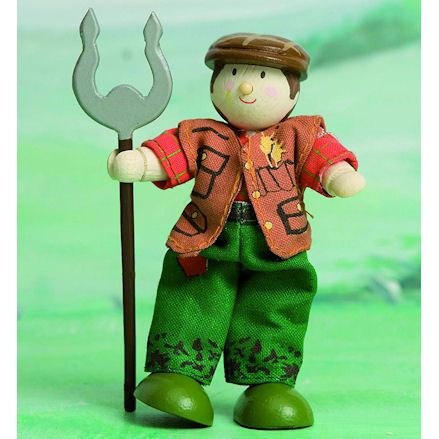 Le Toy Van BK929: Budkins Farmer
Hand over the rains to Le Toy Van Budkins Farmer; standing position, grasping hand well holding into a detachable rake, well the clothing is made from fabric.
Brand:
Le Toy Van
Product description
All children's wooden toy farm sets need a figurehead to take charge of the farm; so welcome this Le Toy Van Budkins Farmer who will tend to the animals.
With the number of Le Toy Van wooden farm sets and barns currently available, its time to hand over the day to day duties to the Farmer as he's a professional.
Well the Le Toy Van Farmer is also dressed for the occasion: trousers, waistcoat and undershirt; all of which are made from real fabric.
Free standing, soft to touch farm figure will stay upright thanks to his large green shoes.
Carved from wood well areas are painted by hand in bright colours. He holds a fork that can be used for raking up hay and muck.
His hands are in a grasping position to be able to hold such devices; so children can remove the fork/rake if they wish to and use it themselves.
Features
Item No: BK929
Age: 3 years and up
Presented in open display box
Made from real wood and fabric
Includes figure holding fork
Handpainted wooden parts
Le Toy Van Farm range
Dimensions: L6.4 x W3.8 x H10.2 cm
Weight: 40.8g
Le Toy Van
This item: Le Toy Van BK929: Budkins Farmer
Age: 3 Years
L6.4 x W3.8 x H10.2 cm
Weight: 40.8g
Le Toy Van
Age: 3 Years
L6.4 x W3.8 x H10.2 cm
Weight: 49.9g
John Crane
Age: 3 Years
L5 x W5 x H11.5 cm
Weight: 181g
SHOP BY THEME
SHOP BY
INFORMATION